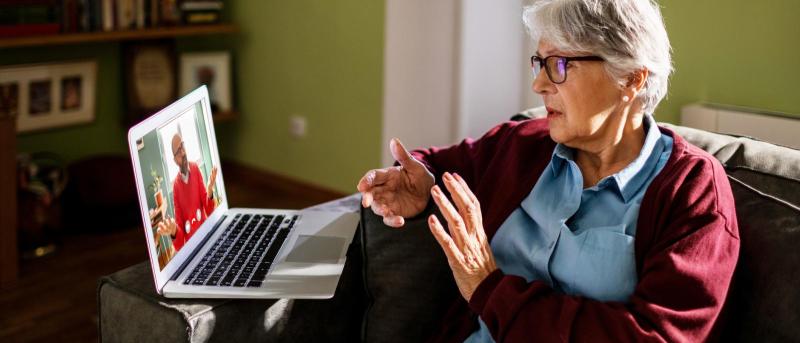 Making the Most of Telehealth for Talk Therapy
When the COVID pandemic began, psychologists and mental health providers turned to telehealth almost overnight. Zoom backgrounds quickly replaced therapist couches, and the technology allowed people in treatment to continue therapy with little interruption.
Today, most mental health providers are still providing therapy through virtual visits. And with the pandemic causing a rise in anxiety and depression, telehealth is helping therapists accommodate the growing number of new patients seeking mental health care.
"The main advantage of mental health treatment via telehealth is that it's incredibly accessible," says Deborah Cabaniss, MD, professor of clinical psychiatry and director of psychotherapy training in the Department of Psychiatry at Columbia University Vagelos College of Physicians and Surgeons.
"Telehealth is increasing access to mental health services for a lot of people in the United States who live in remote areas or just don't have the time to travel to an in-person visit."
Telehealth therapy works via phone or video.
Before video conferencing was possible, telehealth was first delivered over the telephone. And the phone is still an important way to access mental health therapy, since not everybody has good broadband.
"Data from before the pandemic indicate that mental health care delivered by phone and video is effective," Cabaniss says. "Phone therapy can be done, and it's been shown to be effective. Using phone and video is really how you can access the most people. The most important thing is that people get the help they need in whatever form is best for them."
Almost all types of therapy are available via telehealth.
"At this point, there are very few mental health issues that can't be treated via telehealth," Cabaniss says. "Group therapy, addiction therapy, all kinds of therapies are possible."
Treatments that involve other interventions, including neurofeedback or transcranial magnetic stimulation, can't be delivered via telehealth, of course. But most mental health providers are delivering the majority of their care through telehealth.
Make the most of telehealth therapy sessions.
If you're going to talk with a mental health provider online, Cabaniss says there are few things you should do.
If possible, she says, get really good broadband if you're doing therapy on video. Missing what your office colleagues say during a Zoom meeting is one thing; not being able to effectively communicate with your provider will have a big impact on your session.
Another challenge is privacy. "Find a quiet place for yourself, away from other family members, office colleagues, or neighbors who could intrude," she says. "Set your phone to no notification so that you're not getting little blips during your session that will distract you."
Cabaniss adds: "Make sure that you're looking into the camera, so that you get the best eye contact that you can. Eye contact helps us to feel connected when we're in person, and the same is true when we're talking on the computer."
"If you're on the fence about getting help from a mental health professional, I would say give it a try," Cabaniss says. "Sometimes even a few sessions can be enormously helpful."