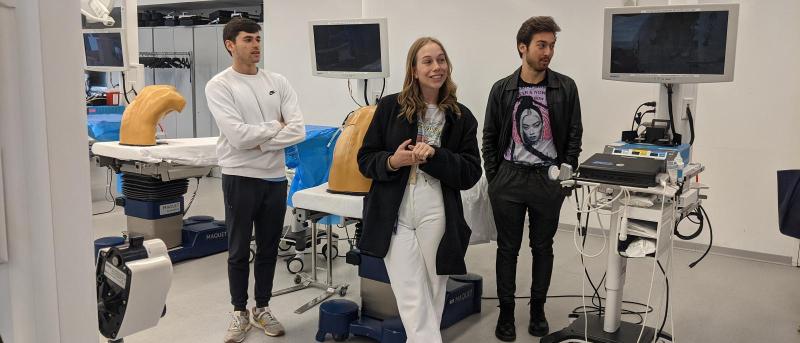 "Life at VP&S" Welcomes Nearly 200 Accepted Applicants to Campus
Nearly 200 applicants accepted to the Columbia University Vagelos College of Physicians and Surgeons visited Washington Heights last week for "Life at VP&S," a two-day event offering applicants a window into what they can expect if they choose to attend VP&S for medical school. This was the largest group hosted to date for this event, which was held in person for the first time since 2019.
Primarily led by current VP&S students under the guidance of Wendy Hernandez-Quinones, director of the office of admissions at VP&S, the event offered tours of Washington Heights and the medical center campus as well as introductions to campus resources, including health and well-being, diversity and multicultural affairs, student support and career advising, and student research. Prospective students also had the chance to learn more about the student-run free clinics and other community service opportunities at VP&S.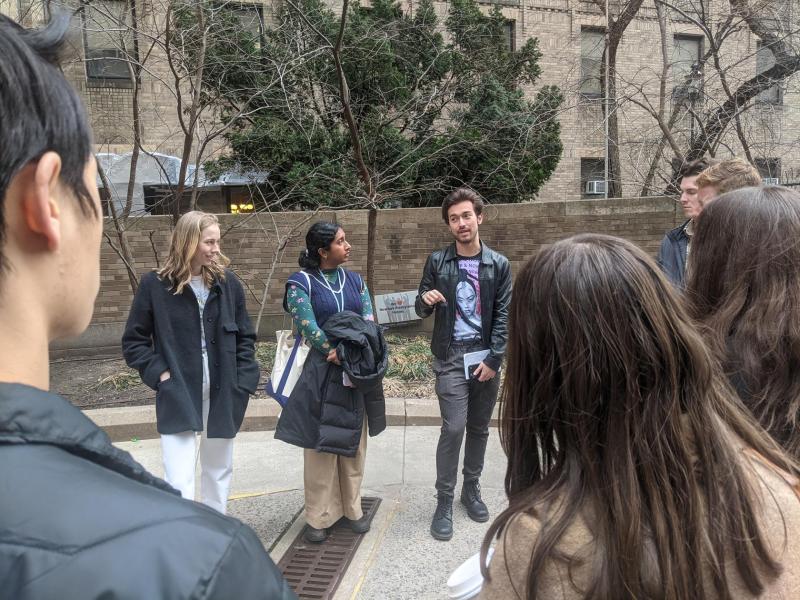 Several VP&S deans welcomed the students: Anne Armstrong-Coben, MD, senior associate dean for admissions; Katrina Armstrong, MD, dean of the medical school; Monica Lypson, MD, vice dean for education; Lisa Mellman, MD, senior associate dean for student affairs; William Turner, MD, assistant dean for student affairs; Anil Lalwani, MD, associate dean for student research; and Donald Quest, MD, assistant dean for student affairs and for admissions.
Mellman spoke about the many support services and resources devoted to student health and well-being, including Student Health on Haven, which provides easy-to-access physical and mental health resources and programs, and the Student Success Network, a peer teaching and tutoring program.
"Our goal is to help you to develop not just into compassionate and terrific physicians, but to help you thrive and succeed here as well as grow as individuals," Mellman said. "We partner with students and class leaders to know where the barriers are and to develop new programming to address any gaps. Students keep us growing, and we love working with our students."
"Life at VP&S" offered opportunities for prospective students to meet with current students to get an inside view of the school. The group enjoyed a catered lunch at United Palace, a landmark building in Washington Heights. Both days were capped off with evening receptions, where accepted students had the chance to mingle with current students and with faculty.
"The admissions team, faculty, and students were thrilled to welcome so many accepted students to our amazing campus and community," says Armstrong-Coben. "There was such joy and energy. We have been hearing from so many students that they can't wait to join the VP&S family after spending time with us."
For Evie Keating, who is currently completing a postbaccalaureate premedical program at Tufts University, learning about Washington Heights and how students at VP&S care for the community in which they live and learn was a highlight of the trip.
"Getting to hear the representatives from each of the free clinics speak was a really special part of this visit," Keating said. "It shows how much interaction there is with the community, and getting to be a part of the community that I live in is really important to me. Community engagement is an easy thing for a lot of schools to say that they care about and then not follow through on, so seeing how many students at VP&S are deeply involved makes me really excited about the potential of going here."