Lee Goldman to Step Down After 2019-20 Academic Year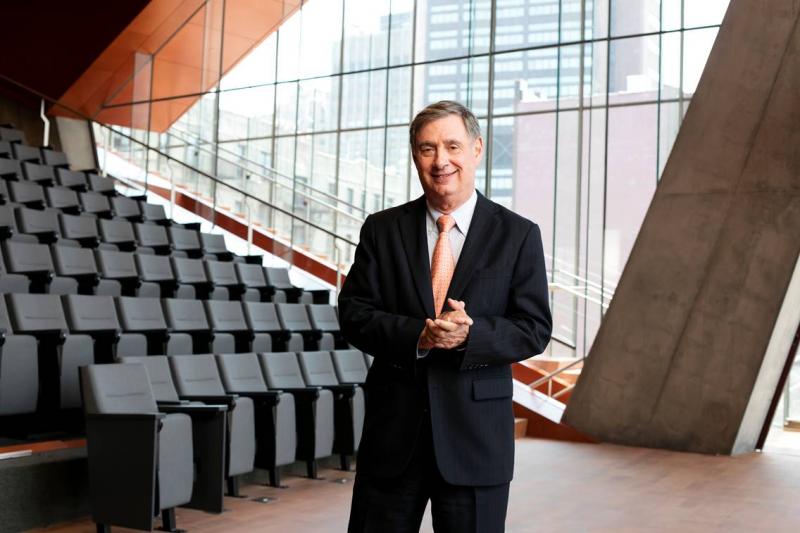 Lee Goldman, MD, MPH, Dean of the Faculties of Health Science and Medicine and Chief Executive of Columbia University Irving Medical Center, announced that he will step down on June 30, 2020.  
In a letter to the CUIMC community he reflected on a range of accomplishments that have strengthened the medical center—including strong growth in NIH-funded research, an historic expansion of our clinical enterprise, the elimination of need-based loans for medical students, and a campus transformed by new buildings and public space.
---
To CUIMC faculty, students, staff, and neighbors:
As my 13th year at Columbia nears a close, I have informed President Lee Bollinger of my wish to step down from my administrative roles at the completion of my 14th year on June 30, 2020. My decision is driven by both personal and professional reasons. By a year from now, I will be 72 and have spent nearly 20% of my life as dean here. As deeply satisfying as that experience has been for me, it will be time for me to come full circle and re-focus on the intellectual priorities that first led me to a career in academic medicine. I make this move with confidence that the Vagelos College of Physicians and Surgeons (VP&S) and the Columbia University Irving Medical Center (CUIMC)—both of which were newly named based on truly transformative philanthropy during the past two years—are thriving and ready for their next acts.
The extraordinary generosity of Roy and Diana Vagelos has allowed us to become the first of our peer medical schools to eliminate need-based loans, meet students' calculated financial needs entirely with scholarships, and thereby make it easier for them to pursue careers of their choice, unencumbered by medical school debt. Our medical and graduate students now learn and relax in the new, award-winning Vagelos Education Center.
An historic bequest from Herbert and Florence Irving to both Columbia and NewYork-Presbyterian (NYP) is enabling us to make major investments in cancer research and clinical care, including a future new clinical building for the Herbert Irving Comprehensive Cancer Center.
Equally important, we have grown in the various dimensions that are essential for a great medical school and health sciences campus:
From 2009 through 2018, VP&S has been the only leading medical school whose change in research funding has outpaced the NIH budget every year. Our absolute growth, which was second nationally among all medical schools over that time horizon, is currently first in the nation based on updated 2019 awards. Just this past year, our $57 million increase in NIH research grants was the single largest one-year increase for any medical school ever. Exciting new programs—such as in immunology, stem cell biology, genomics, structural biology, and computational biology—have complemented our many historic strengths. The caliber of our research is perhaps best exemplified by the awarding of the Nobel Prize in Chemistry to Joachim Frank, whom we successfully recruited here a decade ago. With the relocation of more than 30 of our neuroscience faculty to the Zuckerman Mind Brain Behavior Institute at Manhattanville, we are expanding our neuroscience programs there and growing rapidly at 168th Street, including the upcoming move of the Aaron Diamond AIDS Research Center to Columbia.
Our clinical programs have grown considerably, averaging about 7% per year compounded, and our partnership with NewYork-Presbyterian is arguably as strong as anytime in our 90-year history together. Our clinical expansion includes outstanding space at 51st Street and major new programs in Westchester County, in addition to growth at our Washington Heights campus. The Faculty Practice Organization, which was barely in its infancy in 2006, has grown to be a well-coordinated hub for clinical care and quality.
In addition to new chairs for most pre-existing departments, we have created new departments of Neuroscience, Systems Biology, Medical Humanities and Ethics, and Emergency Medicine, as well as an Institute for Genomic Medicine. 
Our medical students experience an innovative curriculum, which served as a model for a number of other schools, with an accelerated pre-clerkship curriculum, an emphasis on small group learning, state-of-the-art simulation, and a required scholarly project.
We have worked hard to create a supportive environment in which everyone can succeed. Focus group feedback from faculty, staff, and trainees has informed initiatives to improve the electronic medical record, grants management, parental leave policies, staff career opportunities, child care, and the learning environment. To recognize key contributions other than research, we created the Virginia Apgar Academy to honor our premier educators and the Academy of Clinical Excellence to honor our top clinicians. We created the Virginia Kneeland Frantz Society, which has served as an important resource for women faculty, and the Kenneth A. Forde Diversity Alliance, which has served an analogous role for our diverse faculty and trainees.
At VP&S, 50% of our students are women, and the percentage of underrepresented minority students is consistently at the top of our peer group. We also clearly exceed national medical school medians in our percentages of women and diverse faculty. We have performed detailed analyses to ensure salary equity and equity in promotions. Nevertheless, we need to continue to promote inclusiveness as evidenced by the Dean's Office's full acceptance and funding of all the recommendations of The Dean's Advisory Groups for Women and for Diverse Faculty and our implementation of additional programs, including $55 million for diversity recruitments.
I also want to emphasize the great advantages of having a truly integrated health sciences campus. The successes of the Mailman School of Public Health, the College of Dental Medicine, and the School of Nursing have paralleled the success at VP&S, with curricular innovations and growing academic programs. Across all four schools, we eliminated clinical prefixes and suffixes for full-time faculty, who are now recognized by their professorial title "at CUMC" so that they are clearly distinguished from part-time, clinical faculty.
We have made major investments in our campus, not only the new Vagelos Education Center but also a new, world-class building for the School of Nursing, the Hammer learning center, Schaefer gallery, and Alumni Auditorium. All together, we have built or renovated nearly 1.7 million square feet of space for our students, clinicians, researchers, and staff.
Haven Plaza, created by closing one block of Haven Avenue to automobile traffic, is becoming a reality. The first phase is already evident, and we expect to dedicate the second phase in September.
And we could not have accomplished all these things without truly extraordinary philanthropy—totaling more than $2.5 billion—from the many people and organizations who recognize the talents of our go-to doctors, superb investigators, and remarkable students.
Even as I look forward to all we are hoping to achieve in the next year, it is not too early for me to express my appreciation to a number of people who have been critical to all we have accomplished together. Although it is not practical to name everyone, I am especially grateful to Roy Vagelos for his wise counsel, for chairing our Board of Advisors, and of course for his and Diana's personal generosity. I also am very thankful to Lee Bollinger for giving me this opportunity and for his commitment to academic excellence at CUIMC. I also want to thank Ken Forde, the late Clyde Wu, Philip Milstein, and the entire Columbia Board of Trustees for their unwavering support; Steve Corwin and NYP for their steadfast partnership; our exceptional Board of Advisors; the other CUIMC deans (the late Allan Rosenfield, Linda Fried, Ira Lamster, Christian Stohler, Mary Mundinger, Bobbie Berkowitz, and Lorraine Frazier); the VP&S department chairs; vice deans Taylor, Shelanski, Hooven, Drusin, Shea, Cioffi; Joanne Quan and all the central CUIMC and VP&S staff who helped lead us from financial challenges to academic flourishing; and all our faculty, staff, students, and philanthropists whose dedication and innovation have helped us achieve so much. Success is a team effort, and I will always be personally grateful to everyone whose time, energy, and resources have contributed to the success of VP&S and CUIMC while I have been fortunate to serve as a temporary steward of this great institution.
Thank you all.
Lee Goldman