Leader in Diabetes Clinical Trials Wins Naomi Berrie Award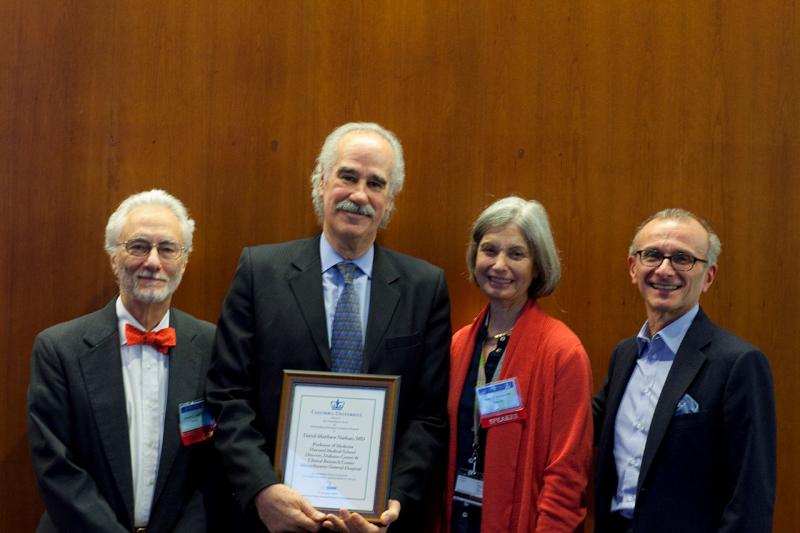 Columbia University has awarded the 2018 Naomi Berrie Award for Outstanding Achievement in Diabetes Research to David M. Nathan, MD, professor of medicine at Harvard Medical School and director of the Diabetes Center and Clinical Research Center at Massachusetts General Hospital. Dr. Nathan—the 20th winner of the award—is an expert in designing clinical trials for interventions in both type 1 and type 2 diabetes.
The award was presented to Dr. Nathan during the Frontiers in Diabetes Research Symposium on Nov. 17 in a ceremony held in the Russ Berrie Medical Science Pavilion at Columbia University Irving Medical Center. The Naomi Berrie Award for Outstanding Achievement is Columbia University's top honor for excellence in diabetes research.
Dr. Nathan has been a leader in three of the largest multicenter clinical trials for diabetes ever conducted in the United States. He was one of the developers of the Diabetes Control and Complications Trial (DCCT) in 1993, which showed that intensive glycemic therapy could be used to dramatically reduce the long-term complications of type 1 diabetes. He currently chairs the trial's long-term follow-up program, the Epidemiology of Diabetes Interventions and Complications Study, and also chairs the National Institutes of Health's Diabetes Prevention Program.
Over the past 40 years, Dr. Nathan's research has focused on reducing blood sugar to prevent diabetes complications. He contributed to the development of the glycated hemoglobin test, also known as the A1C test, and demonstrated its effectiveness for tracking blood sugar levels over time. Dr. Nathan's team was the first to show that a completely automated artificial pancreas that delivers insulin and a hormone to stabilize glucose levels could be used to manage type 1 diabetes in adolescents and adults.
Dr. Nathan completed his medical studies at the Mount Sinai School of Medicine in New York in 1975. He holds a bachelor of arts degree from Amherst College.
Topics
References
The Naomi Berrie Award for Outstanding Achievement in Diabetes Research was established by the Russell Berrie Foundation in 1999. The award promotes and rewards outstanding achievement in the field. Currently, the recipient—a senior scientist outside of Columbia who has made major contributions to diabetes research—receives a $5,000 award in recognition of his or her accomplishments.
The Russell Berrie Foundation also supports the careers of promising young diabetes investigators, through Berrie Fellowship awards for postdoctoral scientists researching diabetes. The awards support two Columbia Fellows each year, in addition to one foreign (non-U.S. citizen) postdoctoral scholar interested in performing research at Columbia University and one Fellow at any non-Columbia New York City institution. For more details about the Berrie Fellowship awards, please go to http://nbdiabetes.org/.