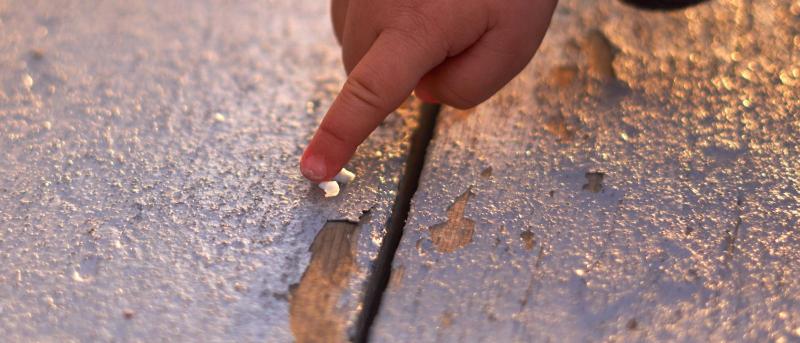 Lead and Children: No Amount of Lead is Safe
When lead gets in the body, it can cause health problems, and children are especially at risk. It's an issue so serious that on Aug. 17, 2022, New York State Gov. Hochul signed a bill into law that requires lead exposure screening during routine medical visits for children age 6 months to 6 years old.  
"Lead poisoning can occur at very low levels of lead exposure," says Vicki Iannotti, MD, assistant professor of pediatrics at Columbia University Vagelos College of Physicians and Surgeons. "It is very important to assess your risk of exposure to lead in your home, school, and work environment." 
Lead poisoning is caused by eating, drinking, touching, or breathing in lead. Research shows no lead exposure is safe for children and lead accumulates in the bloodstream more easily in children's bodies. Compared to adults, children absorb a higher percentage of lead through their GI tract and are more likely to be iron-deficient, which also increases the absorption rate of lead.  
Once in the bloodstream, lead puts children under age 6 at high risk of brain damage. Even low levels of lead in the blood can have negative health consequences, such as delayed puberty, lower IQ, and attention, behavior, and learning problems.  
We recently spoke with Iannotti about parents' frequently asked questions about lead poisoning. 
What is lead and where is it found? 
Lead is a naturally occurring metal. It's used to make paint, pipes, plumbing materials, gasoline, batteries, ceramics, cosmetics, and more. However, lead can be toxic to people and animals. 
Federal and state laws have helped lower the amount of lead in air, water, food, products, homes, and offices. But many homes and apartments built before 1978, when lead-based paint was banned in the United States for residential use, still contain lead paint. Dust from cracking or peeling lead paint is one of the biggest sources of lead exposure for American children. 
In some other countries, lead is still used in paint and other products, including toys and herbal remedies, and children who have recently immigrated to New York from these countries are in a high-risk group. 
What is lead poisoning?  
Lead usually builds up in the body over time and is typically not caused by a one-time high exposure.  
An elevated lead level is defined as anything greater than 3.5 mcg/dL on a blood sample. Over the last 20 years this level has been lowered from 10 mcg/dL to 5 mcg/dL, and now to 3.5 mcg/dL as we have uncovered the association between elevated lead levels in children and damage to brain development. This brain damage manifests in lower IQ scores and learning and behavioral problems.  
Lead poisoning that requires medical intervention, blood levels above 45mcg/dL, can cause sleepiness, vomiting, seizures, and encephalopathy, a disease that affects brain structure or function. This highlights the importance of screening as a tool for prevention. 
Why is lead bad for the body?   
Lead is a heavy metal that competes with other elements in the body, like iron, and disrupts normal body functions.  
Lead causes anemia because it reduces the ability of red blood cells to carry oxygen through the body.  
Lead causes cognitive delays because it interferes with enzymes, mitochondrial reactions, and the nervous system.  
Lead is also deposited in bone where it remains for decades.  
What should parents expect when Dakota's Law takes effect?  
The purpose of lead screening is to identify children with high lead levels so that actions can be taken to reduce lead exposure and prevent cognitive and behavioral problems.
Before Dakota's Law, New York state required that each child's blood lead level be measured at ages 12 month and 24 months. Under Dakota's Law, children between 6 months and 6 years of age also must be screened (with a questionnaire) for their lead risk every year. If the risk is high, a blood test is used to measure lead levels. 
What happens when you find a child has a certain level of lead?  
Children with lead levels above 3.5 mcg/dL are followed every three months and a thorough investigation of potential sources of exposure is conducted. If a cluster is found in family members or in the community, the local health department will investigate sources outside the home.  
Levels above 45 mcg/dL are treated with chelation therapy, medication that binds to lead in the bloodstream and excretes it in the urine. Lead stored in the bones will go back into the bloodstream as the lead level in the blood decreases. A patient needs close follow-up until they reach an equilibrium that is safe. 
How do you prevent lead poisoning and protect children?  
Prevention is the most important step to take.  
Keep children away from peeling paint and broken plaster. Call your local health department for information about professionals who handle lead-based paint problems. 
Wash toys with soap frequently, especially teething toys. 
Wash hands, face, and all skin and remove clothes exposed to lead dust in the household. 
People whose occupations or hobbies put them in contact with lead must bathe and change clothes before holding babies and young children. 
Lead-glazed ceramic pottery should not be used to eat, serve from, or store food. Use glass or plastic. 
Assess your home based on the year it was built. If built before 1978, it's likely that paint on your walls contain lead, which poses a danger if the paint is peeling or cracking. Soil in the yard also may contain lead if the home has been renovated in the past or if the home is near industrial areas. 
Clean windowsills and window wells any time you see dust from outside and at least once a month. 
If you are a renter in New York, check out the state's Residential Tenants' Rights Guide (pdf) for resources and information about lead laws. Among other requirements related to lead, landlords must disclose known information about lead-based paint or paint hazards before a lease becomes effective and inspect New York City apartments for lead-based paint hazards if a child under age 7 lives there.  
Does eating foods high in iron, calcium, and vitamin C help prevent lead poisoning?  
Yes.
Iron can reduce the amount of lead absorbed through the GI tract and into the bloodstream.
Calcium can reduce the amount of lead delivered to the brain and other organs.
Vitamin C is helpful because it helps the body absorb iron and calcium. 
References
Vicki Iannoti, MD, is a pediatrician at ColumbiaDoctors in Tarrytown, New York, and assistant professor of pediatrics at Columbia University Vagelos College of Physicians and Surgeons. To schedule an appointment, call 914-997-4300.