It Takes a COMMUNITY to Reduce Health Disparities
With a new approach, a coalition of Columbia researchers and colleagues throughout the city aim to reduce health disparities by tackling multiple chronic diseases at the same time.
Life in the largely Black and Latino communities of northern Manhattan is significantly shorter than it is elsewhere in New York City. In fact, residents of central and east Harlem can expect to live four to five years fewer, on average, than people in the rest of the city, according to the New York City Department of Mental Health and Hygiene. Multiple reasons account for the gap, including the corrosive—and often synergistic—effects of discrimination, food insecurity, inadequate health care, and the precarity of safe housing and environs experienced by many Northern Manhattan residents.
These and other adverse social determinants of health increase the risk for developing cancer and heart disease, leading causes of premature death throughout New York City. Such deaths occur among Harlem adults below the age of 65 at a much higher rate than in the predominantly white lower Manhattan neighborhoods of Greenwich Village, SoHo, and the financial district.
A coalition of researchers at VP&S has partnered with colleagues throughout the city in a new approach to address these and other health disparities. The researchers aim to tackle multiple chronic diseases at the same time, through a center that works hand in hand with community-based partners and health care workers to produce research and sustainable interventions. Named the Center to Improve Chronic Disease Outcomes through Multi-level and Multi-generational Approaches Unifying Novel Interventions and Training for Health Equity (COMMUNITY Center), it launched in September 2021 with a five-year, $20 million award from the National Institute on Minority Health and Health Disparities. 
Other institutions collaborating with Columbia are Weill Cornell Medicine, NewYork-Presbyterian, Hunter College, and the Physician Affiliate Group of New York. 
Impact starts at home
Columbia has a responsibility to improve the health and well-being of its neighbors living in northern Manhattan, says neurologist Olajide Williams, MD, who leads one of the COMMUNITY projects. Williams is professor of neurology, chief of staff of the Department of Neurology, and co-director of the Columbia Wellness Center with Robert Fullilove, EdD, associate dean of community and minority affairs in the Mailman School of Public Health. "We live in a community that is plagued with adverse social determinants of health," says Williams, "so it is a moral, civil, and societal responsibility for us to make sure that our backyard is the first place that we address before moving beyond."
"The COMMUNITY Center is an extension of work that Columbia is already doing in Northern Manhattan and thus has that advantage of leveraging existing community ties, says Mary Beth Terry, PhD, a cancer epidemiologist who leads the center with colleagues at Columbia, Cornell, NYP, and the Physician Affiliate Group. Local organizations such as the Northern Manhattan Improvement Corporation and Community League of the Heights are extending their partnerships with Columbia by working with the COMMUNITY Center, as are local community health workers, including current and retired Columbia nurses and social workers.
"It is often those who are closest to the problem that are closest to the solution," says Williams. "Who better is there than those who live within a community to help us identify problems; leverage the existing assets within that community; identify barriers, pitfalls, and cultural sensitivities; translate the science into a language that will make sense for that particular community; and help us not just find the right solutions, but implement and sustain those solutions in the community?"
A different approach
The center boasts a unique structure, says Terry, so that multiple diseases can be studied at the same time and interventions can be designed to account for the ways that disease comorbidities, lifestyle, environment, health care access, income, housing, and cultural traditions intersect to determine health outcomes.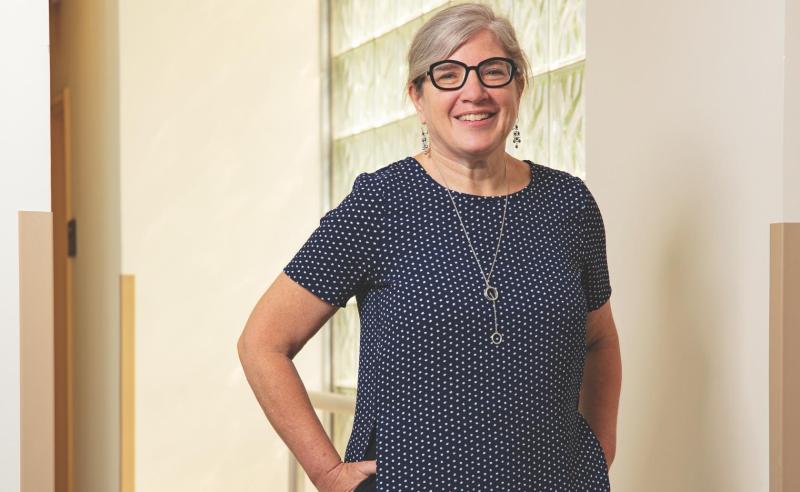 "Many of the greatest health inequities are driven by social determinants of health and community factors," says Terry, who is director of the Herbert Irving Comprehensive Cancer Center's Community Outreach and Engagement Office. "In fact, our community partners have been telling us for years that we need to work across multiple conditions. But because of the way the resources are structured at the national level, we have not always been able to work together across disciplines. The best thing that has happened through this funding is that it has allowed us to all work together across disciplines."
In addition to spanning disciplines, COMMUNITY tackles an ambitious geographic scope.
"The NIH said, OK, build a coalition that covers a whole region," says Terry. "We've come together across different institutions so that we can have a bigger impact and find scalable solutions that hopefully can change things at an institutional and regional level."
A trusted messenger
"Colorectal cancer is one of the biggest killers of African Americans among all cancers in this country," says Williams, citing the death of Chadwick Bozeman, the "Black Panther" actor, who was 43 when he died of colorectal cancer. "One of the reasons why colorectal cancer screening age guidelines were lowered from age 50 to 45 was because it's creeping into younger and younger age groups. When you're dealing with a population like the African American population, where cancer evidence is sky high, it's even more important to make sure that people recognize that you need to get screened at earlier ages."
Williams and his collaborators turned to faith communities as partners in the community health workers study because of their social influence. "The church is a bastion of African American society," says Williams. "It's a cultural beacon, a place of healing. Leveraging the church to promote health and healing in a more conventional sense makes absolute sense."
Attracting a network of 52 New York-based faith institutions—including major Harlem churches such as First Corinthian Baptist Church—for participation in the study was relatively easy, says Williams, because the Columbia Wellness Center already had relationships with the organizations. "We have a faith-based community health worker training program in the Wellness Center in which we recruit individuals from health ministries within churches. We give them a small scholarship to participate and then we train them for eight weeks both in the classroom and in the field to become community health workers. Over the last five years we've trained about 150 people from these 52 churches."
Cultural relevance will feature prominently in the intervention and learning materials being adapted for the study. Williams, who founded Hip Hop Public Health with iconic rapper Doug E. Fresh, has long promoted the value of culture to connect people with health messaging. Hip Hop Public Health has a colorectal cancer screening video by hip hop legend Chuck D. "We're building a web-based platform that is going to be addressing colorectal cancer and screenings, as well as a dietary risk reduction," says Williams. "Some of those assets, like the Chuck D video, are going to be embedded on the platform."
Expanding the investigator pipeline
The COMMUNITY Center also has an investigator development core to train and promote a diverse group of early-career physician-scientists who are interested in addressing health care disparities in their research and want to ensure that their findings translate into effective interventions. Preventive cardiologist Daichi Shimbo, MD, professor of medicine, leads the core. He also leads recruiting, training, and support of clinical and translational investigators at the Irving Institute for Clinical and Translational Research.
"We fund researchers who do community-based participatory research or implementation science and we also provide training in health equity and other research disciplines," says Shimbo. Each year, COMMUNITY will award $50,000 grants to 10 investigators—health equity scholars—who have never received independent NIH grants and who are conducting work in health equity research of chronic diseases. Of 27 eligible investigators who submitted applications for phase 1, 12 were selected to proceed with phase 2 of the application process and subsequently reviewed for funding selection. All of these 12 applicants received mentorship and grant-writing support for their final phase 2 applications. "Some early-stage investigators don't have much experience with writing grants. They have great ideas, but they don't necessarily write grants," says Shimbo. For the first cycle, eight applications were eventually selected for awards.
"The applications we received were highly significant, responsive to community needs, and covered areas of research that are too often neglected by funders—namely those that address two or more chronic diseases that co-occur; health disparities and equity; and the prevention, treatment, and management of these chronic diseases," says Shimbo. "I'm excited to see how this first cohort of health equity scholars will advance the investigation of health disparities."
Grant-writing assistance also extends to the community engagement core, which gives grants of $25,000 per year to community health workers and community-based organizations engaged in addressing health disparities. More than 20 organizations had participated in the community engagement core grant application process by June 2022, and the program's "Grant-Writing 101" virtual workshop has been viewed several hundred times.
Like community investigators, community health workers may not be experienced grant writers, says Nicole Bayne, administrative director for the COMMUNITY Center. "We know that communities of color are disproportionately impacted by chronic disease, so we want to ensure that the people who are living in and serving these communities have the resources needed to continue their great work and, ultimately, bring about system changes."
References
More information
This article was originally published in the 2021-2022 Vagelos College of Physicians and Surgeons annual report issue of Columbia Medicine Magazine.