Inaugural DEIB Summit Celebrates Diversity and Belonging at CUIMC
CUIMC held its inaugural Diversity, Equity, Inclusion, and Belonging (DEIB) Summit on Oct. 13 to celebrate what has been achieved to ensure that belonging, in addition to diversity, equity, and inclusion, are part of CUIMC's culture. Faculty and staff attended presentations, panel discussions, performances, and a networking reception as part of the day-long summit—EnERGize: Valuable, Visible, Voices—which also addressed the challenges that remain.
The day's programming was planned by leaders of CUIMC's Employee Resource Groups (ERGs), which were established in 2019 to support and engage faculty and staff through shared interests and identities.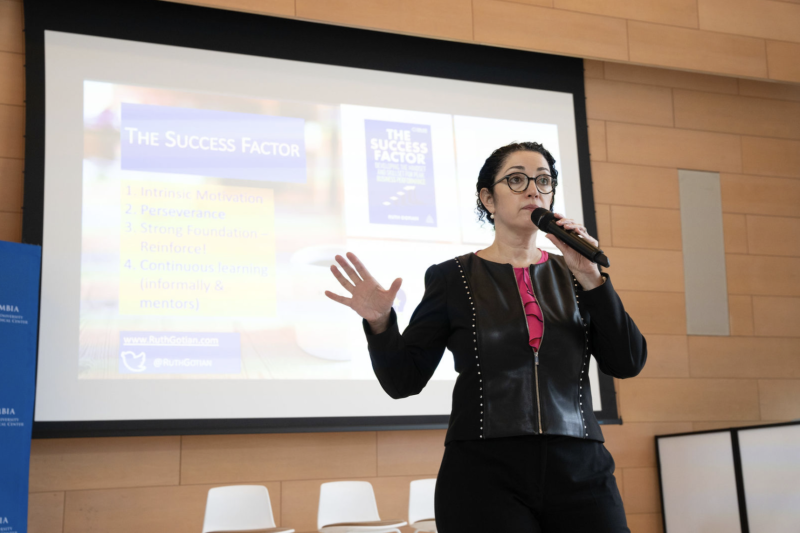 Each program during the summit addressed, in different ways, how traditionally marginalized individuals, at different points in their lives, can find their voices. And how with support those individuals can learn to advocate for themselves and for people like them.
The LGBTQ+ ERG created a panel of "Moth Storytellers," during which CUIMC staff shared their experiences of coming out and how that metamorphosis transformed their personal and professional lives. The Disability ERG sponsored a performance by Gealynn Lea Tressler, violinist, songwriter, and disability rights advocate.
The day ended with a special edition of "Bold Conversations for Healing & Reshaping Our Medical Center Community," a series of panel discussions created in 2021 by CopeColumbia in collaboration with CUIMC's Human Resources Department and the Office of Faculty Professional Development, Diversity, and Inclusion to address stresses and barriers related to bias.
During the panel's conversation, moderated by Patrice Malone, MD, PhD, assistant professor of psychiatry, several staff members shared their experiences of discrimination in professional settings. "Our panelists made a brave decision to make themselves vulnerable, so that we could all learn and grow," said Malone.