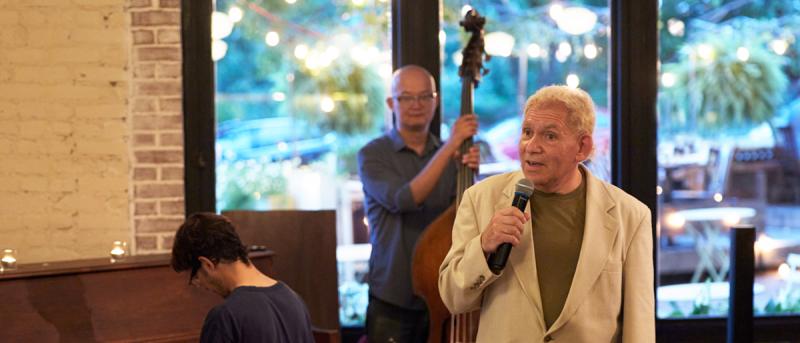 How Three Doctors Saved a Singer Who Suffered a Heart Attack on Stage
This article originally appeared in NewYork-Presbyterian's Health Matters.
---
"We were hot that night," says Henry Ray Fischbach as he describes his jazz trio's first time back on stage since the COVID-19 pandemic began. The band had almost finished a set on July 23, 2021, at Inwood Farm restaurant in northern Manhattan when Fischbach, the lead singer, decided he wasn't quite done.
"Let's do one more," Fischbach recalls telling his bandmates. As the room filled with the familiar notes to the mambo classic "Sway," Fischbach crooned his way through the tune and even hit his usual high note at the end. Then he felt lightheaded.
At that moment, Fischbach's wife, Barbara Fischbach, had turned away from the stage to talk to friends at her table when she suddenly heard a loud thud.
"I thought the bass had fallen because the bass player was having trouble sticking it on the floor properly," she says. "Then I turned around and I saw Henry on the floor. So I screamed, and said, 'Is there a doctor in the house?'"
Luckily, there was not just one, there were three. Marc Dyrszka, MD, assistant professor of orthopedic surgery at Columbia University Vagelos College of Physicians and Surgeons and a spine surgeon at NewYork-Presbyterian, was sitting at a table outside the restaurant with two orthopedic surgical residents, Andrew Luzzi, MD, and Matthew Simhon, MD, when they heard the frantic shouting. Together the trio rushed inside to help Fischbach, who had suffered a heart attack. The doctors successfully administered CPR for about 10 minutes until the EMTs arrived and shocked his heart back into a regular rhythm before taking him to Columbia University Irving Medical Center/NewYork-Presbyterian.
"When Henry came to the emergency room, he was awake and alert despite the cardiac arrest. This is because not only were there people around him to help, but there were physicians who knew CPR," says Christopher Irobunda, MD, the cardiologist at Columbia University Irving Medical Center/NewYork-Presbyterian who inserted a stent in Fischbach's heart immediately following the incident. "Henry's lucky, because most people would not have survived what happened to him in that restaurant."
"I owe everything to those guys," says Fischbach, who returned to the stage five weeks later. "They were there for me when I needed it most, and everything else that has followed—every conversation, every word, the rain, the sun—if they hadn't been there at that moment, none of that would have been possible."
A Memorable Performance
Dyrszka, Luzzi, and Simhon had just completed a complex surgery at NewYork-Presbyterian Och Spine Hospital in Manhattan's Inwood neighborhood when they decided to unwind at a favorite local spot just a few blocks away, Inwood Farm. As they were talking about the surgery, the music stopped and "there were people banging on the window, calling for us to come inside," says Luzzi, who was still dressed in hospital scrubs.
Once they made their way through the crowd to the stage, "we saw Henry on the floor," says Luzzi. "He was blue, he wasn't breathing, and he had no pulse."
Fischbach's wife, Barbara, told the doctors he wore dentures, so they removed those and checked for any breathing obstructions, which they didn't find. "In my head, it was fairly simple. Guy falls down, airway's fine, and there's no pulse. There's just one thing to do: You give him a pulse back," Dyrszka explains.
The doctors swiftly began taking turns doing chest compressions and checking his pulse until Fischbach started spontaneously breathing again. During this time someone had called 911, and when the ambulance pulled up, Luzzi took a pair of scissors from the first-aid kit at the restaurant and cut off Fischbach's shirt to prepare for the defibrillator.
After two attempts, the EMTs were able to restore Fischbach's heart rate to a normal rhythm, and "at that point you could see he was breathing by himself," says Dyrszka.
As the EMTs brought Fischbach out of the restaurant on a gurney, the anxious crowd waiting outside erupted into cheers when they realized Fischbach was alive, awake, and unaware of the drama that just unfolded.
"Henry was giving the crowd this big smile, saying, 'What happened? Where's my mic?'" says Dyrszka.
"We were lucky," adds Dyrszka. "If we had left earlier, or if the EMTs didn't have a defibrillator, it could have turned out differently."
"It was such a fantastic result," says Simhon. "And it feels really, really good to know that we played a role in that."
"You Just Died Twice" 
For the past few years Fischbach had experienced intermittent chest pains, but a previous echocardiogram—where Fischbach ran on a treadmill so his doctors could monitor his heart function—showed no signs of problems. He believed he had a digestive condition called gastroesophageal reflux disease (GERD), and had found that if he fasted the day before a performance, he didn't experience any painful acid reflux.
To ease any discomfort while singing, "I'd been fasting most of the time when I worked," explains Fischbach. "So I hadn't really eaten anything or had anything to drink. When I was taken into the ambulance, I thought all I needed was water."
As Fischbach began to protest about being taken to the hospital, "the EMT said, 'You just died twice and you experienced a heart attack.'"
Fischbach was rushed to Columbia University Irving Medical Center/NewYork-Presbyterian, where Irobunda performed emergency surgery.
"Henry was brought quickly to the cardiac catheterization laboratory, where we successfully opened an artery that was completely blocked and put in a stent," says Irobunda, the Jim Ovia Associate Professor of Cardiology at Columbia University Vagelos College of Physicians and Surgeons. "We also found out that his heart muscle function was quite weak, so he was transferred to the cardiac care unit for observation."
Fischbach was in the ICU for only 12 hours and felt "really good," he says. Within 24 hours, his blood pressure stabilized, and before too long he was joking with the nurses, singing to them, and comparing favorite restaurants in the neighborhood where he's been a lifelong resident.
Fischbach was able to go home after four days, an unusually fast turnaround for someone who suffered from cardiac arrest. "Most patients, by the time they get to our emergency room, they don't have good mental status or are really nonresponsive," says Irobunda. "The earlier a person gets resuscitated, they have a higher chance of recovering versus if they go longer without return of blood flow."
Which is why Fischbach says he is grateful for the doctors who came to his aid on that July night. "This could have happened anywhere," says Fischbach. "It could have happened on the street. It could have happened in our house. I could only have survived this where it did happen. And not just survive it, but to thrive? That's the true miracle."
An Unforgettable Encore
Five weeks after suffering cardiac arrest, Fischbach—who continues to see the cardiology team at Columbia University Irving Medical Center/NewYork-Presbyterian to monitor his heart strength and other small blockages that were found in his arteries—was back at the mic at Inwood Farm. And he got to do something he had wanted to do since his health scare.
Outside the restaurant before the show, Fischbach was finally able to meet the doctors who saved his life, giving them warm hugs, handshakes, and his deep appreciation.
"To let them know even an ounce of my gratitude, it's nothing, but it's everything," Fischbach says, getting choked up. "I just wanted a few moments to thank these three amazing physicians for the care that I got. I'm grateful not just to them for saving my life, but to everyone from the EMTs to the staff at NewYork-Presbyterian for allowing me to have this moment. I couldn't do anything but say thank you from the bottom of my heart."
Later that night when the show began, Fischbach explained to the audience the events from earlier in the summer and dedicated two songs to the doctors who came to his rescue. The first was "It Had to Be You." For the second song, Fischbach asked the entire crowd to raise a glass as he started to sing the familiar refrain from a "Fiddler on the Roof" tune that now holds a new meaning to him: "To life, to life, l'chaim! l'chaim, l'chaim, to life!"
The audience joined in the lively chorus, and when Fischbach—who recently released his third album, appropriately titled "Here to Stay"— got to the end of the song, he took a deep breath before belting out a long final note to the raucous applause of the audience.
"To life!" Fischbach shouted. "I love it!"