Heart Disease: Six Things Women Should Know
As a young investigator in the 1980s, Columbia cardiologist Elsa-Grace Giardina, MD, wrote a proposal to the NIH to study an aspect of cardiovascular disease in both women and men. The proposal was rejected, and Giardina still remembers the criticism from two of the three reviewers: "Why is the proportion of women so high in the study? Everybody knows that heart disease is a disease of men."
Though it's true that men often experience heart attacks and strokes at a younger age than women, heart disease now claims the lives of slightly more women than men. At the urging of women cardiologists like Giardina, the NIH and the FDA instituted guidelines in the 1990s to foster research about heart disease in women and increase the number of women in clinical trials. 
That has led to an increasing realization that heart disease in women doesn't always behave the same way it does in men. And many physicians often don't recognize heart disease in women or treat it with the appropriate therapies. 
Cardiologists from Columbia's Women's Heart Center answered some common questions about heart disease in women and what women should know to take charge of their health.
Heart Disease Is 10X Deadlier Than Breast Cancer
"About 42,000 women die from breast cancer annually, but more than 432,000 women die from cardiovascular disease each year," says Giardina, founder of Columbia's Women's Heart Center and professor of medicine at Columbia University Vagelos College of Physicians and Surgeons.
"There is still a fundamental lack of knowledge among women that heart disease is the leading cause of death," she says. "This may be related to lack of awareness among women about critical risk factors, namely, hypertension, elevated cholesterol, diabetes, smoking, obesity, and lack of physical activity. 
"Though there has been a significant decrease in mortality from cardiovascular disease over the last 35 years for both men and women, it is largely related to improvement in secondary prevention, such as stents, bypass surgery, and medications used after a heart attack has already occurred. Now we need to work on primary prevention to prevent a first heart attack.
"As physicians, we need to do a better job about informing the general population that heart disease is primarily a "lifestyle" disease. One of the major factors that continue to account for the high numbers of deaths is the rise in obesity in the United States. Obesity puts patients at risk for elevated blood pressure, high cholesterol, and diabetes, all risk factors for cardiovascular disease."
Heart Disease Rising Among Young Women
"Young women, especially minorities, are the population where we need focus our attention," says Nisha Jhalani, MD, assistant professor of medicine. "Women aged 30 to 45 have rising rates of smoking and higher rates of obesity. Increases in obesity translate to an increase in hypertension, diabetes, and high cholesterol, so we are seeing more young women presenting with heart attacks than we have in the past."
"I typically tell my patients–both men and women–that they should start discussing their personal risk for heart disease with their doctors starting at the age of 20. This is when people are developing their identities, establishing eating and exercise habits, and deciding to smoke. Healthy habits that are sustainable and a part of a daily routine are the keys to defying heart disease before it ever starts.
"Early adulthood is also the time when people–especially those with a family history of certain conditions–should be screened for heart disease risk factors, such as high blood pressure, diabetes, and high cholesterol. A person could live with these conditions for years and feel fine, even if it is doing harm to their bodies and putting them at risk for future heart disease."
Heart Attacks in Women Versus Men
"When men are depicted having heart attacks in the movies–and women are never depicted having heart attacks in the movies–there's crushing chest pain, nausea, and a sudden onset," said Jennifer Haythe, MD, assistant professor of medicine, during a Mini-Med School for Women presentation.
"Chest pain is still the No. 1 symptom in women, but women can also experience a profound sense of fatigue, trouble breathing, indigestion, flu-like symptoms, or symptoms that last for a number of days. Another one I hear from a lot of women is, "I just felt like something wasn't right. I didn't feel like myself."
Male and female survivors of a heart attack are also treated differently, Haythe said.
"In the first year after a heart attack, women are 28 percent more likely to die than men. Women are less likely to be prescribed ACE inhibitors, beta blockers, and statins and are less likely to receive a defibrillator after a heart disease diagnosis than men. 
"And why this is happening isn't entirely clear. Is it because women minimize their symptoms? Is it because they say they don't need treatment? Or is there bias in the medical community and women are not treated the same as men?
"The best thing to do is to educate yourself, and then ask your doctor, 'Why aren't I getting a getting a prescription for this medication. Why am I not getting a defibrillator? Why haven't I been prescribed cardiac rehab?'"
Poor Sleep Raises Risk for Heart Disease
"Sleep should be taken seriously for optimal heart health," says Brooke Aggarwal, EdD, assistant professor of medical sciences. "In terms of magnitude of risk for heart disease, poor sleep alone is on par with other contributors to heart disease, such as obesity and hypertension."
"Getting the right amount of good quality sleep may be an important way to prevent heart disease. Short sleep and poor-quality sleep have been linked to an increased risk of heart disease and other conditions such as high blood pressure, obesity, stroke, and diabetes. Excessive sleep also has been linked to depressive symptoms and increased risk for heart disease.  
"Women are particularly plagued by sleep deprivation and poor sleep quality, especially during the childbearing years and during menopause and post-menopause."
The causes underlying the link between poor sleep and cardiometabolic risk are still being unraveled, but women may be more vulnerable than men to inflammation and hypertension as a result of poor sleep. "We've also recently found that short-duration sleep had a different impact on high-density lipoprotein (HDL) cholesterol in women than in men. Our group is currently looking at other novel factors related to sleep that may be important for heart health. These include sleeping in accordance with your body's natural circadian rhythm, whether you are a morning person or an evening person, and how poor sleep combined with increased stress may influence the gut microbiome and, in turn, lead to inflammation in the body." 
Calculate Your Personal Risk for Heart Disease
About 80 percent of heart disease is preventable, but women need to know their risks in order to act.
The "Love My Heart" app—developed especially for women by Columbia cardiologists Sonia Tolani, MD, and Natalie A. Bello, MD—is designed to raise awareness among women and prevent heart disease.
The app lets women understand their risk level in the privacy of their own homes. Using a series of 12 questions, the risk calculator determines a woman's personal risk of developing heart disease. "Women have different risk factors than men," says Tolani. "Diabetes doubles the risk of heart disease for men but triples the risk for women, for example. And complications during pregnancy and early menopause also impact risk."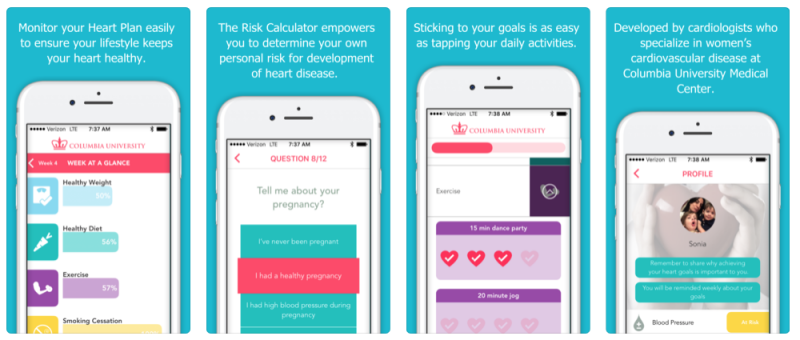 Based on the individual risk factors, the app helps the user devise a plan with realistic goals to support healthy weight, healthy diet, exercise, and smoking cessation. Users select goals, such as skipping dessert or getting off the subway a few stops early, and are prompted throughout the day to log their progress.
"Exercise doesn't have to be at the gym," says Tolani. "If you put a timer on your watch and do it, it counts."
Heart Disease Awareness Is Lower Among Latinas
Though awareness of cardiovascular disease has improved overall, it remains low among minority women, contributing to disparities, says Giardina.
"Our studies in the Women's Heart Center try to understand the level of knowledge of heart disease women living in and around Washington Height and Northern Manhattan and the risk factors that contribute to heart disease in our community," she says. "We've recently found that only about a quarter of Hispanic women in our community correctly identify heart disease at the leading cause of death among women.
"Moreover, substantial numbers of women do not recognize that excess weight is bad for the heart and increases morbidity and decreases survival. Effective prevention strategies for at-risk populations need to improve knowledge and awareness of cardiovascular disease among Hispanic women, or the most vulnerable may suffer disproportionately."