Healing in the Big Leagues
Team Physicians and their Unique Doctor-Patient Relationships
When William Meyers '75 heard the scream, he knew he had discovered something interesting. For a moment, it didn't matter that the medical student's finger was trapped between the cadaver's tightened abductor muscles and the razor-sharp edge of the pubic bone. Dr. Meyers had found a physiological relationship that would transform medical treatments of the mysterious groin and abdomi­nal injuries that had tormented athletes for decades.
Dr. Meyers had cut 30 percent of the cadaver's rectus abdominis mus­cle and was surprised to find that the tear had caused a complementary tightening of a muscle closer to the groin – and the medical student's dis­comfort. "We both thought in terms of a connection," Dr. Meyers says. "What goes on above and below the bone with the muscles?"
Dr. Meyers had been seeing athletes with severe pain in their abdomi­nal and groin areas, but no research was available to explain the causes of their agony. His experiment began a process that led him to understand better the relationships between various muscles in the area he calls an athlete's "transmission."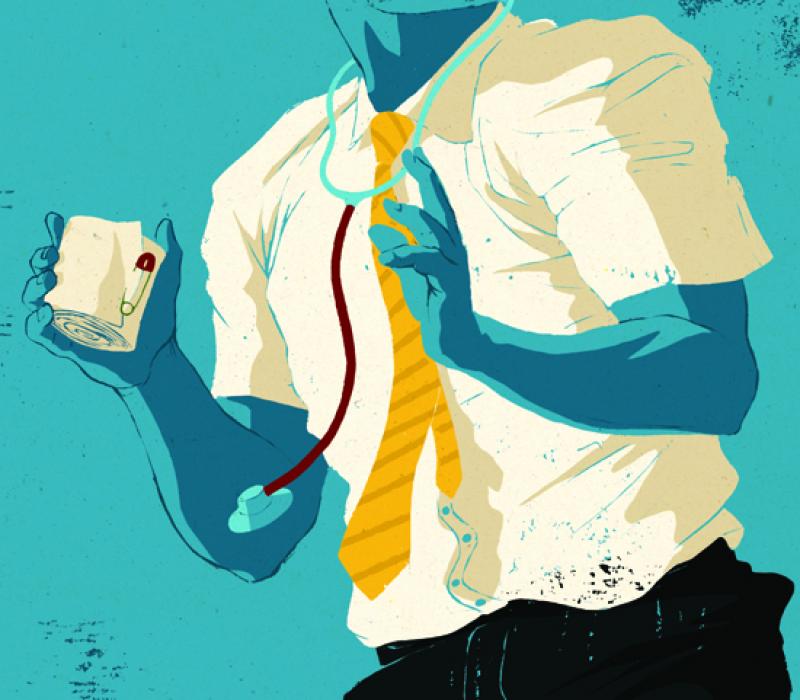 His finding helped athletes who had been told they were not tough enough to withstand what had been thought to be mere pulls or strains understand the true extent of their injuries. Dr. Meyers was able to explain how the muscles that comprise the complicated weave of the body's core interacted and how a tear in one could cause compensatory pain and weakness in others.
"In the NHL and NFL, particularly, the most common reason for early retirement was a vague 'abdominal injury,'" Dr. Meyers says. "It was really a matter of tightening and loosening the muscles, and we can now repair the area."
Dr. Meyers' pioneering work in his field has made him popular among athletes of all abilities and pursuits, from the most elite to weekend war­riors. Dr. Meyers repairs a menagerie of core injuries – which are often characterized as "sports hernias" – and his work in a field he character­izes as "very much evolving" has prolonged and even saved hundreds of careers.
Dr. Meyers, who chaired the Department of Surgery at Drexel Univer­sity from 2001 to 2010, is one of several Columbia P&S and fellowship alumni who work with professional and collegiate athletes to help them maximize performance and return from injury. Many of them are athletes themselves (Dr. Meyers was a soccer goalie at Harvard and played in the Brazilian professional league) and blend their competitive experience with clinical knowledge and a dose of diplomacy to provide invaluable assistance to the teams they serve.
"People ask me why I do it," says Patrick Connor, M.D., who completed the Charles S. Neer fellowship in shoulder surgery at Columbia in 1995-96 and is team doctor for the Carolina Panthers. "You're under a looking glass, and not everybody says glowing things about you, particularly if things don't go right. But I do it because of the people and the relationships."
Working with elite athletes is more complex than most doctor-patient relationships. Coaches, trainers, management, family members, media, owners, and agents are all involved in the equation. It's one thing to be able to diagnose and prescribe care and another to navigate the web of people with interests in an athlete's health. It's different at the collegiate level, where agents and management aren't involved, but physicians must be able to satisfy a number of constituencies each time they treat a player. Dr. Connor says team physicians must be "master communicators."
William Maloney, a 1983 graduate of P&S and team physician for the San Francisco 49ers and the Golden State Warriors, attributes that group dynamic in pro sports to the increased salaries paid to athletes and the ever-growing celebrity they enjoy. With so much money at stake, the impact of each injury is magnified, complicating the physician's job. "As the money has gotten bigger, it has affected the relationship between the doctor and patient," Dr. Maloney says. "They're not only athletes; they're actually superstars in the public sphere."
Andrew Willis '97, the New York Jets team physician, believes that no textbook, classroom, or operating theater can prepare a doctor for those external pressures. The physician is trained clinically to heal a damaged body part. But only experience within the inner sanctum of a franchise allows the doctor to fit that knowledge into the goals and realities of big-time sports.
"The medical part you learn in a textbook," Dr. Willis says. "The man­agement part is an apprenticeship that takes years. You have to take into account the personality of the athlete, the goals of management, and the athlete's need to remain productive. It's a fine balance. You have to weigh the athlete's ability to stay healthy in the long run and their value to the team or organization."
A big concern is the timing of an injury, both within the context of a season and of a player's career. If a younger player sustains an injury, he is often less willing to undergo surgery and endure a long recovery that could hurt his ability to prove himself to the team. A veteran, however, may opt for a full repair, even if it takes him off the field for a long time. He may be in the middle of a long-term contract that provides him with financial security and the peace of mind to know that his place on the team is secure.
"Some players are influenced by different factors," says Christopher Ahmad, M.D., associate professor of clinical orthopedic surgery at P&S, who is the New York Yankees team physician. "Some need to estab­lish themselves within a team or are in the last year of a contract and their upcoming contract depends on how they perform now. If they miss games, it can negatively influence getting a good contract, so they want to push through it.
"Some have talent but haven't proved themselves. Sometimes, they're willing to risk further injury to prove themselves."
If the fraternity of team physicians has a godfather, it is Russell War­ren, M.D., a Columbia College graduate who has been with the New York Giants since 1983 (he completed a fellowship in shoulder surgery at Columbia). "He trained a significant number of team physicians in the NFL," says Dr. Willis, who completed a fellowship under Dr. Warren. In 2011, Dr. Warren diagnosed All-Pro Giants defensive end Osi Umenyiora with a tear of the meniscus in his knee. As he would advise any player with a similar injury, Dr. Warren recommended a repair to save Umeny­iora's meniscus rather than a quicker removal of the cartilage that might have sent him back to the field sooner. Umenyiora chose the repair to save the joint from further arthritis.
"There are certain things somebody can play with, and it's just a pain issue," Dr. Warren says. "But you don't want to do undue damage to a joint. It's a gray area, and the athlete has to understand the situation and what further damage can be done. Some guys say, 'Do whatever you have to do.'"
Dr. Warren has had to shut down some young players with cervical disk issues because playing could have catastrophic consequences. "We have a rule," he says. "If I say you don't play, you don't play." Other players, who have had, say, partial tears of their rotator cuffs, can be injected with cortisone, rehabbed, and sent out to play, with the repair coming during the off-season.
In 2003, when then 26-year old pitcher Roy Oswalt was pitching in Houston, he made three separate visits to the disabled list, due to a groin injury, but refused to surrender to the considerable pain. The Astros were in a pennant race (they would miss out on the Central Division crown by one game), and Oswalt didn't want to undergo surgery that would keep him away from the mound for more than three months. Despite what Dr. Mey­ers terms "a significant injury," Oswalt not only kept throwing but also won his final four starts of the season. After the year, Meyers repaired his injury.
"He was heroic," Dr. Meyers says. "He chose to play the rest of the season, and it was a contract year."
College athletics do not have contract years, so William N. Levine, M.D., professor of clinical orthopedic surgery, director of sports medi­cine at P&S, and head team physician for Columbia's 31 intercollegiate athletic teams, is not worried about his patients' next paydays. To him, treatment is "always in the student-athlete's best interest." He has had to tell a senior who had contracted mononucleosis that she couldn't run in the final race of her career. He also had to "medically retire" the starting goalie on Columbia's women's lacrosse team, because she was unable to recover from concussion symptoms. "Sometimes at the professional level, an athlete will make a decision that's not in his best [long-term] interests, based on financial or contractual situations," Dr. Levine says.
The best way to advise athletes at any level is to keep gaining knowledge, and physicians who work with teams and schools have ample opportunity to do that. One such avenue is the annual NFL Scouting Combine, which Dr. Willis describes as "100 years of experience in three days." Every Feb­ruary, more than 300 players travel to Indianapolis to be scrutinized by the NFL's 32 teams. Included is an exhaustive medical examination designed to reveal every injury a player has ever suffered and whether the treatment and recovery will allow him to be a successful professional player.
"You see a broad spectrum of injuries," Dr. Willis says of the Combine. "Through the sheer volume of examinations, you understand the nuances of the injuries and see what will allow them to compete and what are not compatible with a long career in the NFL."
A repaired anterior cruciate ligament (ACL) 30 years ago was definitely incompatible with long-term pro football success. Dr. Warren estimates that NFL doctors would flunk 80 percent to 85 percent of players with the injury. Today, 90 percent to 95 percent pass the examination. That's a testament to improved surgical procedures and a greater understanding of the injury.
NFL physicians learn from each other as well. Each year, Dr. Connor takes two fellows with him to the Combine, and they consider it the high­light of their fellowship. "They see so much in such short a time," he says. "It's like drinking from a fire hydrant."
One year, Tennessee Titans team physician Dr. Burton Elrod presented information about how he and two other surgeons repaired the frac­tured sternum of former Titans QB Steve McNair. The doctors grafted a football-shaped piece of bone from McNair's hip onto his sternum to promote bone growth. It was hardly standard stuff, and the assembled physicians – who were hardly greenhorns – were happy to learn about the procedure. "None of us had dealt with a sternal fracture and how that can impact the heart," Dr. Connor says. Physicians speak with each other during the season, and it's not unusual for them to consult on dif­ferent injuries. There is even cross-pollenization. Baseball's Dr. Ahmad is an expert on throwing injuries of the shoulder and elbow and has spoken to NFL doctors who have to care for players with injured arms.
One characteristic many team physicians share, along with their medical skill, is a competitive spirit born of their own athletic experience. Dr. Ahmad was named honorable mention all-Ivy in soccer while at Columbia and helped the Lions to the NCAA tournament. Dr. Connor was an all-America tennis player at Oklahoma State. Dr. Warren was a member of Colum­bia's only Ivy League football championship team (1961), while Dr. Willis played on three Ivy football title winners at Dartmouth (1990-92).
"We know about the heat of battle and injury," Dr. Connor says. "Many of us can fall back on personal experience in this field."
That knowledge also prepares them for the job's pressure. "It's the greatest but most stressful job any orthopedic surgeon could hope for," Dr. Ahmad says. Part of that strain comes from media members who criticize doctors for operating only with teams' best interests in mind. Dr. Connor says team physicians absolutely do not do that. "We're not just worried about the player, but the reputation of the organization," he says. "People have to know the doctors and trainers are doing the right thing by the players."
So, is it worth all of the time and aggravation? Dr. Ahmad says the "most satisfying aspect" of the job is when a player thanks him for his efforts. Dr. Maloney reports how much fun he had during the 2011 season, when the Niners won the NFC West and reached the conference title game.
"I've always been a fan, and part of what makes this great is that you love to see your team do well," says Dr. Warren, who has four Super Bowl rings. "I like to see people that I've taken care of come back and play at a high level. You don't see that in private practice."
This article was originally published in Columbia Medicine.
Topics