The Future of Cancer Research: A Panel Discussion on March 24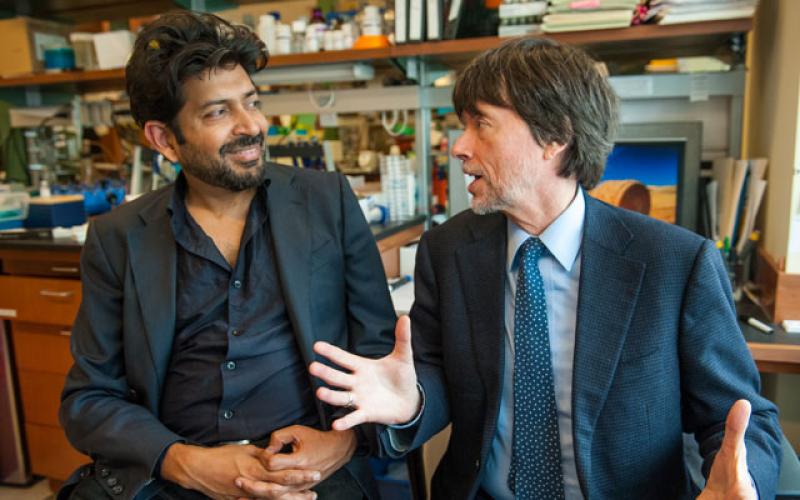 A special panel discussion on March 24 will focus on how new research is changing the landscape of cancer. The discussion will feature leading oncologists and scientists, as well as the producers of the upcoming documentary "Cancer: The Emperor of All Maladies," based on the Pulitzer Prize-winning book by Columbia oncologist Siddhartha Mukherjee.
Speakers and panelists will discuss new diagnostic tools, innovative clinical trials, and collaborations across multiple institutions that are changing the way cancer is being treated.
Scheduled participants:
Stephen Emerson, director, Herbert Irving Comprehensive Cancer Center at Columbia University Medical Center and NewYork-Presbyterian (panel discussion moderator)
Cory Abate-Shen, cancer diagnostics innovator and professor of urology and of pathology & cell biology, Columbia
Andrew Kung, chief of pediatric oncology, NY-Presbyterian/Morgan Stanley Children's Hospital
William Nelson, vice chair, SU2C Scientific Advisory Committee and director of the Sidney Kimmel Comprehensive Cancer Center at Johns Hopkins
Dennis Slamon, UCLA Jonsson Comprehensive Cancer Center and SU2C Breast Cancer Dream Team Leader
Gary Schwartz, leader of multicenter clinical research, Columbia
Ken Burns, documentary executive producer
Barak Goodman, documentary director and producer
Katie Couric, global news anchor for Yahoo! News and a co-founder of Stand Up To Cancer
Siddhartha Mukherjee, Columbia cancer researcher and author
Kenneth Forde, endoscopy pioneer and Columbia University Trustee
Thomas Maniatis, director of Columbia's university-wide Precision Medicine Initiative and co-founder of the New York Genome Center
---
A webcast of the March 24 event,
which begins at 9:30 a.m., is available
"Cancer: The Emperor of All Maladies" is a three-part, six-hour major television event presented by documentary filmmaker Ken Burns and produced and directed by Barak Goodman, a Columbia journalism graduate, in partnership with WETA, the flagship public broadcasting station in Washington, D.C. The film is one of the most comprehensive documentaries on a single disease ever made. It airs on PBS from March 30 through April 1.
'Cancer: The Emperor of All Maladies,' with Prof. Siddhartha Mukherjee, Begins March 30 on PBS from ColumbiaNews on Vimeo.
Topics