Front-line Couple Share Experiences During COVID-19 Pandemic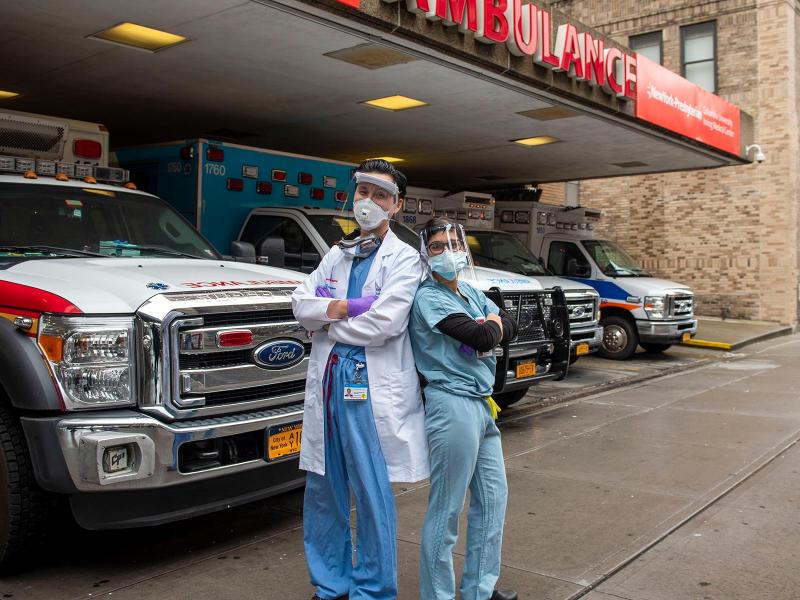 Bernard Chang, MD, PhD, and Anisa Heravian, MD, are no strangers to demanding, sometimes grueling work. Both are faculty members in the Department of Emergency Medicine at Columbia and have seen their fair share of surprises in the ED.   
Yet the COVID-19 pandemic has been unlike any challenge they've encountered and especially so for two ED physicians working in one of the busiest hospitals in NYC—all while adjusting to parenthood. Chang and Heravian are proud parents of an 11-month-old son named Teddy. 
"There have definitely been some dramatic things that we've seen over the last few months," said Chang, who received the 2020 Doctor Harold and Golden Lamport Research Award in Clinical Sciences, an honor given by the Vagelos College of Physicians and Surgeons at graduation. "Being able to share those things or just talk to Anisa at home in a comfortable manner has been extraordinarily helpful for me."
Sharing the same profession, Heravian says, helps them cope with the stress of living through the COVID-19 pandemic. "Bernard's always checking in with me," she said. "He got a PhD in psychology before all this and he does a lot of burnout research. Being ER doctors lends itself to making a unique dynamic at home. We automatically communicate and sometimes you don't have to talk to know the specifics. It's just understood."
Chang and Heravian met while she was in her last year of residency and he was an attending at Columbia University Irving Medical Center. Not long after, Heravian moved to California for work and the couple began a long-distance relationship. After their engagement, she returned to New York and to Columbia. They married in 2018. 
Through the pandemic, there have been "pockets of awesomeness," as Chang calls them. "Watching the degree of camaraderie among the providers and nurses and techs is really moving," he said. "It's been common to see senior faculty and chairs of other departments putting in an IV or putting on stickers for an EKG. Everyone is stepping up."
And it's not just their colleagues. Family and friends are also offering support. Heravian's sister has been living with them through the pandemic to help with Teddy's child care. 
"There's a whole new meaning and depth and intention when we talk to each other and to colleagues, family, and friends," said Heravian. "We make sure to connect on a human level and treat ourselves and others with love and empathy."