Frantz Society Colloquium: Women Discuss Transformative Power of Leadership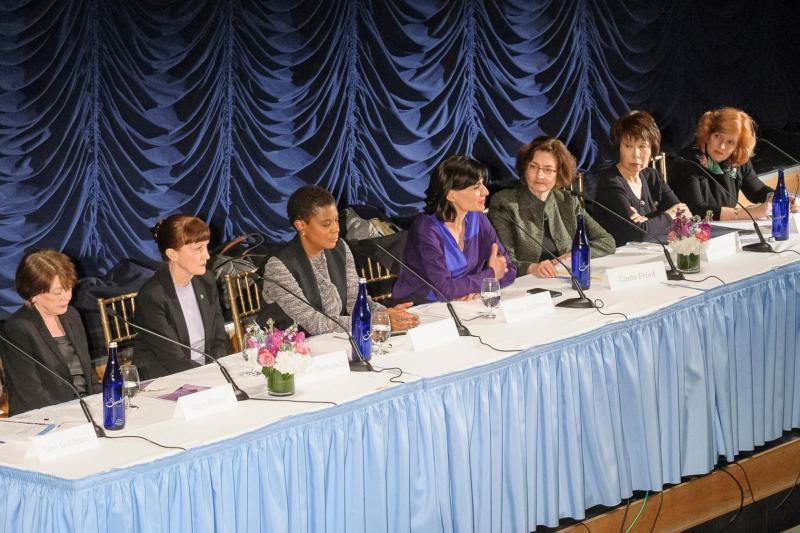 By Helen Garey
Seven women deans from schools across Columbia University participated in the third annual Virginia Kneeland Frantz Society for Women Faculty lecture on March 7. The discussion, "Women and Leadership in the 21st Century University," included the women's perspectives on what it means to be a woman leader in an academic setting, including how they got where they are today and the challenges they faced along the way.
For some, the path toward academic leadership was both deliberate and empowering. Noting that women are not often chosen to be leaders, Linda Fried, MD, dean of the Mailman School of Public Health, said, "If you want to make an impact on a scale larger than yourself, you have to build the opportunity."
Others reported they were initially reluctant to take on leadership positions, either because they were more focused on family, research, or maintaining a private practice in their chosen field. Jeanette C. Takamura, PhD, dean of the School of Social Work, noted that avoidance of the leadership path is a common theme for many women. Nevertheless, the panelists agreed that they discovered great value and satisfaction in taking on their current roles.
Mary C. Boyce, PhD, dean of the Fu Foundation School of Engineering and Applied Sciences, said that while she enjoyed research and teaching, she realized that she could have a broader impact in her role as dean. Alondra Nelson, PhD, dean of social science for the Faculty of Arts and Sciences and professor of sociology and gender studies, described herself as a zealous researcher and reluctant administrator who got to her current position by taking "baby steps." And although Amale Andraos, MArch, dean of the Graduate School of Architecture, Planning and Preservation, also did not set out to become a dean, she embraced the opportunity to enlist her team-building skills and help students face new architectural challenges in the face of climate change.
The panelists also shared their thoughts on the value of formal and informal leadership training. Bobbie Berkowitz, PhD, dean of the School of Nursing, sharpened her leadership skills with a variety of intensive training programs. But perhaps even more valuable was the early realization that her shyness might interfere with success. To counteract this, she embarked on acting lessons in high school.
Merit E. Janow, JD, dean of the School of International and Public Affairs, benefited from formal leadership training programs. "You need a variety of skills that may not be among your core skill set to help you become the leader you want to be," she said.
Each of the women faced numerous challenges in their careers. Some of these challenges stemmed from biases against having women, minorities, researchers, and even private practitioners invade the hallowed "boys' club" of academia. "Perhaps the most dangerous bias is the one we internalize," warned Ms. Andraos.
Having more women assume leadership positions in higher education has led to discussions about disparities in gender and race. But in the name of building a stronger society, Dr. Fried noted, it is essential to engage in these discussions.
With fewer obstacles than in the past, more women are being prepared for leadership positions in academia. "There are certainly plenty of women in the academic pipeline now," noted Ms. Janow. Nonetheless, the issue of unconscious gender bias continues to present a barrier for many would-be women leaders. As a result, far fewer women have tenure compared with their male counterparts.
In telling their stories, the women showed how choosing to accept the mantle of leadership has been transformative. "There is a moment when we realize that we need to lead, and as women in a university setting, we can do it together," said Ms. Andraos. And, Dr. Fried added, having a sense of humor as well as a sense of purpose is critical.
"There are few opportunities to hear from so many of our deans at once," said Columbia President Lee C. Bollinger, who attended the event. "Listening to their discussion underscored for me how fortunate we are to have such accomplished and talented women among our University leadership."
See the video recorded at the event here. More about the Virginia Kneeland Frantz Society for Women Faculty can be found at the society's website.