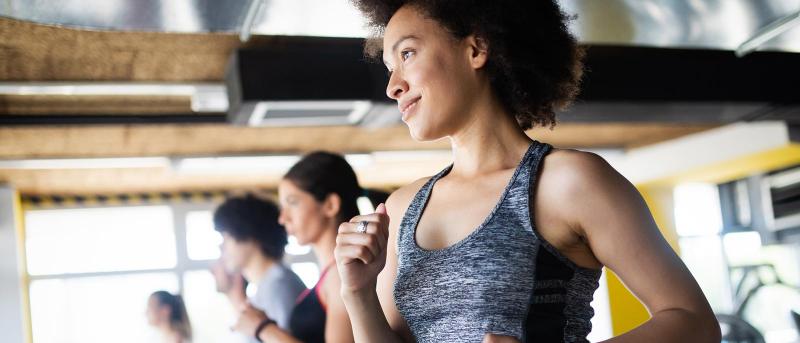 Flex Your Employee Fitness Benefits and Resources in the New Year
If your New Year's resolution is to exercise more in 2020, you are not alone. Getting fit is one of the most common resolutions people make—and with good reason, according to CUIMC experts. 
"If exercise could be put into a pill, it would be the most prescribed and most beneficial medicine in the history of the world," says Keith Diaz, PhD, assistant professor of behavioral medicine (in medicine) at VP&S, who studies the connection between sedentary behavior and the risk of cardiovascular disease. "Most medications target one thing and that's it. Exercise can help to lower your blood pressure and cholesterol levels, maintain your heart and brain functions, and improve your mood. It can reduce the risk of heart disease, cancer, Alzheimer's disease, and other chronic diseases."
According to the physical activity guidelines of the U.S. Office of Disease Prevention and Health Promotion, American adults need 150 to 300 minutes of moderate-intensity aerobic activity each week, or about 30 minutes per day.  
Resources available through Columbia's Office of Work/Life help CUIMC employees stay active, such as yoga videos, walking maps, and gym and wellness discounts. Participating gyms are Crunch, New York Health & Racquet Club, and New York Sports Club. 
Additional wellness discounts are available to Columbia faculty and staff through the Aetna Columbia Dental Plan's GlobalFit Benefit and Humana Employee Assistance Program's Spendless Discount Program Benefit. 
For those who prefer to work out on the medical campus, Bard Athletic Center on the first floor of Bard Hall offers memberships and passes for single visits.
Alternatives to the gym abound at other Columbia locations. For a different kind of workout, head to the Steep Rock Bouldering Gym at 3225 Broadway on the Manhattanville campus, where Columbia employees can get a discounted $18 day pass or $95/month membership.
The Dodge Fitness Center at 3030 Broadway in Morningside Heights offers half-price group and functional fitness passes for employees. Columbia Transportation also offers a number of resources to support bicycling to and from campus.
If outdoor running is your preference, Columbia's Baker Athletics Complex at 533 W. 218th St. in Inwood has a gated eight-lane track open to the public on most weekday evenings. 
Offices and departments interested in exercising together can request an in-house yoga workshop or sign up for a "Take the Stairs Team Challenge" on the well-being section of the Office of Work/Life website. Join the Office of Work/Life Well-Being Newsletter mailing list to stay informed about upcoming programming, such as a University-wide walking team challenge in spring 2020. 
Faculty and staff on Columbia's medical plan with United Healthcare can engage with a number of resources, such as telephonic wellness coaching and Rally, an online platform where participants can take a health survey, sign up for walking challenges, enroll in personalized health missions, and more.
Topics