Five Vagelos Physician-Scientists Receive Gerstner Awards
Four physician-scientists at Columbia University Vagelos College of Physicians and Surgeons have been named 2023 Gerstner Scholars and will receive funding for up to three years to support their research. In addition, one 2020 Gerstner Scholar will receive the highly coveted Gerstner Merit Award.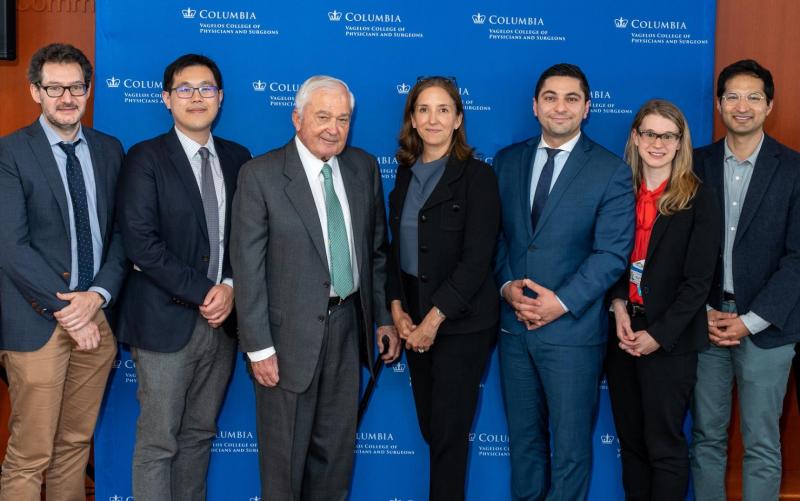 The Louis V. Gerstner Jr. Scholars Program was established 15 years ago to provide exceptionally talented physician-scientists at Columbia University Vagelos College of Physicians and Surgeons (VP&S) with critical funding. This generous support allows early-career scientists to conduct high-risk, high-reward research and gather the pilot data necessary to apply for grants from the National Institutes of Health and other sources.
The Gerstner Scholars program has been pivotal in cultivating the next generation of leading physician-scientists at VP&S, supporting 64 early-career investigators over the past 15 years. The Gerstner Merit Award, created in 2015, provides an additional year of funding to a select scholar in the final year of the program and has been a critical source of bridge funding to help physician-scientists become independent investigators. Nine VP&S physicians have received the Gerstner Merit Award.
The program has been remarkably successful in driving research success at VP&S, with Gerstner Scholars leveraging the program's support into $300 million in additional funding from the NIH and other sources. Four Gerstner alumni scholars have achieved tenure. The Gerstner Scholars Program is a model faculty development program for researchers across the continuum at VP&S, providing the foundation to build biomedical research careers.
The physician-scientists named as 2023 Gerstner Scholars:
Benjamin Izar, MD, PhD, a 2020 Gerstner Scholar, has been awarded the Gerstner Merit Award. In 2014, the Gerstner Family Foundation created the Gerstner Merit Award to provide an additional year of funding for a Gerstner Scholar in his or her third year who has made remarkable strides in research and demonstrated extraordinary growth as an academic biomedical investigator.
---
2023 Gerstner Scholars
Shah Ali, MD
Assistant Professor of Medicine (Cardiology)
Project: "A Rosetta Stone to Decipher Intercellular Crosstalk During Neonatal Heart Regeneration"
Shah Ali's lab at Columbia seeks to uncover molecular pathways that can regenerate the human heart. In his Gerstner project, Ali aims to advance the progress he has made on his K08 grant, which characterizes the role of a secreted protein (IGFBP3) in neonatal cardiac regeneration. Ali will take advantage of a recently developed transgenic mouse platform that can biotinylate canonically secreted proteins in a genetic manner. He will use this platform to mine the secretome in the regenerating mouse heart for pro-regenerative factors. The results of these experiments will help launch Ali as an emerging leader in the field of cardiac regeneration and form the basis for his lab's future projects and grants. He earned his BA in chemistry at Rutgers University and his MD at Stanford Medical School.
---
Edmond Chan, MD
Assistant Professor of Medicine (Hematology & Oncology)
Project: "Elucidating a Novel Vulnerability in Cancers with Chromosomal Region 9p21.3 Loss or Microsatellite Instability (MSI)"
The goal of Edmond Chan's lab is to identify the mechanisms that promote cancer development and cancer cell survival and to use this knowledge to drive the development of novel therapeutics. Using broad-based datasets for biomarker-driven therapeutic targets for GI cancers, Chan has previously identified a DNA helicase, WRN, that plays a critical role in the biology of microsatellite unstable (MSI) tumors. His discovery asked seminal questions about WRN concerning its function and mechanism of action to maintain genomic stability and survival in tumors with MSI. With the support of the Gerstner Program, he will continue to advance the refined understanding of the relationship between WRN loss and lethality of MSI cancers, while building a successful career as an independent investigator. Chan earned his undergraduate degree in molecular and cellular biology at the University of California at Berkeley and his MD at the University of Cincinnati College of Medicine.
---
Pamela Good, MD
Assistant Professor of Pediatrics (Neonatology)
Project: "Inflammation after Gentamicin-Induced Injury in Mouse Model of Human Premature Kidneys"
Pamela Good's lab investigates the causes of acute kidney injury in newborns with the goal of finding better ways to prevent the injury. In premature infants, acute kidney injury is sometimes caused by drugs, including the antibiotic gentamicin, used to treat or prevent other conditions of prematurity. Good will study cellular and inflammatory responses to gentamicin-induced kidney injury in neonates; these responses are poorly understood, especially in preterm infants. She has proposed studies to analyze gentamicin endocytosis, subcellular localization, and organelle injury in renal proximal tubules to shed light on gentamicin's effects in the newborn. After obtaining her MD at VP&S, Good continued her pediatric residency training at Columbia where she served for one year as a chief resident before beginning her subspecialty training in neonatology.
---
Juan-Manuel Schvartzman, MD, PhD
Assistant Professor of Medicine
Project: "Targeting Metabolism to Uncover Synthetic Lethalities between Epigenetics and Replication Stress"
The lab of Juan-Manuel Schvartzman seeks to understand how cellular metabolism affects chromatin biology and how this impacts cell fate and the development of cancer. His studies address basic questions ranging from how metabolism affects early development to more translational problems, including how metabolism affects sensitivity to epigenetic therapies and how to profile the dynamic epigenomic changes during treatment of solid tumors. Schvartzman is poised to expand his efforts to link the study of cellular metabolism in cancer with cancer therapy, aiming to integrate his work with the burgeoning field of targeted therapies for cancer, including both poly-ADP-ribose-polymerase (PARP) inhibitors and the emerging ability to target lysine demethylases (KDMs). He graduated from Cambridge University, where he completed his undergraduate and medical degrees. He obtained a PhD in molecular biology from Weill Cornell and completed residency in internal medicine at Montefiore Medical Center/Albert Einstein College of Medicine. Before joining Columbia, he completed a fellowship in medical oncology at Memorial Sloan Kettering Cancer Center.
---
2023 Gerstner Merit Awardee
Benjamin Izar, MD, PhD
Assistant Professor of Medicine (Hematology & Oncology)
Project: "Immune Fitness Testing in Patient-derived Models Using Multimodal Single-cell Profiling"
The goal of Izar's research is to better identify and overcome mechanisms of resistance to immunotherapies in cancer patients. His studies are known for creating new paths in the interface between cutting-edge single cell genomics, genome-editing tools, and clinical studies in immuno-oncology. With his Gerstner award, Izar will continue his research into immune checkpoint inhibitors (ICI), among the most important therapeutic developments in cancer care. ICI are monoclonal antibodies targeting CTLA-4 and the PD-1/ PD-L1 axis, thereby releasing tumor mediated immune inhibition and enabling T-cell mediated killing of tumor cells. A portion of patients with metastatic melanoma experience durable responses to ICI, but most patients are resistant to a second round. The molecular underpinnings of ICI resistance are poorly understood and represent one of the biggest challenges in oncology, and Izar's studies may provide avenues for novel drug discovery to overcome that resistance.