Five Questions with Michael Weiner, Oncologist, Cancer Survivor, Author
Three years ago, Michael Weiner, MD, professor of pediatrics at Columbia University Vagelos College of Physicians and Surgeons, felt an enlarged lymph node on his neck. As a pediatric oncologist who specializes in treating children with leukemia and lymphoma, Weiner knew the node was concerning.
His own experience with cancer, his experience as a parent of a child with cancer, and his 40 years as a pediatric oncologist have given Weiner a 360-degree perspective of cancer. 
"The result has been a sometimes uncomfortable intimacy with this terrible disease," Weiner writes in his new book "Living Cancer: Stories of an Oncologist, Father, Survivor," a collection of patient stories and tales of hope, bravery, pain, survival, and resilience.
"So many suffer in silence, but I've come to understand that pain and suffering are better dealt with when they are expressed and shared," he adds. 
"In hearing stories, not only of hardship, but of joy, love, humor, and, most of all, true, lived experience, we as human beings are better able to support one another."
---
Why did you decide to become a pediatric oncologist?
Primarily because it was a very new field. At the medical school I attended, we didn't even have a pediatric oncologist on staff. I took an elective in oncology and then spent a bit of time with Arlan Gottlieb, the head of medical oncology, who marshaled my career. 
I chose pediatric oncology after we had a young patient who was diagnosed with leukemia. Dr. Gottlieb went in to speak to the parents and said this diagnosis is tantamount to a death sentence. And I looked at him and I looked at the patient, and I thought, Oh my God, this can't possibly be true. And he's telling the parents of this beautiful little girl that there's really nothing that we can do. 
This was 1970 or '71 and only about 5 or 10% of patients at that time would go into a prolonged remission and be cured. So I thought to myself, this is an opportunity. I like caring for children. And the idea that I could come in at the ground floor and think in terms of having an impact on children's lives was very appealing to me.
---
What prompted you to put your experiences in a book?
In 2018, I was diagnosed with follicular lymphoma.
Later that summer, when I received a Lifetime Achievement Award from the New York chapter of the American Cancer Society, I decided to tell the story of my illness during my acceptance speech. I told the group of almost 1,000 people about my experience and it was received unbelievably positively. People said I should write about my cancer journey, so I wrote the article and it was published in Columbia Medicine magazine.
And then my own daughter got cancer. So I had an opportunity to look at cancer from a lot of different views: as a caregiver, dealing with children and parents with cancer, as a parent of a child with cancer, and as a patient.
I think people who have cancer in their lives—as patients, providers, or family members—will find comfort in the book, because they will realize their experiences are similar to mine. 
---
You've written about six patients you've cared for; some beat incredible odds, some died. What unites their stories?
Each patient is distinct but their stories are interconnected, a mosaic of cancer journeys, all of which lead toward the same essential human truths: indecision, isolation, fear, trust...and hope.
As a physician, I believe you cannot take hope away from the patient. It's the way I've practiced since the beginning of my career. Even in the most dire circumstances, even if there's a one in 100 chance: That means there is one who is going to survive. You have to have that kind of faith, to believe that there is a chance that things are going to improve and things are going to get better. If you can't believe that, why do you go through it?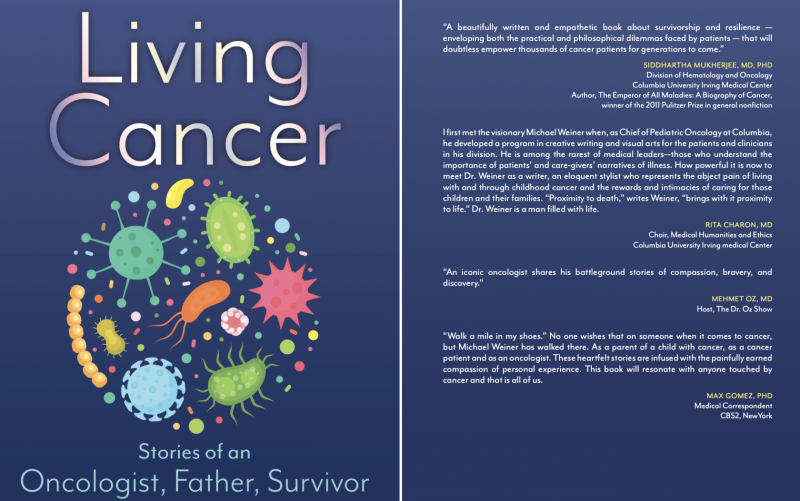 ---
Did the experience of your daughter's cancer change the way you practice?
What I learned from my daughter's experience is to be a parent first, a doctor second. Columbia is filled with hundreds of extraordinary physicians. My daughter needed a father. 
Our experience, I am certain, is similar to every other parent whose child is diagnosed with cancer. We learned as much as we could absorb and then put our trust in her doctors' capable hands and relied on their advice. 
The experience did reinforce the awful trials and tribulations that all parents must endure. In some odd way I was a member of their club.
---
Do you have any advice for patients who've just been diagnosed with cancer?
My advice would be to find a doctor—and I think this is good advice for any patient—who forms a bond with yourself or your child. It's very important to have trust and also feel that your doctor is on that cancer journey with you as your partner. There are a lot of knowledgeable physicians who provide care to patients. Only a few will become your partner and take that journey with you. And that's what families and patients need. Find that person. I did. And they're out there.
Topics
References
Michael Weiner, MD, also is vice chair for external affairs in the Department of Pediatrics at Columbia University Vagelos College of Physicians and Surgeons. He was chief of the Division of Pediatric Oncology at Columbia from 1996 to 2016.