Fatty Liver: Turning Off TAZ Reverses Disease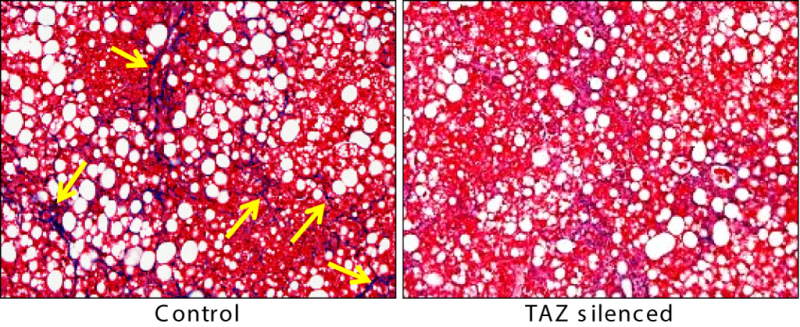 NEW YORK, NY (Oct. 27, 2016)—Scientists at Columbia University Medical Center (CUMC) have identified a factor in liver cells that is responsible for turning a relatively benign liver condition, present in 30 percent of U.S. adults, into a serious disease that can lead to liver failure.
The study was published online today in Cell Metabolism.
With the rise of obesity in the United States, the incidence of nonalcoholic fatty liver disease (NAFLD)—in which excess fat fills the liver—has risen to epidemic levels. The extra liver fat is generally benign, but in one in five people, NAFLD evolves into a more serious condition, nonalcoholic steatohepatitis (NASH).
In NASH, the liver becomes inflamed and criss-crossed by fibrous scar tissue, and liver cells start dying. Patients with NASH are at risk of liver failure and liver cancer, but there are no drugs on the market that can slow or stop the disease.
Because the amount of fibrosis in the liver is associated with a greater risk of death from NASH, Xiaobo Wang, PhD, an associate research scientist in the Department of Medicine at CUMC working in the lab of Ira Tabas, MD, PhD, looked for ways to stop fibrosis in a mouse model of NASH.
He found that in liver cells, TAZ, a previously unknown factor in NASH, plays a critical role in initiating fibrosis and that fibrosis stops in mice with NASH when TAZ is inactivated in liver cells. With TAZ shut down, existing fibers in the liver also dissolved, essentially reversing the disease. Two other critical features of NASH, inflammation and cell death, were also reduced when TAZ was turned off. Fat accumulation in the liver was unaffected.
Based on their examination of liver biopsies from NAFLD and NASH patients, Drs. Wang and Tabas believe that TAZ works in the same way in people.
"We think that by stopping fibrosis through TAZ and its partners, we may be able to prevent the serious consequences of NASH, including liver failure and liver cancer," said Dr. Tabas, the Richard J. Stock Professor and vice chair of research in the Department of Medicine and professor of pathology & cell biology (in physiology and cellular biophysics) at Columbia.
The study is titled, "Hepatocyte TAZ/WWTR1 Promotes Hepatic Inflammation and Fibrosis in Nonalcoholic Steatohepatitis." Authors are Xiaobo Wang (CUMC), Ze Zheng (CUMC), Jorge Matias Caviglia (CUMC), Kathleen E. Corey (Massachusetts General Hospital and Harvard Medical School), Tina M. Herfel (Teklad Diets, Envigo, Madison, WI), Ricard Masia (Massachusetts General Hospital and Harvard Medical School), Raymond Chung (Massachusetts General Hospital and Harvard Medical School), Jay H. Lefkowitch (CUMC), Robert F. Schwabe (CUMC), and Ira Tabas (CUMC).
The research was supported by grants from the National Institutes of Health (HL087123, HL075662, DK078772, DK099422, R03 DK101863, and UL1 TR000040) and a Russell Berrie Foundation Scholarship in Diabetes Research.
Drs. Wang and Tabas and Columbia University have filed a patent for the use of TAZ pathway inhibitors in treating NASH.
The authors report no additional conflicts of interest.
###
Columbia University Medical Center provides international leadership in basic, preclinical, and clinical research; medical and health sciences education; and patient care. The medical center trains future leaders and includes the dedicated work of many physicians, scientists, public health professionals, dentists, and nurses at the College of Physicians and Surgeons, the Mailman School of Public Health, the College of Dental Medicine, the School of Nursing, the biomedical departments of the Graduate School of Arts and Sciences, and allied research centers and institutions. Columbia University Medical Center is home to the largest medical research enterprise in New York City and State and one of the largest faculty medical practices in the Northeast. The campus that Columbia University Medical Center shares with its hospital partner, NewYork-Presbyterian, is now called the Columbia University Irving Medical Center.  For more information, visit cumc.columbia.edu or columbiadoctors.org.