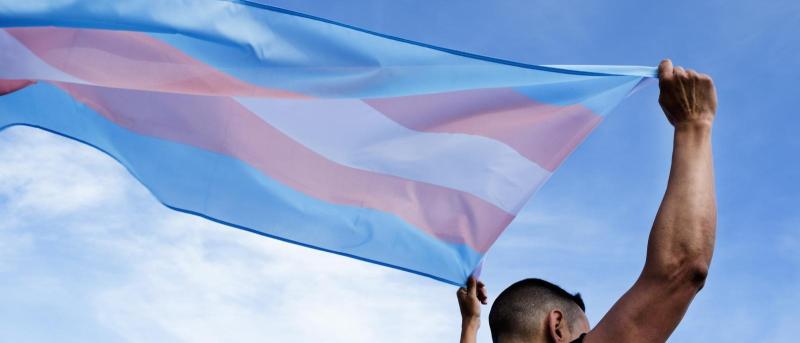 Everyone has a role in gender-affirming care
When a person's gender identity does not match their assigned sex at birth, they may need gender-affirming care. But what does that mean?  
"Many people think of gender-affirming care just as starting hormonal therapy but it is so much more," says Natasha Ramsey, MD, MPH, a pediatrician and adolescent medicine fellow at Columbia University's Vagelos College of Physicians and Surgeons. Medically necessary, evidence-based, gender-affirming care helps a person whose gender identity is not the one assigned at birth be affirmed in ways that are meaningful to them. 
What is gender-affirming care? 
Gender-affirming care comes in many forms. "When we talk about gender-affirming care we're talking about a broad range of social, psychological, behavioral, and medical options designed to support and affirm a person's gender identity," says Ramsey.  
Recognizing a person's gender identity and using their correct pronouns  

Correct pronouns make people feel comfortable and safe  
What if you're not sure of someone's gender? Instead of he or she, use they. Or ask how they'd like to be referred to 

Not making assumptions about a person's sexual orientation or sexual activity  
Using gender inclusive language and terms 

Example: "first year student," not "freshman" 

Displaying medical office signs and health information that lets people know they are safe  
Recognizing not every patient desires medical or surgical intervention
"Gender-affirming care also involves connecting patients and their parents to support groups and legal services to assist with changes on legal documentation," says Ramsey. 
Youth and gender affirming care  
Studies show it's important for children as young as 4 years of age to have a stable sense of their gender identity. Adolescent and young adulthood (ages 11 to 25) is also a critical time. In this period of life, physical and psychological development occurs. People discover who they are. Accordingly, says Ramsey, "Youth whose gender identity is not affirmed by their community, family, or friends can be at high risk for depression and suicide. This is a population of patients who need support and care."  
Limiting or banning access to all forms of care for gender diverse adolescents and young adults can harm mental health. 
Gender affirming care is essential for mental health 
Because of stigma, discrimination, and limited social support, transgender and non-binary youth often experience mental health issues and have high rates of self-harm and suicide. They are at increased risk for depression, suicide, homelessness, sexual behaviors that put them at high risk for negative health outcomes, and legal issues.  
Studies show gender-affirming care improves well-being and decreases negative mental health outcomes.  
"Being seen for who you are is a critical part of well-being," says Ramsey. "Being transgender, gender expansive, or gender non-binary in itself is not a risk to mental health or reason to take more risks in life. It is repeatedly not being affirmed in gender and not offered needed care that puts people at risk. For this reason, gender-affirming care is life-saving." 
Gender-affirming medical options  
"Gender-affirming care must be individualized to a person's goals and circumstances," says Ramsey. "There is no one way to affirm someone's gender identity, it really is up to them." 
For people who want medical gender-affirming care, Columbia pediatricians can assist. Choosing and undergoing any intervention is determined by each patient and their care team. Options include: 
Learning safe ways to change looks and express gender identity  
Reversible puberty blockers before completing puberty to avoid developing changes to the body, such as voice deepening and breast development 
Testosterone to reduce effects of estrogen 
Intervention to suppress menses, such as hormonal intramuscular injections, tablets, or intrauterine devices.  
Laser hair removal 
Voice training 
"We welcome children and their families and guardians from wherever they may be to receive gender affirming care from our extraordinary teams," says Jordan Orange, MD, PhD, chair of pediatrics at the Vagelos College of Physicians and Surgeons. "Our commitment—to the priorities of  inclusion, safety, best practices, and understanding—ensures the best outcomes for our children."
To find out more, make an appointment with an Adolescent Medicine provider in the Ambulatory Care Network or Columbia Doctors.  
References
The Adolescent Medicine Program at Columbia provides comprehensive, state-of-the-art care for adolescents and young adults. The program offers complete medical care and psychosocial evaluations for teens and young adults, from sports physicals to vaccinations to discussions about school issues, aspirations, relationships, and sexuality.
Natasha Ramsey, MD, MPH, is a postdoctoral clinical fellow in the division of Adolescent Medicine, Department of Pediatrics at Columbia's Vagelos College of Physicians and Surgeons.
Jordan Orange, MD, PhD, chairs pediatrics at the Vagelos College of Physicians and Surgeons, where he is the Reuben S. Carpentier Professor of Pediatrics. He is also physician-in-chief of NewYork-Presbyterian/Morgan Stanley Children's Hospital.
Why Pronouns Matter | Columbia SIPA
Gender-affirming Care Saves Lives | Columbia University Department of Psychiatry