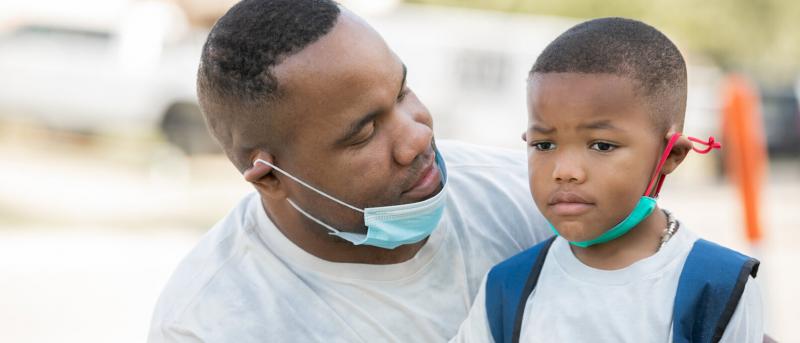 Easing Back-to-School Anxiety in the COVID Era
This fall, most children will put aside the Zoom links and head back to the classroom for old-school, in-person learning. 
After more than a year of COVID-related upheaval, a return to the classroom will be celebrated by many children and adults who are eager to regain a sense of normalcy. But for other children, going back to school five days a week will fill them with anxiety. 
Alyssa Ames-Sikora, PhD, a faculty member in the Department of Psychiatry at the Vagelos College of Physicians and Surgeons, says it's normal to have some first-day jitters though more kids than usual this year may be anxious about returning to in-person learning. Ames-Sikora also is a psychologist at the Columbia University Clinic for Anxiety and Related Disorders Westchester.
"Children may have dual emotions," says Ames-Sikora. "Some are joyful about emerging from their COVID bubbles but they also may be dealing with loss, particularly if they lost a family member to COVID. In addition, there's still a lot of uncertainty about new CDC guidelines and variants and their effect on everyday life, which can contribute to children's anxiety about going back to school.
"Any change can cause anxiety, especially for kids who are more comfortable at home than at school or may lack confidence about the social and academic demands of school." 
We spoke with Ames-Sikora to find out how to spot back-to-school anxiety and how parents can help ease the transition for children and teens.
---
How can you tell if your child or teen might be anxious about going back to school?
Children and teens with a history of school anxiety and avoidance before the pandemic may be most vulnerable to problematic anxiety this year. These are kids who, prior to COVID, often missed school, had intense anxiety or behavior problems before going to school, or showed signs of distress while in school, such as repeated visits to the nurse or calling and texting parents to leave early. It could also occur in kids who have avoided activities, going to places like the grocery store, or spending time with friends this past year. 
---
Given all of the uncertainty about variants and masking, isn't some anxiety normal? 
Anxiety and fear are normal human emotions, and they can be helpful when they prevent us from making bad choices and keeping ourselves safe. However, anxiety can be problematic when our fear level is elevated but the threat in the environment is low.
Because of the nature of this pandemic, our sense of problematic anxiety versus normal anxiety has shifted some. In the case of returning to school at this point in the pandemic, it is normal and OK for children and teens to experience some anxiety about going back. We should be concerned if anxiety starts to interfere with a child's learning, social connections, or school attendance, which may show up in their grades, relationships, and even their physical health—such as frequent complaints of headaches or stomachaches.
Going to school in the current environment involves some risk. However, for many students the academic, social, and mental health benefits of returning to school likely outweigh the safety risks. By instructing children to follow safety precautions and adhere to guidelines, we can help them mitigate risk while allowing them to engage in their lives. We know school is a place where kids need to be, it's a place where they can thrive and grow.
Learn more about back-to-school anxiety
Learn more about helping kids with back-to-school anxiety in this webinar from the Columbia University Clinic for Anxiety and Related Disorders, featuring Anne Marie Albano, PhD, professor of medical psychology, and Anthony Puliafico, PhD, assistant professor of clinical psychology, faculty members of the Department of Psychiatry at Columbia University Vagelos College of Physicians and Surgeons.
---
What can parents do to ease kids through this transition?
Be mindful of how you communicate your thoughts and feelings about your child returning to school. Share with your child the reasons why it is important for them to return to school, but avoid discussing your own concerns and fears in front of your child. Focus on what your child loves most about being in school—whether it's socializing or doing an activity or sport—and generate some excitement around finally being able to do these things. Even if you're feeling uncomfortable or uncertain about sending your child back to school, try to communicate calmness, confidence, and empathy about the situation. 
Next, get yourself and your child back to doing activities outside of home and try to build their familiarity with school, teachers, and classmates before school starts. If your child is worried about social interactions or meeting new kids in class, try to connect them with their peers before school starts, either virtually or in person. If they are anxious about being in a new classroom, parents can work with the school to arrange a Zoom or in-person meeting with the new teacher or a tour of the building or classroom ahead of time.
Reward your child for their efforts to face situations at school. Let them choose the movie for the family movie night, or take them for ice cream after school. A little attention from parents goes a long way.
Also, be proactive and partner with your child's school. Reach out to your child's teacher, a school psychologist, or administrator to understand the resources available to your child as they start school. Communicating with the school and enlisting their help can often help manage a child's anxiety and concerns more quickly and effectively.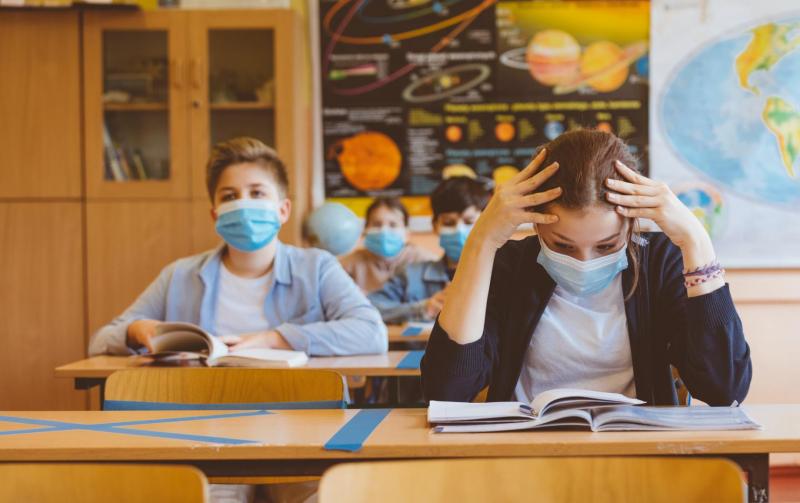 Teaching our children how to handle anxiety involves helping them learn to tolerate some level of uncertainty and risk. They can learn to have a healthy relationship with risk rather than attempting to eliminate all risk, which doesn't work and often leads to unhelpful avoidance. Being able to tolerate some uncertainty is an important goal to strive for, as most choices we make in life bear some uncertainty in how they will turn out.
As a parent myself, it's hard to see my daughter in distress. But I also know that these emotions are important for her to work through and it's an amazing thing to see her engage with the world and other kids around her, even when it seems difficult. She gets stronger with each obstacle she faces.
References
More information
Alyssa Ames-Sikora, PhD, is an instructor in medical psychology in the Department of Psychiatry at Columbia University Vagelos College of Physicians and Surgeons.