Dr. Nemat Shafik, Columbia's Next President
Dear Colleagues,
Yesterday we had the great pleasure of welcoming Columbia University's next president, Dr. Nemat "Minouche" Shafik, to the medical center campus. Dr. Shafik spent the afternoon meeting our faculty, staff, and students including visits to the Nursing School's simulation center, the comprehensive HIV program clinic, the Aaron Diamond AIDS Research Center, and the Vagelos Education Center. I had the good fortune of accompanying her on the tour and learning even more about the incredible things going on across our campus, including innovative approaches to clinical education, longstanding community partnerships that enable care delivery and community-based research, and groundbreaking scientific contributions to addressing the COVID-19 pandemic. I'm grateful to everyone who participated.
If you have read about Dr. Shafik's career and personal background, you know that she deeply values societal impact and holds an expansive view of the ways in which scholarship and higher education must move society forward. The small slice of our work that she was able to see clearly resonated with her. I'm sure I speak for all who were involved yesterday when I say there is a powerful sense of anticipation and excitement about the leadership Dr. Shafik will provide for Columbia and the future we will create together.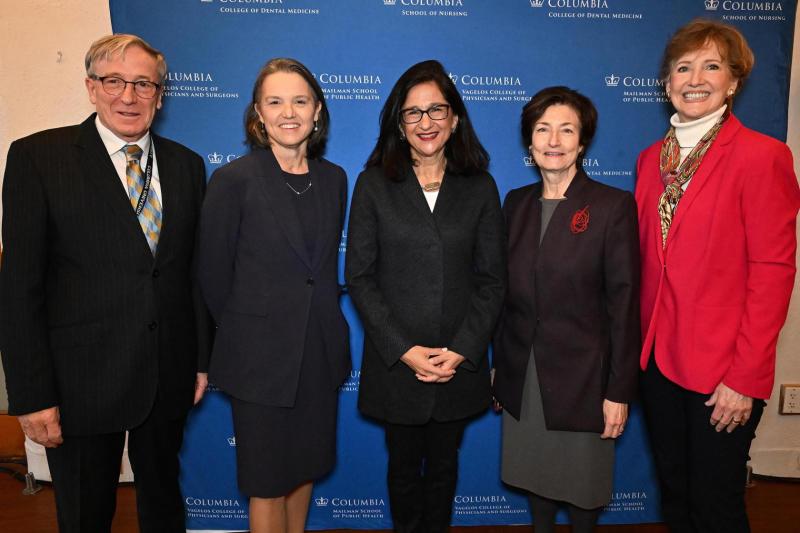 I was delighted to be joined by Drs. Frazier, Fried, and Stohler in showcasing the remarkable teaching, patient care, research, and community service that occurs at CUIMC and bragging about all of you who make this work possible. We are doing the most important work in the world here at a time that it has never been more needed. The picture of CUIMC that was painted yesterday was at once extraordinary and familiar, for we merely put on display what occurs at the medical center every day. As always, I find it an enormous privilege to work with you.
All my best,
Katrina Armstrong, MD 
Dean of the Vagelos College of Physicians and Surgeons
Executive Vice President for Health and Biomedical Sciences, Columbia University