Dr. Kevin Roth Named Chair of Pathology & Cell Biology and Pathologist-in-Chief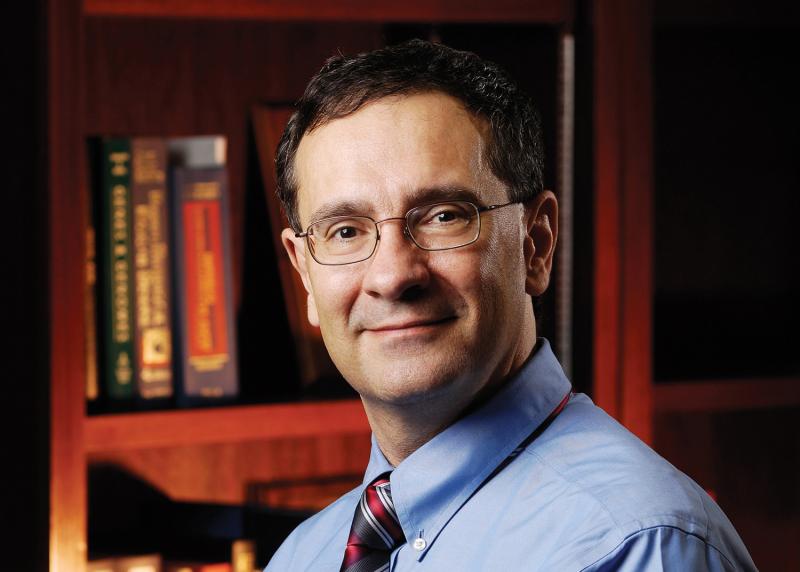 Kevin Roth, MD, PhD, has been named chair of the P&S Department of Pathology & Cell Biology and pathologist-in-chief at NewYork-Presbyterian/Columbia University Medical Center, effective September 1, 2015.
Dr. Roth succeeds Michael Shelanski, MD, PhD, following Dr. Shelanski's 28 highly successful years as chair of the department. Dr. Shelanski, who announced his intention earlier this year to step down as chairman, will remain at Columbia as the Henry Taub Professor of Alzheimer's Disease Research and co-director of the Taub Institute on Research on Alzheimer's Disease and the Aging Brain.
Dr. Roth is currently chair of the Department of Pathology at the University of Alabama at Birmingham. His research focuses on neuronal cell death regulation and neuropathology, including attempts to define the molecular pathways regulating apoptotic and nonapoptotic neuronal cell death and neuron loss in Alzheimer's disease and Parkinson's disease.
His professional training included a combined anatomic pathology and neuropathology residency at Washington University in St. Louis, where he was later appointed an assistant professor in the Department of Pathology. Dr. Roth rose through the faculty ranks to become a tenured professor in the Departments of Pathology and Immunology and Molecular Biology and Pharmacology there before moving to the University of Alabama at Birmingham, where he was named chair of the Department of Pathology in 2008.
He graduated with a bachelor's degree in behavioral science from the University of Michigan and received MD and PhD degrees in neuroscience from Stanford University School of Medicine.
"Dr. Roth joins Columbia at a critical point in time," says Lee Goldman, MD, dean of the faculties of health sciences and medicine and chief executive of Columbia University Medical Center. "He recognizes the role pathology can and will play in precision medicine, and he has the leadership skills and track record to build upon the successes of the department as this evolving field takes shape."
"Dr. Roth's strong vision to provide evidence-based, cost-effective service directly aligns with NewYork-Presbyterian's patient-centered culture," says Steven J. Corwin, MD, CEO of NewYork-Presbyterian Hospital. "He will certainly help to further enhance the patient experience, and we are pleased to welcome him to NewYork-Presbyterian/Columbia."
He has been recognized at both Washington University and UAB for his role in mentoring MD and PhD students interested in neurological disease. Dr. Roth has published more than 200 peer-reviewed manuscripts, which have been cited more than 21,000 times.
Dr. Roth serves as president of the American Society for Investigative Pathology, chair of the Neural Oxidative Metabolism and Death (NOMD) Study Section, and editor-in-chief of the American Journal of Pathology, which is devoted to elucidating the cellular and molecular mechanisms of disease pathogenesis.
Under Dr. Shelanski's leadership, Columbia's Department of Pathology grew from a small department into one of the top pathology departments in the country, with more than 100 faculty members, 31 clinical residents and fellows, and more than 60 postdoctoral fellows and 30 graduate students.
The department is fourth in the nation among pathology departments in NIH grant support, has the leading laboratory medicine training program in the New York area, and has a personalized genomic medicine division that has led the way in making next-generation DNA sequencing a clinical resource for patients. Two members of the department are members of the National Academy of Sciences and three are members of the Institute of Medicine (soon to be renamed the National Academy of Medicine). Richard Axel, who started as a medical resident in the department and is now University Professor, received the Nobel Prize in Physiology or Medicine in 2004.
About:
References
Columbia University Medical Center provides international leadership in basic, preclinical, and clinical research; medical and health sciences education; and patient care. The medical center trains future leaders and includes the dedicated work of many physicians, scientists, public health professionals, dentists, and nurses at the College of Physicians and Surgeons, the Mailman School of Public Health, the College of Dental Medicine, the School of Nursing, the biomedical departments of the Graduate School of Arts and Sciences, and allied research centers and institutions. Columbia University Medical Center is home to the largest medical research enterprise in New York City and State and one of the largest faculty medical practices in the Northeast. For more information, visit cumc.columbia.edu or columbiadoctors.org.
NewYork-Presbyterian Hospital, based in New York City, is one of the nation's largest and most comprehensive hospitals and a leading provider of inpatient, ambulatory, and preventive care in all areas of medicine. With some 2,600 beds and more that 6,500 affiliated physicians and 20,000 employees, NewYork-Presbyterian had more than 2 million visits in 2013, including close to 15,000 infant deliveries and more than 310,000 emergency department visits. NewYork-Presbyterian comprises six campuses: NewYork-Presbyterian/Weill Cornell Medical Center, NewYork-Presbyterian/Columbia University Medical Center, NewYork-Presbyterian/Morgan Stanley Children's Hospital, NewYork-Presbyterian/The Allen Hospital, NewYork-Presbyterian/Westchester Division, and NewYork-Presbyterian/Lower Manhattan Hospital. The hospital is also closely affiliated with NewYork-Presbyterian/Lawrence Hospital in Bronxville. NewYork-Presbyterian is the #1 hospital in the New York metropolitan area, according to U.S. News & World Report, and consistently named to the magazine's Honor Roll of best hospitals in the nation. Affiliated with two world-renowned medical schools, Weill Cornell Medical College and Columbia University College of Physicians and Surgeons, NewYork-Presbyterian is committed to excellence in patient care, research, education, and community service. For more information, visit www.nyp.org.