Diversity Alliance Presents 2016 Awards, Announces Scholarship
On Nov. 30, students, residents, and faculty of the Kenneth A. Forde Diversity Alliance (KAFDA) gathered at the group's third annual symposium and reception and celebrated the achievements of the KAFDA community.
Four individuals received awards in recognition of their contributions to promoting diversity at CUIMC:
Faculty Diversity Award: Julia Iyasere, MD, assistant professor of medicine at CUMC (P&S'08)
Resident Diversity Award: Christopher Gonzalez, MD (P&S'16)
Medical Student Diversity Award: Naralys Batista (P&S'19) and Christopher Travis (P&S'19)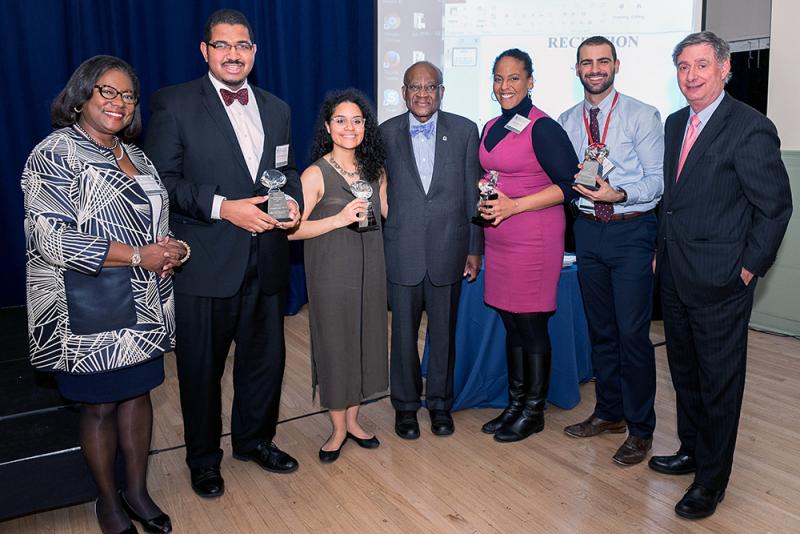 A special honoree of the evening was the alliance's namesake, Kenneth A. Forde, MD, the José M. Ferrer Professor Emeritus of Clinical Surgery. P&S Alumni Association president, Kathie-Ann Joseph, MD, presented a tribute to Dr. Forde, and Lee Goldman, MD, dean of the Faculties of Health Sciences and Medicine and chief executive of CUIMC, announced a new scholarship established in Dr. Forde's honor. The Kenneth A. Forde Scholarship will be provided on the basis of need and merit and cover four years of tuition at P&S. The selection of scholarship awardees will begin in 2017.
Dr. Forde, a 1959 graduate and longtime faculty member of P&S, helped pioneer the use of endoscopy as a diagnostic and surgical tool. He was among the first researchers to identify higher colon cancer risk for relatives of colon cancer patients and has collaborated with basic scientists to develop molecular markers for colon cancer. Moreover, he has been a major advocate for colon cancer awareness, even taking the national spotlight in 2000 when he performed a colonoscopy on Katie Couric that was aired on "The Today Show."
A leader in his field, Dr. Forde has been co-editor in chief of the international journal Surgical Endoscopy for a decade and has been active on several other journal editorial boards. He has more than 180 publications to his name and has held more than a dozen visiting professorships. Dr. Forde was the first African-American president of the Society of American Gastrointestinal Endoscopic Surgeons (which he co-founded), the New York Surgical Society, and the New York Society for Gastrointestinal Endoscopy.
Dr. Forde has received numerous awards for his contributions to clinical practice, research, teaching, and leadership. At P&S and Columbia, these include the Gold Medal for Excellence in Clinical Medicine from the Alumni Association, the Arnold P. Gold Foundation Award for Humanism in Medicine, the Charles Bohmfalk Award for Distinguished Contributions to Teaching in the Clinical Years, and several teacher-of-the-year awards. In 1979 he was awarded the Columbia University Alumni Federation Medal; in 1982, the P&S Alumni Silver Medal for Meritorious Service; and in 2015, the Distinguished Service Medal of the College of Physicians & Surgeons. Recently, he was invested as a Knight in The Venerable Order of The Hospital of St John of Jerusalem by order of Queen Elizabeth of England, the head of the Order.
Actively involved in surgical education, Dr. Forde has mentored more than 10 surgical trainees who have become productive academic colorectal surgeons. As a result, the Research Foundation of the American Society of Colon and Rectal Surgeons proposed and was a major donor in the establishment of the Kenneth A. Forde Professorship in Colon and Rectal Surgery at Columbia University.
Dr. Forde is a member of the Board of Visitors of CUIMC, a Trustee of Columbia University, and a Trustee of NewYork-Presbyterian Hospital.
The evening's program, sponsored by the Office of Diversity and Multicultural Affairs and the P&S Alumni Association, also featured a poster session of research conducted by students of BALSO—the Black and Latino Student Organization at P&S—as well as musical performances by several P&S students.
Established in 2014, KAFDA was created to recruit and retain a diverse community, provide networking events, foster and maintain a supportive environment, raise awareness about diversity, support pipeline programs, and provide career and leadership development through mentoring.