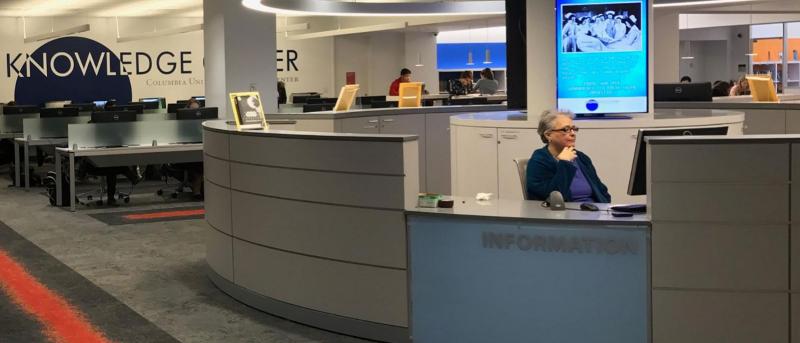 Discover Tools and Resources at the Knowledge Center Open House
On Jan. 28, the Health Sciences Library at Columbia University Irving Medical Center (CUIMC) will host its first Open House to connect employees and students with new resources, tools, and experts from offices across campus. The event will take place from 11 a.m. to 2 p.m. in the Knowledge Center, located on the lobby level of the Hammer Health Sciences Center. 
The Knowledge Center is a 24/7 information hub that invites CUIMC staff, students, and faculty to collaborate on projects, access resources, and meet with information experts.
"Our main goal is to make the CUIMC community aware of the tools available to them and help them discover how they can use these tools to make their work easier and more efficient. These library-funded resources are available at no cost to employees and students," says Ricardo Andrade, assistant director for information resources, who was involved in selecting the databases and software programs that will be on display.  
Among the new tools to be shown at the event are Pivot, which Andrade says is "a database for finding funding opportunities," and Isabel, a point-of-care tool that can assist residents, fellows, and physicians in making differential diagnoses. Another tool is Covidence, which helps researchers save up to 30 percent of their time by streamlining the systemic review process, a process that often takes six months to a year to complete. 
Vendors will be on hand to demonstrate tools and answer questions. Colleagues from across CUIMC also will be at the event to share information about other campus-wide resources. The offices scheduled to participate are the Health Sciences Library's Archives and Special Collections (Steve Novak); Center for Teaching and Learning (Michelle Hall); Office of Research Compliance and Training (Michelle Benson); Research Data Services (Wei Yin); Sponsored Projects Administration (Stephanie Scott); VP&S Office of Research (Danielle Matsushima); and the Writing Center. 
Attendees are encouraged to register in advance. For more information, contact Gloria Willson at gw2386@cumc.columbia.edu. 
Anyone unable to attend the event can book a consultation with an informationist at the Knowledge Center. Consultations are designed to help the CUIMC community learn how to incorporate the library's tools and resources into their work. 
Topics