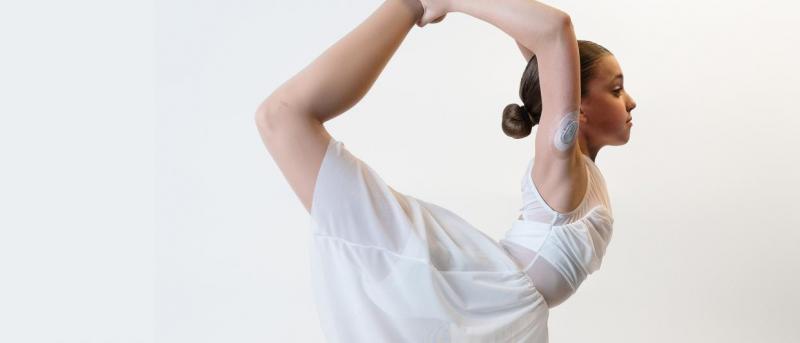 Dancer Emma Buckland Moves Gracefully Through Life with Type I Diabetes
12-year-old Emma Buckland loves all forms of dance—from ballet and jazz to tap, contemporary, and lyrical. She discovered this love at the age of 2 and has made it her focus ever since. Now a seventh grader in Poughkeepsie, New York, Emma spends hours a day practicing and dedicates many weekends to competitions. Her days are intense, which is why her type 1 diabetes (T1D) cannot slow her down.
Emma was diagnosed with T1D in June 2019. Her peppy voice quiets when she recalls the night her doctor sent her to the emergency room with dangerously high blood sugars. "I didn't really know what was happening," Emma says. "It was late, I didn't feel well, and I was being admitted to the hospital."
Would she still be able to dance? Would life go back to normal? Upon hearing the words "type 1 diabetes," these were some of the questions floating through Emma's mind. 
"It was a little scary and overwhelming at first," she says. "I remember there were a lot of new things being thrown at me in a short amount of time."
Emma's parents, Kevin and Meg, both schoolteachers, were equally shocked to hear the news. No one in their family has diabetes. They couldn't make sense of the diagnosis. "It was a scary time," Kevin recalls.
At the suggestion of their local doctor, the Bucklands found their way to Columbia's Naomi Berrie Diabetes Center. They met with Kristen Williams, MD, a pediatric endocrinologist at the center, who put them at ease and assured Emma she would be back to dancing in no time. She educated the family on diabetes management, advances in technology, and research. Emma visited with the Berrie Center's art therapist, Cara Lampron, to talk through the mental aspects of living with T1D. The Bucklands found a team of support at the Berrie Center.
"There was a huge learning curve," Kevin says. "In the beginning, diabetes seemed more like a sentence than an adjustment, but we knew from the start we were in the right place."
Emma is confident and self-assured. Her favorite subjects in school are English and social studies. Still, dance is her top priority. She comes home from school, does her homework, and packs a dinner to take with her to the studio. She also makes sure she has everything she needs for her T1D, including snacks in case her blood sugars go low.
T1D requires a significant amount of preparation and organization. Since was diagnosed more than two years ago, she has had no setbacks, her parents say. Emma wears an insulin pump (an OmniPod) and a continuous glucose monitor (a Dexcom).
"When I'm at dance, I have my phone in the room so my Dexcom is connected," she says. "Before I go to the studio, I make sure my blood sugar is above 100 to avoid going low. Sometimes I eat a snack, like a granola bar, if I'm going a little low. I always wear an Apple watch, and my parents can text me to take something while I'm dancing if I am going low, so that I don't have to check my phone every minute."
On intense competition days, or off-days that aren't quite as busy, Emma changes her pump setting accordingly. She is prepared for whatever the day brings.
"Technology has made this a lot easier to manage," says Kevin, who monitors his daughter's blood sugars throughout the day on his own watch and Dexcom phone app. "It is a lot less invasive at school and dance. She checks her watch, scrolls, checks OK, and does what she needs to do. She gives a correction if she needs to or takes a snack."
As busy professionals, Emma's parents can't respond to every up and down, but they have safety measures to alert Emma when she needs to take insulin or have a snack. "We don't sit there and stare at numbers all day, but by using the settings within the Dexcom, we can keep an eye on her when the technology alerts us," Kevin says.
Sometimes other kids will ask Emma why she checks her phone in the middle of dance, or what she's wearing on her arm. She just shrugs it off. "I don't care," she says. "It's just a moment in time, and then it's over."
To the kids with T1D who are hesitant about using an insulin pump or a Dexcom, Emma's advice is to embrace having T1D. "Don't be afraid to have differences," she says. "It doesn't matter. Don't keep it a secret!"
Even now that diabetes has become part of daily life for the Buckland family, they say the drive to Washington Heights from Poughkeepsie is still an essential part of their success.
"We love the Berrie Center," Kevin says. "It's a hike for us, over an hour one way, but it's totally worth the time it takes to get there because of how cutting edge it is and how the staff handles everything. The dietitians, the nurses, the front desk, Cara, Dr. Williams—everyone we've met has been wonderful." 
And as another competition season gets underway, Emma and her family are focused and ready to conquer dance and T1D. 
References
More information
Kristen Williams, MD, is assistant professor of pediatrics at Columbia University Vagelos College of Physicians and Surgeons.
Cara Lampron, MPS, leads the art therapy program at the Naomi Berrie Diabetes Center at Columbia University Irving Medical Center.