Dan Doctoroff, David Rubenstein, and Bloomberg Philanthropies Unveil Target ALS
$25 Million Gift Will Streamline Collaboration to Discover Potential ALS Therapeutics
NEW YORK, February 7, 2013—Daniel L. Doctoroff, Bloomberg LP CEO and president; David M. Rubenstein, co-CEO of The Carlyle Group; and Bloomberg Philanthropies today unveiled Target ALS, a $25 million three-year initiative to streamline discovery of new approaches to treating ALS (amyotrophic lateral sclerosis, also known as Lou Gehrig's disease).
"Finding a cure for ALS requires that we think differently about how to tackle this debilitating disease," said Mr. Doctoroff. "While ALS scientists have made great progress in the last few years, their research too often occurs in silos, impeding discovery. Target ALS will provide an organizational framework for the world's leading ALS researchers to share and coordinate their findings so that we can make progress toward therapies and a cure."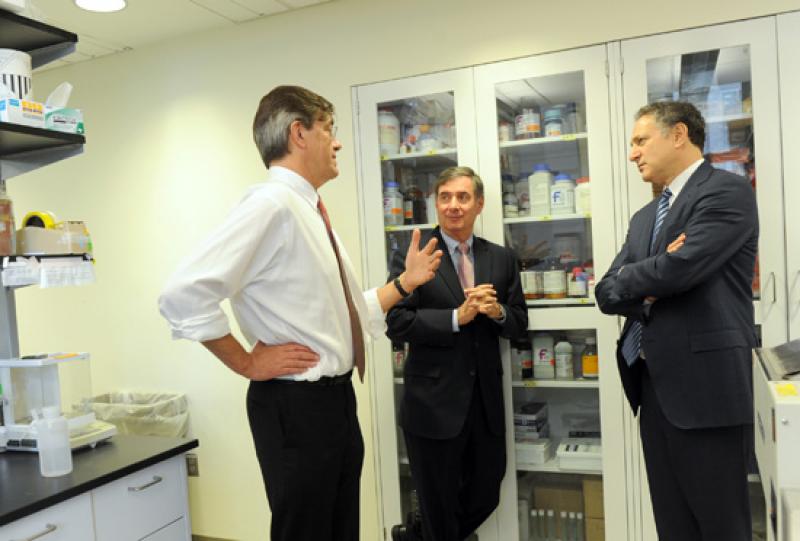 Target ALS is the next phase of an accelerated research initiative of Project A.L.S., a New York-based foundation focused on finding and funding a cure for ALS, and the Packard Center for ALS Research at Johns Hopkins University, which was announced in January 2010. Target ALS will build on the rapid scientific progress of the past three years through a new collaboration that pools the efforts of dozens of scientists and laboratories into an efficient organization focused on new targets for ALS therapeutics. The immediate goal is to seed an array of drug-development programs at pharmaceutical and biotech companies, based on cutting-edge data generated by Target ALS scientists. Target ALS will identify and transfer candidate therapeutic targets—molecular events that occur in ALS patients that, when blocked, can slow or arrest disease progression. The long-term goal is to find effective therapies for ALS.
Researchers and laboratories from around the world participating in Target ALS will benefit from a central organization through which to share ideas, progress, and discoveries, as well as a source of funding to develop new collaborative projects. A feature of the new consortium is the Target ALS Core Facilities, which will provide ALS investigators with access to key technologies that are too complex or costly to set up in each individual laboratory.
"With fresh resources and determined collaboration, we can make steady progress toward a cure for this devastating disease," said Mr. Rubenstein. "Dan, Mike, and I hope these resources will serve as a unifying catalyst for the great work that is being done around the world to cure and prevent ALS."
"Collaboration is essential to build on the real progress that's being made in the field of ALS research," said Michael R. Bloomberg, philanthropist and Mayor of New York City. "I'm proud to join Dan and David to launch this innovative new project and bring together the scientific, academic, healthcare, and business communities to stop this horrible disease once and for all."
Scientific director Christopher E. Henderson, PhD, and executive director Manish Raisinghani, MD, PhD, will jointly manage the program. Dr. Henderson is the Gurewitsch/Vidda Professor of Rehabilitation and Regenerative Medicine and co-director of the Motor Neuron Center and the Project A.L.S./Jenifer Estess Laboratory for Stem Cell Research at Columbia University Medical Center. The project will also benefit from the vision of special consultant Zach Hall, PhD, who is a former director of the National Institute of Neurological Disorders and Stroke and was the first president of the California Institute for Regenerative Medicine.
"Target ALS will generate a pipeline of candidate therapeutic targets that will provide a common language for Target ALS and pharma and biotech companies, with whom we have initiated a dialogue to define their needs and expectations," said Dr. Henderson.
"By coordinating and supporting the work of leading ALS scientists and engaging pharma and biotech, Target ALS provides a new way of organizing science that will hasten the development of much-needed therapies for this debilitating disease," said Dr. Hall.
"We are extremely grateful to Dan, David, and Bloomberg Philanthropies for their generosity and for recognizing the great promise of the research led by Dr. Henderson and his colleagues both here at Columbia and at our collaborating institutions," said Lee Goldman, MD, dean of the Faculties of Health Sciences and Medicine, Columbia University Medical Center, and executive vice president for Health and Biomedical Sciences, Columbia University.
Reflecting the wide range of institutions involved, Target ALS's strategy will receive oversight from a research advisory board, and funding will be conditional on positive evaluation by an independent review committee.
"With the recent discovery of new genes and disease mechanisms, ALS research is now in its most exciting phase ever. Target ALS will allow us to make a determined push toward rational therapeutic strategies for this terrible disease," said Jeffrey Rothstein, MD, PhD, director of the Robert Packard Center for ALS Research at Johns Hopkins University and chair of the Target ALS Research Advisory Board.
The objectives of Target ALS build upon, and are complementary to, those of existing ALS-related foundations and centers, with whom collaborations and coordination are an important part of the Target ALS strategy.
"Project A.L.S. is proud to have launched Target ALS, a systemized approach to screening ALS therapies. Project A.L.S. will continue to launch new ideas that we hope will feed the Target ALS mission," said Valerie Estess, director of research for Project A.L.S.
"We are eager to partner with Target ALS to provide access to core facilities for some of the scientists we support worldwide," said Lucie Bruijn, PhD, chief scientist of the ALS Association, which funds research, engages in advocacy, and provides care and support to ALS patients and families.
"Testing candidate targets in predictive disease models is a high priority and we are pleased to collaborate with Target ALS in this area," said Melanie Leitner, PhD, chief scientific officer of Prize4Life, Inc., a foundation dedicated to accelerating the discovery of treatments and cures for ALS.
About ALS
ALS, also known as "Lou Gehrig's disease," is a progressive disease that affects motor neurons—specialized nerve cells in the spinal cord and brain essential for all voluntary movement. ALS typically begins after age 50 but can occur in much younger patients and eventually affects a person's ability to move, speak, and breathe. Some 20,000 Americans suffer from ALS at any given time. About 90 percent have a sporadic, or non-inherited, form of the disease. The cause of sporadic ALS is unknown but likely involves a combination of genetic and environmental factors. The remaining 10 percent have a familial form of ALS, which is caused by an inherited genetic mutation. There is no cure for ALS. Symptoms are managed with medication, physical and speech therapy, assistive devices, and nutritional support. Many people with ALS die of respiratory complications within two to three years of diagnosis.
-####-
Columbia University Medical Center provides international leadership in basic, pre-clinical, and clinical research; medical and health sciences education; and patient care. The medical center trains future leaders and includes the dedicated work of many physicians, scientists, public health professionals, dentists, and nurses at the College of Physicians and Surgeons, the Mailman School of Public Health, the College of Dental Medicine, the School of Nursing, the biomedical departments of the Graduate School of Arts and Sciences, and allied research centers and institutions. Established in 1767, Columbia's College of Physicians and Surgeons was the first institution in the country to grant the MD degree and is among the most selective medical schools in the country. Columbia University Medical Center is home to the largest medical research enterprise in New York City and State and one of the largest in the United States. Its physicians treat patients at multiple locations throughout the tri-state area, including the NewYork-Presbyterian/Columbia campus in Washington Heights, the new ColumbiaDoctors Midtown at 51 W. 51st St. in Manhattan, and the new ColumbiaDoctors Riverdale practice. For more information, visit cumc.columbia.edu or columbiadoctors.org.
Media Contacts:
Karin Eskenazi, 212-342-0508, cumcnews@columbia.edu Elizabeth Streich, 212-305-3689, estreich@columbia.edu Jason Schechter, 212-617-7750, jschechter12@bloomberg.net Chris Ullman, 202-729-5385, chris.ullman@carlyle.com