Among the 50,000 runners who will compete on Nov. 1 in the NYC Marathon are students, staff, and faculty members. They all have unique experiences that will motivate them through 26.2 miles to cross the same finish line. Meet a few of our athletes, and cheer them on when they run through your borough.
Annie Onishi, Resident, Surgery, College of Physicians & Surgeons
"I started running when I was 10 because I wanted to break the Tamaques Elementary school record for the girls' mile run. My training consisted of running around the block until I couldn't run anymore and push-ups."
Annie Onishi, 28, a resident in the Department of Surgery, has been a competitive runner since childhood. A seven-time marathon runner, she prefers "Marathon Sunday" to Christmas morning.  Above, she is pictured in the Harrisburg Marathon in Harrisburg, Pa. Read more.
Cecilia Davis-Hayes, Student, College of Physicians & Surgeons
"It means a lot to race on my home turf. I compete in triathlons and cycling races all over the country, but my friends and family rarely get to come out and watch…Furthermore, my dad is running with me, which is pretty special. We're really close in ability now, so we will push each other and hopefully finish together."
Cecilia Davis-Hayes, 26, a student at the College of Physicians & Surgeons, has competed in cycling races and triathlons across the country. She once ran 29 miles in the Grand Canyon— from the South Rim to the Colorado River and back. Read more.
Heidi Hahn-Schroeder, Instructor, Columbia Nursing
"Since the passing of my father I have used running as therapy to help me with such a great loss.  As he loved the outdoors, I feel connected to him when I am outside in nature running." 
Heidi Hahn-Schroeder, 45, instructor, Columbia Nursing (left), started running as a way to spend more time with her sister (right). The sisters signed up for the marathon as a bucket-list item, but the goal has grown more meaningful after the death of their father.  Read more.
Vicky Leavitt, Assistant Professor of Neuropsychology, Sergievsky Center
"There are remarkably few opportunities in life when we set a distinct, time-delimited goal, and then achieve it…Running a marathon is a rare instance in which intense, finite training allowing for the achievement of small, incremental milestones, all accumulates in support of one clear and distinct goal."
Vicky Leavitt ran her first  (and thus far, only) marathon 13 years ago. She signed up again, as she did the first time, on a whim when a running mate suggested it off-hand. In the photo above, she is at the start of the Paris 20K with the Eiffel Tower behind her. Read more.
Deirdre Keane, Student, Columbia Nursing
"Running makes me a better person. I am a pediatric ICU nurse and my shifts can be long and heartbreaking. Sometimes post-shift, I feel like I am literally running away from all the stress and grief that I am carrying. But I always finish my runs less stressed and ready to face the next night's challenges."
Deirdre Keane started running to remember her father, a marathon runner who passed away when she was a teenager. Above she is pictured at the Mourne Mountain Festival in Ireland, a 52-mile ultramarathon through the mountains. Read more.
Jason Kwong, Webmaster, CUMC Web Services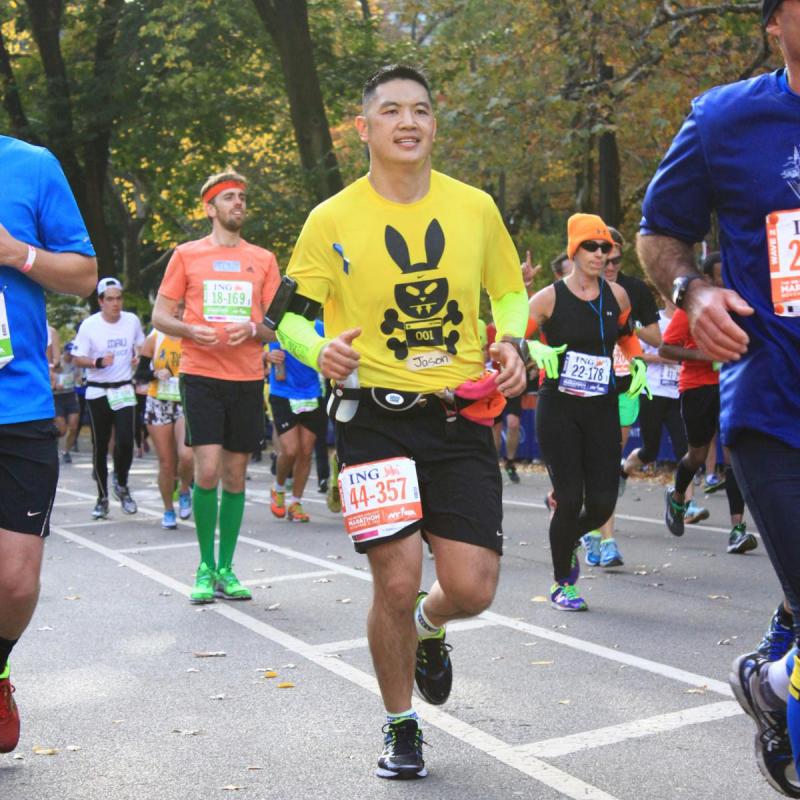 "As you run over the Queensboro Bridge, all you hear is your own breath, so many runners' footsteps, and moaning and groaning. Then you come off the bridge and make the turn onto First Avenue; the crowd hits you. Everyone is cheering, and you feel like you just won the World Series."
Jason Kwong, webmaster for CUMC Web Services, used to bike the 13 miles from home to work. Then one day, he asked himself, "Why not run it?" That decision snowballed into marathon running. Read more.
Jennifer Kosakowski, Director of Development, Edward S. Harkness Eye Institute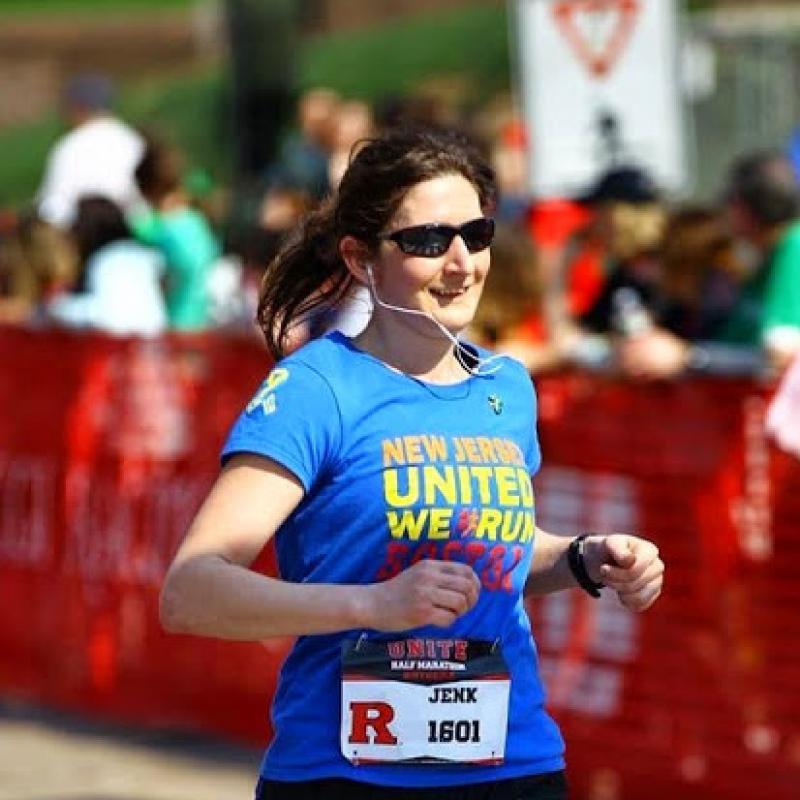 "One year ago, my fiance and best friend of 27 years was killed outside our Union Square apartment by a hit-and-run driver. I decided to run the marathon in his memory and fund raise for Transportation Alternatives, a nonprofit working to reduce traffic violence and pedestrian fatalities and pushing for more stringent punishments for hit-and-run offenders."
Running this marathon is a way for Jennifer Kosakowski to remember her fiance and to raise money for an organization combating traffic fatalities, but it also is a way to dissolve work stress and focus on a clear goal.  How does she get the motivation to do it? Classic Bruce Springsteen songs help. Read more.
Kevin Capata, Student, Physical Therapy Program
"Thanks to my studies in physical therapy, I can never go on a run again without being fully in tune with my body, which sounds great, but it's challenging to push through long runs while knowing you are doing something wrong from a musculoskeletal or biomechanical standpoint!"
Kevin Capata has been an athlete since childhood, but he didn't start running until high school after a long day in the car with his family. He went for a run to stretch his legs and, for the first time, got a runner's high. Since then, he's been hooked. Read more.
Anna Spinner, Assistant Director of Internal Communications, College of Physicians & Surgeons
"Running a marathon is exhilarating: you go through waves of intense, wide-ranging emotions: excitement, frustration, calmness, pain, and more. It's amazing to go through such an intense experience alongside 50,000 other runners and with hundreds of thousands of spectators cheering us on."
Anna Spinner has been running since high school, but only started getting serious about it when she was balancing work and graduate school, and began craving time away from her desk. Read more.
Mauer Biscotti III, Resident, Surgery, College of Physicians & Surgeons
"The same thing that gets me through long operating room cases gets me through my training runs: focus, and a desire to improve every time I go out there."
Mauer Biscotti ran his first marathon last year and is excited to take on New York. He says it may be his only time to run the race before he leaves in two years. Read more.
Sharon Green, Research Coordinator, Mailman School of Public Health
"I love the marathon—it's one of the few major sporting events in which anyone can enter and all the competitors run together...In the upcoming New York City Marathon, I'll be running in the same event as the world's fastest distance runners, life-long running enthusiasts, and even first-time marathoners."
Sharon Green, 28, a research project coordinator in the Department of Sociomedical Sciences at the Mailman School of Public Health, doesn't feel the runner's high other runners rave about, but she loves pushing through the waves of pain in long distance running. On Nov. 1, she'll be running her sixth marathon. Someday she hopes to run an ultramarathon or compete in an Ironman-distance triathlon. Read more.
Giovanni Dugay, Assistant Professor, Columbia Nursing

"I have always said I'm a terrible runner, so I wanna get better and better, year after year."
Giovanni Dugay, 48, assistant professor, Columbia Nursing, gets through his long training runs with the help of a good playlist, which includes artists likeTaylor Swift, Journey, Smokey Robinson, and Pitbull. Read more.
Mary Davies, Student, College of Physicians & Surgeons
"A marathon is the perfect metaphor for med school. Thanks to training, I finally understand that pacing yourself is the best thing you can do to get through."
Mary Davies, 23, a second-year student at the College of Physicians & Surgeons is about to run her first marathon on Nov. 1. She started running for the sense of freedom she gets during her training runs. Running long distances also gives her an excuse to explore and people watch. Read more.
Alex Chan, Student, Physical Therapy
"Running is one of my favorite recreational activities. It helps me balance my diet and stress, and it just makes me a happier individual."
Alex Chan, who ran his first marathon in 2008, has run as far as 60 kilometers (37.8 miles) in a grueling 9 laps of a 4-mile stretch in Central Park. The crowds propel him through races; thoughts of pizza and burritos do the same during long training runs. Read more.
Emmi Aguillard, Student, Physical Therapy
"I run with the Dashing Whippets, a running club here in Manhattan and there is no way that I'd be where I am right now if it weren't for them! ... It's awesome to have a group of people who are as crazy as you to help you stay motivated and, most importantly, to make running fun."
Emmi Aguillard, pictured above in the Brooklyn Half Marathon, will be running her first marathon on Nov. 1.  A long-time competitive runner who specializes in short and middle distances, she says the training has given her new respect for marathoners. Read more.
Sarah McKetta, Student, College of Physicians & Surgeons and Mailman School of Public Health

"The NYC Marathon is like a love letter to the city: it goes though all five boroughs, and it does so much to bring awareness to philanthropic efforts in the city. Running the marathon is a celebration of this space and this community."
Sarah McKetta, 30, an MD/PhD student, who runs in part for the time it gives her to reflect and meditate, is running to raise money for Girls on the Run, a nonprofit that offers wellness and fitness programs to vulnerable young women. Read more.
Tiffany Negri, Compliance Coordinator, Herbert Irving Comprehensive Cancer Center
"When my dad suffered a stroke and he couldn't run anymore, it was the most devastating thing for him. Seeing that happen to him made me want to run more. I think I'll be running as long as I can physically do it." Tiffany Negri, 29, ran her first marathon last year, close to the two-year anniversary of her father's death. He had run the NYC Marathon, so while on the course, she knew she was literally following in his footsteps. Read more.
Caleb McEntire, Student, College of Physicians & Surgeons
"I only started running about three years ago; I still have an e-mail I sent to a friend in early 2012 saying, "OH MY GOD I JUST RAN TWO MILES WITHOUT STOPPING."
Caleb McEntire is excited to run the race as a way to see the city in a unique way, and especially to raise finds for Team For Kids, a nonprofit that offers free running programs to students in lower income and underserved areas of New York City. Knowing he has support of so many people funding him gets him through his long training runs. Read more.