CUMC Community Celebrates Nobelist Joachim Frank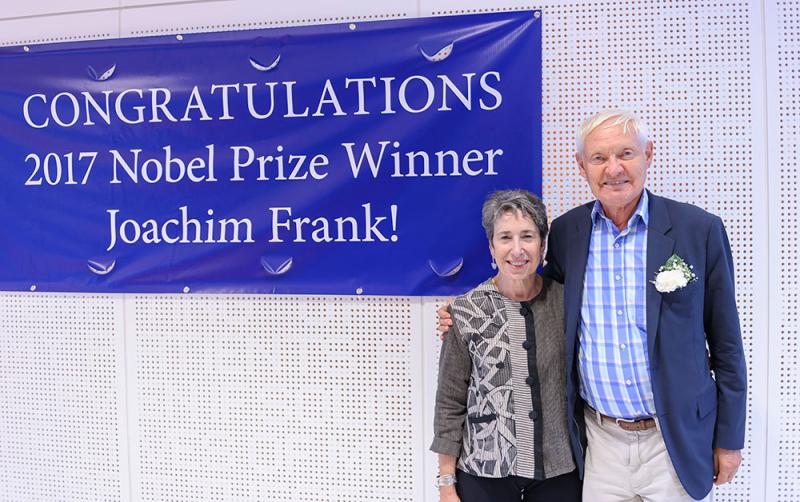 A standing ovation, snapping cell phones, and requests for autographs greeted Columbia's newest Nobel Laureate, Joachim Frank, PhD, at a festive celebration with members of the Columbia University Medical Center (CUMC) community. Hundreds of students and colleagues gathered in the Vagelos Education Center on Oct. 5 to congratulate Dr. Frank on winning the 2017 Nobel Prize in Chemistry. Dr. Frank is professor of biochemistry & molecular biophysics at CUMC and professor of biological sciences on Columbia's Morningside campus. He is the third researcher from the College of Physicians and Surgeons (P&S) to win the prize since 2000.
Dr. Frank shared the Nobel Prize for helping to pioneer the development of cryo-electron microscopy, a technique used to reveal the structures of large biological molecules at atomic resolution. Using this technique, Dr. Frank has made important discoveries about how ribosomes—the protein-producing "factories" of the cell—function.
Several Columbians spoke at the celebration and attended a reception that followed. Fellow Nobel Prize winners Richard Axel, MD, University Professor, and Eric Kandel, MD, University Professor and Kavli Professor of Brain Science, praised Dr. Frank's contributions and gave advice on how to survive the newfound stardom that accompanies a Nobel Prize. Dr. Axel led the audience in a standing ovation at the start of the event. Several colleagues shared warm remarks and lively anecdotes about Dr. Frank's love of science.
One anecdote shared by Wayne Hendrickson, PhD, University Professor and the Violin Family Professor of Physiology & Cellular Biophysics, related to Dr. Frank's favorite molecule—the ribosome. Dr. Hendrickson mentioned a Nature commentary that referred to cryo-electron microscopy as contributing to a "resolution revolution," though he noted the ribosome, which Dr. Frank has focused on in recent studies, may be even more important to the Nobel Laureate. Dr. Hendrickson recalled driving on the Taconic Parkway one day when he noticed a personalized license plate, "RIBOSOME." Who was behind the wheel? Dr. Frank.
Humbled by his colleagues' remarks, Dr. Frank acknowledged all the people "who were able to think outside of the box" with him and supported his research efforts along the way. "I can see water molecules now," he added. "It's extraordinary because I never would have dreamed of this."
The celebration was hosted by Lee Goldman, MD, P&S dean and chief executive of Columbia University Medical Center. Columbia University President Lee C. Bollinger offered greetings on behalf of all of Columbia. Other remarks were delivered by Tom Maniatis, PhD, chair of Dr. Frank's department at CUMC (Biochemistry & Molecular Biophysics); Liang Tong, PhD, chair of the Department of Biological Sciences at Morningside (Dr. Frank is that department faculty's second Nobelist); and P. Roy Vagelos, MD, chair of the CUMC Board of Advisors and a 1954 graduate of P&S.
http://www.youtube.com/watch?v=FoQPfh8FJig
Read more about Dr. Frank's Nobel Prize win and his research: