CUIMC's 2021 Baton Awards Recognize Six Staff Members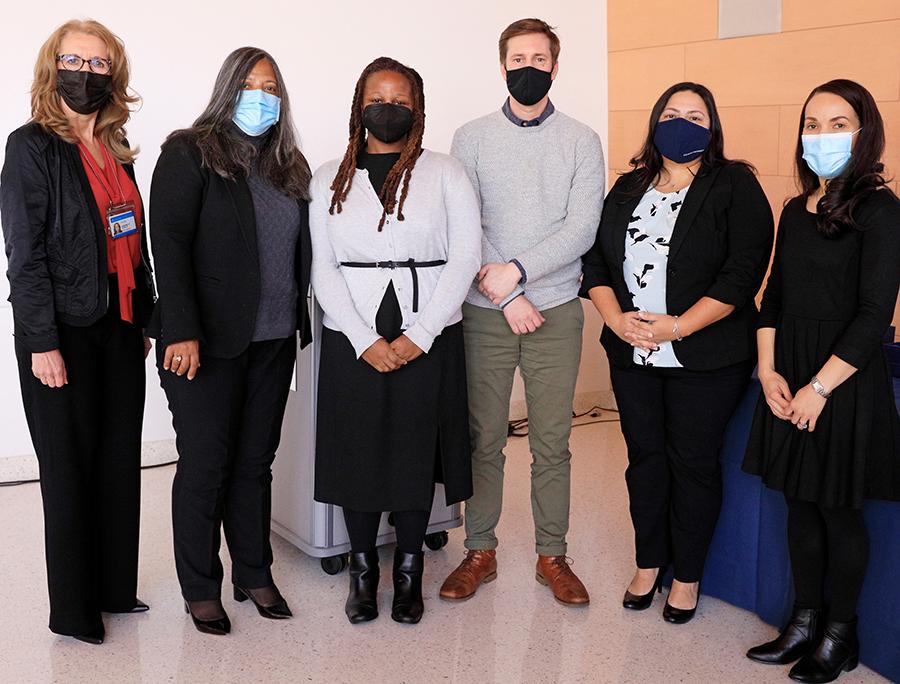 Columbia University Irving Medical Center has honored six individuals with 2021 Baton Awards that recognize teamwork by staff members who keep their eyes on group success rather than individual accomplishments.
The awards were created in 2009 to recognize individuals who "go the extra distance to make sure that if a teammate fumbles, they are there to catch the baton and who trust their colleagues to take the baton from them when they pass it along, understanding that any success is a shared one."
The awards were presented at the Dec. 3 meeting of the CUIMC Administrators Network. 
Recipients of 2021 Baton Awards:
Central Administration: Natalia "Julissa" Arias-Abreu, administrative manager of the CUIMC Office of Government and Community Affairs
Arias-Abreu grew up in Washington Heights and participated in the Summer Youth Employment Program before beginning part-time work in the Office of Government and Community Affairs while still in college. She also provides support to the Office of Special Events, the Office of Community Service Programs, and the anti-racism initiative. She has been promoted several times since joining Columbia in 2001.
---
College of Dental Medicine: Carmen Belen Bonilla, director of the Office of Patient Relations
Bonilla joined CDM in 1986 and held multiple positions before her promotion to director of patient relations. As director of patient relations she helps patients navigate the health care system and participates in multiple projects that promote positive oral health.
---
School of Nursing: Tania Quispe, senior director of student services
Quispe, who joined Columbia in 2004, handles student services that include commencement, the white coat ceremony, and university mandates, such as HIPAA training for students. During the past two years, she also took on communication of all COVID-19 requirements and vaccine mandates. 
---
Mailman School of Public Health: Magalita Rene, director of human resources at ICAP
Rene joined ICAP in 2015, and her leadership of human resources has allowed ICAP to continue to grow as a leader in global public health in pursuit of a world where quality health services are available to all.
---
Vagelos College of Physicians and Surgeons: Ryan Lichtcsien, department administrator and chief financial officer for the Department of Neurology, and Rae Vagg, department administrator and chief financial officer for the Department of Radiology
Lichtcsien joined Columbia in 2009 and served in multiple financial management and research administration positions in the Gertrude H. Sergievsky Center and the Dean's Office before becoming department administrator and CFO for the Department of Neurology and the Sergievsky Center in 2018.
Vagg's 13 years of service at Columbia began in the Dean's Office as director of process improvement. She is now department administrator and CFO for the Department of Radiology. After reorganizing the department's administrative functions, she led the creation and integration of the Radiology Joint Venture between CUIMC and NewYork-Presbyterian. The venture was such a success that a second Joint Venture is planned.