CUIMC Update - September 22, 2022
CUIMC Update is a weekly e-newsletter featuring medical center news and the accomplishments of our faculty, staff, and trainees. Please send your news, honors, and awards to cuimc_update@cumc.columbia.edu. Grants are provided by the Sponsored Projects Administration office.
NEWS
Conversation with Anil K. Rustgi, MD, on Visit by Jill Biden and Queen of Spain
As part of the Biden Administration's Cancer Moonshot initiative, First Lady Jill Biden and Queen Letizia of Spain visited Columbia University's cancer center on Sept. 21. Read more.
VP&S Expert on Why Climate Change is Bad For Our Health
Christopher Tedeschi, MD, associate professor of emergency medicine and director of emergency preparedness for the Department of Emergency Medicine at VP&S, discusses the growing impact of climate change on our health. Read more.
Cholesterol 101
When your cholesterol level increases, so do health risks. Sonia Tolani, MD, assistant professor of medicine at Vagelos College of Physicians and Surgeons and co-director of the Columbia Women's Heart Center, explains the good and the bad about cholesterol and how to have healthy levels. Read more. 
Columbia Selects Recipients of Learning Health System Awards
Two teams led by CUIMC faculty have received awards from the Columbia University Learning Health System initiative to explore new technology and practices that have the potential to save lives and reduce health care inequity. Read more.
Dean Fried Names Winners of Interdisciplinary "Grand Challenges" Awards
Eight interdisciplinary teams have received Columbia Mailman School Centennial Grand Challenges Awards. The awards—created to celebrate the 100th anniversary of the Mailman School of Public Health—fund ambitious research projects that address some of the most pressing public health challenges of the next 100 years. Read more.
EVENTS
MIG-Mouse Genetics Interest Group 
Sept. 26, 12 p.m., HICCC 
Read more.
Operation ID / Electronic Tattoos  
Sept. 27, 10 a.m., Vagelos Education Center 
For additional times, read more.
Van C. Mow Distinguished Lecture: Celeste Nelson, Princeton 
Sept. 30, 11 a.m., Schapiro Center for Engineering and Physical Science Research  
Register here.
Columbia Football: CUIMC Day
Oct. 1, 1 p.m., Wien Stadium
Read more.
For more events, visit the CUIMC Events listing.
GRANTS
MAILMAN SCHOOL OF PUBLIC HEALTH
Alwyn Cohall, MD, Sociomedical Sciences: $410,000 over five years from the Centers for Disease Control and Prevention for a subaward of "ASCLM/Alliance CDC PS21-2102." 
VAGELOS COLLEGE OF PHYSICIANS AND SURGEONS
Corine Abate-Shen, PhD, Molecular Pharmacology and Therapeutics: $486,000 from the Department of the Army, Army Medical Research and Material Command for "Role of ATAD2 in prostate cancer bone metastasis." 
Nadeen Chahine, PhD, Orthopedic Surgery: $2,360,969 over five years from the National Institute for Arthritis and Musculoskeletal and Skin Diseases for "Anti-inflammatory Cell Based Repair of Intervertebral Disc Degeneration." 
Jonathan Javitch, MD, PhD, Psychiatry: $585,345 over five years from the National Institute of Mental Health for a subaward of "Co-Regulation of Striatal Dopamine and Acetylcholine During Flexible Learning." 
David Kessler, MD, Emergency Medicine: $490,842 over one year from the Biomedical Advanced Research and Development Authority for a subaward of "An AI-Based Multi-Functional Hand-Held Lumify Ultrasound for Automatic and Intelligent Quantitative Assessment of Lung Injuries, Diseases and Traumatic Injuries in a Mass-Casualty Incident." 
Laura Beth McIntire, PhD, Pathology: $1,630,560 over five years from the National Institute on Aging for "Acyl chain remodeling and regional lipid dysregulation in Alzheimer's disease." 
Yalda Moayedi, PhD, Neurology: $607,500 over three years from the National Institute on Deafness and Other Communication Disorders for "Mechanosensory substrates of flavor in the mammalian tongue."  
David Owens, PhD, Dermatology: $1,640,056 over five years from the National Institute on Aging for "Investigating the role for Utrophin in age-related decline of the Merkel lineage." 
Melissa Stockwell, MD, Pediatrics: $558,341 over two years from the Centers for Disease Control and Prevention for a subaward of "Respiratory Virus Transmission Network." 
David Welch, PhD, Center for Radiological Research: $233,897 over three years from the National Aeronautics and Space Administration for "Investigating Far-UVC Radiation to Reduce Microbial Burden During Spacecraft Assembly." 
Jason Wright, MD, Obstetrics and Gynecology: $534,422 over four years from the National Institute on Minority Health and Health Disparities for a subaward of "Racial Disparity in Diagnostic Evaluation of Uterine Cancer." 
Aaron Viny, MD, Medicine: $600,000 over three years from the Evans (Edward P.) Foundation for "Dynamics of DNA methylation and chromatin structure in the pathogenesis and therapeutic responsiveness of myelodysplastic syndrome."
HONORS
VAGELOS COLLEGE OF PHYSICIANS AND SURGEONS
Paul Lewis, VP&S student, received an honorable mention for his essay in the Building Trust Essay Contest by the American Medical Student Association. Medical students from 18 schools across the country submitted essays about trust in the health care setting. Read the essay here.
Holly Reckers, Otolaryngology, Head and Neck Surgery, was recognized as a Distinguished Early Career Professional by the American Speech and Hearing Association. 
SOCIAL MEDIA SNAPSHOT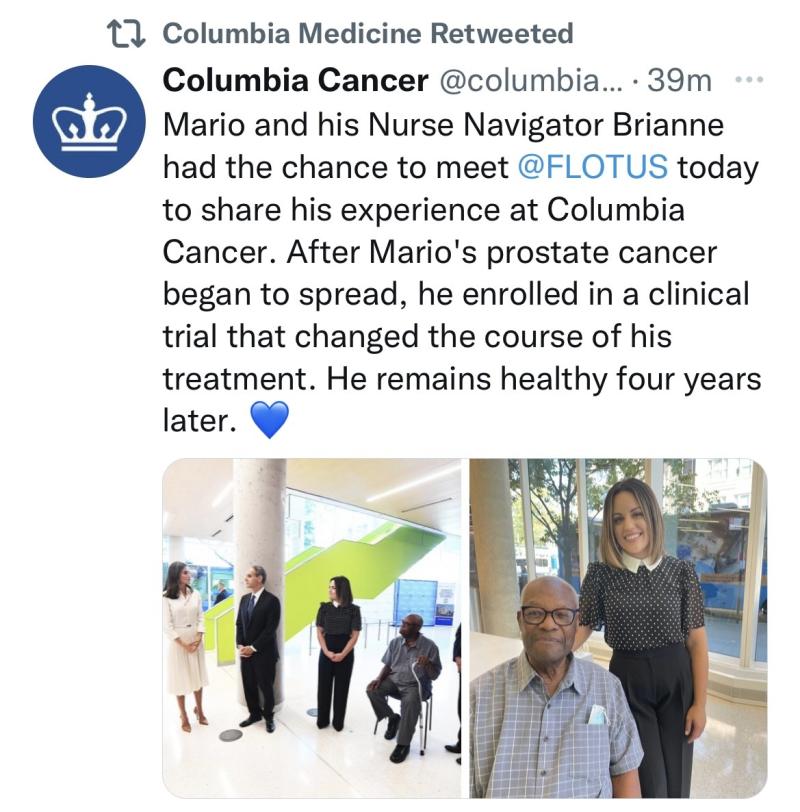 IN THE NEWS 
The Washington Post (Requires a subscription)
Covid-19 in Seniors Linked to Increased Alzheimer's Risk, Study Finds
Sep 15, 2022 - Scientists at Columbia University Vagelos College of Physicians and Surgeons studied the brains of a small number of deceased covid-19 patients and found they had defective receptors considered to be an indicator of Alzheimer's disease.
Editor's Note: This article references a study led by Andrew Marks, chair of the Department of Physiology and Cellular Biophysics.
ABC News Online
Which States Have the Lowest COVID-19 Vaccination Rates?
Sep 12, 2022 - Dr. Wafaa El-Sadr, a professor of epidemiology and medicine at the Columbia University Mailman School of Public Health, said another reason for the higher case rates in these states is the lack of following mitigation measures.
Crain's New York Business (Requires a subscription)
Columbia Nursing Professor Gets $5M from NIH to Study Equitable Health Care
Sep 13, 2022 - The first grant, for about $3.7 million, will give Dr. Corina Lelutiu-Weinberger the chance to work with Ryan White HIV/AIDS Program-funded organizations over five years to develop interventions to reduce structural racism and discrimination against Black and Indigenous people living with HIV and AIDS and health care workers who identify as people of color.