CUIMC Update - September 14, 2022
​CUIMC Update is a weekly e-newsletter featuring medical center news and the accomplishments of our faculty, staff, and trainees. Please send your news, honors, and awards to cuimc_update@cumc.columbia.edu. Grants are provided by the Sponsored Projects Administration office.
NEWS
Project Medical Education Returns to CUIMC
After a two-year hiatus, local residents, community leaders, and policymakers spent a day on campus with Project Medical Education (PME) to learn about day-to-day activities at CUIMC. Project Medical Education is an Association of American Medical Colleges (AAMC) program that educates elected officials and others about academic medicine. According to the AAMC, Columbia has hosted more PMEs than any other medical school or teaching hospital in the country. Read more.
Register Now: National Physician Suicide Awareness Day Program
The Department of Emergency Medicine, CopeColumbia, and NYP-House Staff Mental Health Service will present the third annual lecture Sept. 19 to commemorate National Physician Suicide Awareness Day. The program will feature a keynote presentation by Madelyn Gould, MD, the Irving Philips Professor of Epidemiology in Psychiatry at VP&S. Register here.
VP&S Experts Address Common Questions about Long COVID
Lawrence Purpura, MD, MPH, infectious disease specialist, and primary care physician Sarah Ryan, MD, discuss how long COVID has changed since earlier in the pandemic, the causes, and who is at risk for lingering symptoms. Read more.     
Melatonin and Kids
Melatonin is the supplement of choice for many adults who have trouble getting quality sleep, but is it safe for kids? Arezou Heshmati, MD, VP&S associate professor of neurology and pediatrics, discusses what parents need to know about melatonin use in kids. Read more.  
Are Schools the Key to Mental Health Support for Our Kids?  
A longstanding NYP-Columbia program has been at the forefront of embedding behavioral health clinics in public schools. Columbia psychiatrists discuss how the program continues to provide necessary care for students in NYC during the growing youth mental health crisis. Read more.
EVENTS
TISSUE TALKS: Wendy Kay Chung 
Sept. 14, 3 p.m., online
Register here.
Columbia Stem Cell Initiative Work in Progress (WIP) Series
Sept. 15, 11:30 a.m., Hammer Health Sciences Center 
Read more.
CUIMC Celebrates Rosh Hashanah with Honey Distribution on Campus  
Sept. 20, 11 a.m., Haven Plaza 
Read more. 
Lisio Family Lecture: Reading for Resilience & Resistance 
Sept. 20., 5:30 p.m., Vagelos Education Center 
Register here. 
Back to School Webinar: Spotlight on Sports Medicine for Kids 
Sept. 20, 6 p.m., online
Read more.
Columbia Football: CUIMC Day
Oct. 1, 1 p.m., Wien Stadium
Read more.
For more events, visit the CUIMC Events listing.
GRANTS
MAILMAN SCHOOL OF PUBLIC HEALTH
Diddier Prada Ortega, PhD, Environmental Health Sciences: $1,364,970 over five years from the National Institute on Minority Health and Health Disparities for a subaward of "Social Stress, Epigenetics and Cardiometabolic Health Among Youth." 
VAGELOS COLLEGE OF PHYSICIANS AND SURGEONS
Riccardo Dalla-Favera, MD, and Laura Pasqualucci, MD, Institute for Cancer Genetics: $604,260 over two years from AstraZeneca for "Pervasive Hypermutation of Super-enhancer Regions Identifies New Therapeutic Targets in Diffuse Large B-cell Lymphoma." 
Xiao Fan, PhD, Pediatrics: $266,678 over two years from the National Human Genome Research Institute for "New quantitative approaches to interpret variant pathogenicity." 
Sankar Ghosh, PhD, and Ottavio Arancio, MD, PhD, Microbiology & Immunology: $3,402,000 over five years from the National Institute on Aging for "Understanding the role of ECSIT in neurodegeneration and Alzheimer's Disease." 
Adam Griesemer, MD, Surgery: $278,598 over one year from the National Institute of Allergy and Infectious Diseases for a subaward of "Tomotherapy and Hematopoietic Stem Cells for Tolerance to Kidney Transplants." 
Jean Guglielminotti, MD. PhD, Anesthesiology: $405,000 over two years from the National Institute on Minority Health and Health Disparities for "Medicaid Expansion and Maternal Health in Racial and Ethnic Minority Women."  
Tamar Lubell, MD, Emergency Medicine: $264,373 over four years from the National Heart, Lung, and Blood Institute for a subaward of "Bedside Exclusion of Pulmonary Emboli in Children without Exposure to Radiation (BEEPER) Grant Transfer." 
Amy Margolis, PhD, Psychiatry: $2,715,029 over five years from the National Institute of Environmental Health Sciences for "Prenatal Environmental Mixtures, Cognitive Control and Reward Processes, And Risk for Psychiatric Problems in Adolescence." 
Hiroshi Nakagawa, MD, PhD, and Brian Henick, MD, HICCC: $1,376,527 over three years from NexImmune for "HEAD/NECK CANCERS AND IMMUNOTHERAPY." 
Timothy Cragin Wang, MD, and Kelley Yan, MD, PhD, Medicine: $1,995,840 over four years from the National Institute of Diabetes and Digestive and Kidney Diseases for "Gastrin Regulation of Gastric Antral Stem and Corpus Progenitor Cells." 
HONORS
VAGELOS COLLEGE OF PHYSICIANS AND SURGEONS
Melissa Glassman, MD, Pediatrics, was accepted as a Fellow of the Academy of Breastfeeding Medicine. 
SOCIAL MEDIA SNAPSHOT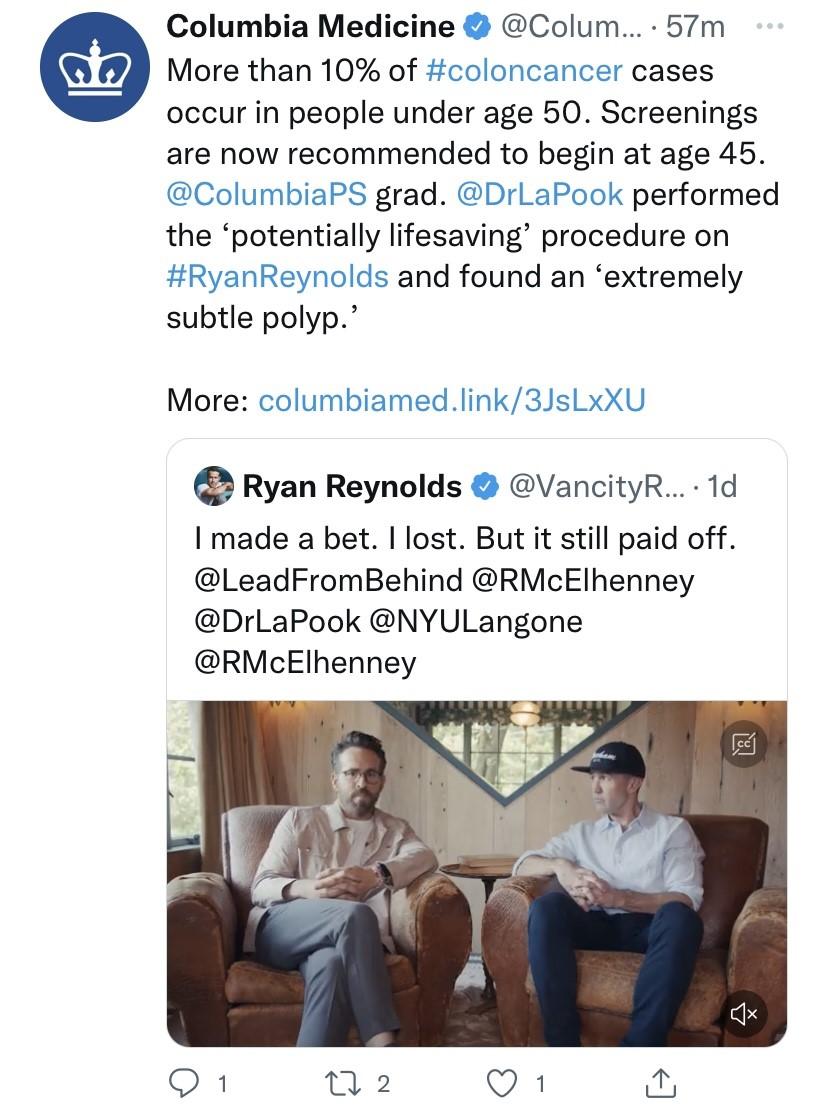 IN THE NEWS HIGHLIGHTS
The Washington Post (Requires a subscription)
Desperate Patients Want a New ALS Drug. The FDA Is Not Sure It Works.
Sep 6, 2022 - Jinsy Andrews, director of neuromuscular clinical trials at Columbia University and an investigator in the 600-patient Amylyx study, said there is plenty of evidence enabling the FDA to approve AMX0035 now. And she argues there are big differences between Aduhelm and AMX0035. 
Editor's Note: Jinsy Andrews is an associate professor in the Department of Neurology at the Vagelos College of Physicians and Surgeons. 
TIME
How Researchers Are Working to Make IVF More Effective  
Sep 8, 2022 - "In medicine, nobody can guarantee success," says Dr. Zev Williams, chief of reproductive endocrinology and infertility at Columbia University Irving Medical Center. "The question is, how close can we get?" 
U.S. News & World Report
Another Reason to Get the Flu Shot: Lowered Risk for Stroke 
Sep 8, 2022 - That's one of the strengths of the study, said Dr. Mitchell Elkind, a professor of neurology at Columbia University in New York City. He co-authored an editorial published with the study. 
​