CUIMC Update - May 31, 2023
CUIMC Update is a weekly e-newsletter featuring medical center news and the accomplishments of our faculty, staff, and trainees. Please send your news, honors, and awards to cuimc_update@cumc.columbia.edu. Grants are provided by the Sponsored Projects Administration office.
NEWS
Fort Washington Greenmarket Opens June 6
Members of the CUIMC community are invited to visit the Fort Washington Greenmarket on Haven Plaza for produce and specialty food products from New York and New Jersey. The greenmarket also will feature occasional cooking demos and seasonal celebrations. The site will be open every Tuesday from 8 a.m. to 4 p.m. through Nov. 21. Find out more.
Gluten Sensitivity is Real, But it Might Not be the Cause of Your Symptoms
Non-celiac gluten sensitivity, which can manifest with symptoms similar to celiac disease like indigestion and irregular bowel habits after consuming gluten, is a puzzling phenomenon to physicians. Columbia gastroenterologist Benjamin Lebwohl, MD, director of clinical research for the Celiac Disease Center, has been studying this condition with the goal of developing tests and treatments to get patients the help they need. Read more.
AAPI Leaders in VP&S History
In recognition of Asian American and Pacific Islander Heritage Month, learn about a few AAPI graduates and physicians of VP&S who helped make the world a better, safer, and healthier place. Read more.
New Screening Tools to Support Cognitive Health in Women
Columbia gynecologist Mary Rosser, MD, PhD, is working with Stephanie Cosentino, PhD, a Columbia neuropsychologist, to develop screenings for subjective cognitive decline that can be carried out in gynecology offices. Subjective cognitive decline, a form of cognitive impairment, poses an increased risk of subsequent dementia for women. With many women skipping annual exams with a primary care physician but keeping their yearly gynecologist appointment, these screenings hold great promise. Read more.
Exploring the Potential of ChatGPT Therapy with Columbia Psychiatrist Daniel Kimmel
To investigate the potential of artificial intelligence and its use in therapy, Daniel Kimmel, MD, PhD, assistant professor of clinical psychiatry at VP&S, engaged ChatGPT to be the therapist for a hypothetical patient. Read more about Kimmel's experience with ChatGPT as a potential therapy tool.
EVENTS
Endocrine Surgery Summit
June 1, 9 a.m., online
Register here.
VP&S Open Forum
June 5, 8 a.m., Black Building, 650 W. 168 St., Alumni Auditorium
Register here.
ColumbiaDoctors Primary Care Outreach
June 6, 8 a.m. to 4 p.m., Haven Plaza, Haven Avenue between Fort Washington Avenue and 169 Street
Register here.
All Employee Resource Group (ERG) Meeting
June 6, 11 a.m., online
Register here.
Tissue Talks: Nina Tandon, CEO, EpiBone
June 7, 3 p.m., online
Register here.
Dean's Lecture Series: Innovation in Biological and Medical Sciences Lecture
June 7, 4:30 p.m., Black Building, 650 W. 168 St., Alumni Auditorium and Schaefer Awards Gallery
Register here.
2nd CUIMC Symposium on the Biology of Aging
June 14, 9 a.m., Irving Cancer Research Center, 1130 St. Nicholas Ave., 1st Floor Auditorium
Register here.
GRANTS
MAILMAN SCHOOL OF PUBLIC HEALTH
Andrew Rundle, DrPH, Epidemiology: $532,192 over five years for a subaward from the National Cancer Institute for "Time-varying relationships between built environment factors, colon and rectum cancer prognosis, and survival."
VAGELOS COLLEGE OF PHYSICIANS AND SURGEONS
Donna Farber, PhD, Microbiology & Immunology: $14,667,056 over three years from the Defense Advanced Research Projects Agency for "Vaccine Efficacy and Tissue Immunity."
Guy Garty, PhD, Center for Radiological Research: $958,363 over two years for a subaward from the Army Research Institute for "Forensic Analysis of Low Level ionizing radiation expOsUre over Time (FALLOUT)."
Richard Paul Mayeux, MD, Taub Institute: $22,372,145 over five years from the National Institute on Aging for "National Institute on Aging Alzheimer's Disease Family-Based Study (NIA-AD FBS)."
Anna Penn, MD, PhD, Pediatrics: $452,375 over two years from the National Institute of Child Health and Human Development for "Therapeutic agents to prevent developmental neuroimpairment after placental hormone loss."
Jianwen Que, MD, PhD, Medicine: $2,008,995 over five years for a subaward from the National Cancer Institute for "Disruption of Transcription Networks in Esophageal Adenocarcinoma Tumorigenesis (Project 3)."
Uma Reddy, MD, Alexander Friedman, MD, Dena Goffman, MD, Obstetrics & Gynecology, and Kelli Hall, Mailman, Population and Family Health: $957,978 over one year from the National Institute of Child Health and Human Development for "EnCoRe MOMS: Engaging Communities to Reduce Morbidity from Maternal Sepsis."
HONORS
VAGELOS COLLEGE OF PHYSICIANS & SURGEONS
Emile A. Bacha, MD, Surgery, was elected vice president of the American Association for Thoracic Surgery and in line to become the association's 106th President.
Neuron-D GmbH, co-founded by Caghan Kizil, PhD, Neurology, was selected as a finalist for the Nature Spinoff Prize 2023.
Ryan Lawrence, MD, and Mark Sorensen, MD, Psychiatry, are recipients of the 2022-2023 Irma Bland Award for Excellence in Teaching Residents from the American Psychiatric Association.
Heino Meyer-Bahlburg, PhD, Psychiatry, received the Pioneer Award from the CARES Foundation.
SOCIAL MEDIA SNAPSHOT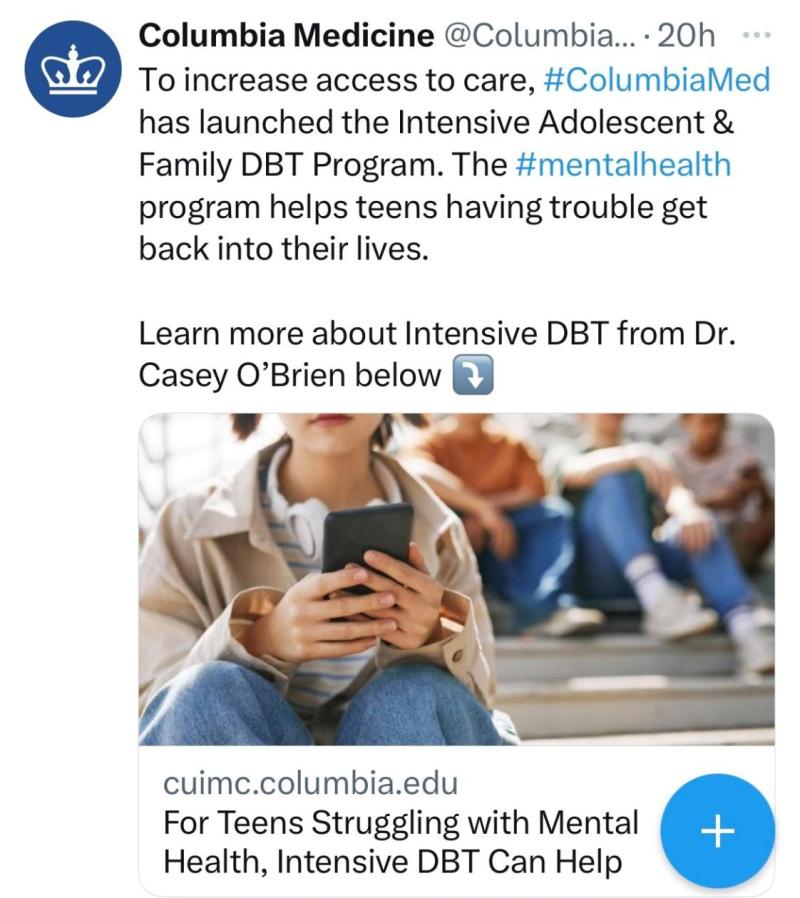 IN THE NEWS HIGHLIGHTS
TODAY (video)
Twins Turn Tragedy Into Lifetime Dedicated to Neurologic Research
May 24, 2023 - After David Carmel was paralyzed in a diving accident, he and his identical brother, Dr. Jason Carmel, who works for Columbia University and NewYork-Presbyterian, dedicated their lives to nerve generation research and finding ways to help people with spinal cord injuries recover function. NBC's Kate Snow reports for TODAY.
The New York Times
Honoring the Body Donors Who Are a Medical Student's 'First Patient'
May 31, 2023 - The Vagelos College of Physicians and Surgeons at Columbia began hosting a donor gratitude ceremony in the late 1970s as a way of marking an experience that "is very difficult for some students and really transformative," said Paulette Bernd, who runs the school's clinical gross anatomy course.
NBC News Online
Marijuana Linked to Mental Health Risks in Young Adults, Growing Evidence Shows
May 23, 2023 - Over the last decade of diagnosing countless young patients with new psychotic disorders, one striking result has stuck out for New York City psychiatrist Dr. Ryan Sultan. "Of all the people I've diagnosed with a psychotic disorder," he said, "I can't think of a single one who wasn't also positive for cannabis."