CUIMC Update - May 18, 2023
CUIMC Update is a weekly e-newsletter featuring medical center news and the accomplishments of our faculty, staff, and trainees. Please send your news, honors, and awards to cuimc_update@cumc.columbia.edu. Grants are provided by the Sponsored Projects Administration office.
NEWS
CUIMC Celebrates 2023 Graduates
CUIMC celebrated graduation campus-wide this week, with ceremonies at the Morningside and medical center campuses. We spoke to graduates from our four schools about why they chose to pursue careers in health care and how their time at Columbia made an impact on them. Read more.
VP&S Scientists Receive Schaefer Scholar Awards
Five scientists at VP&S, including full-time faculty members Chao Lu, PhD, Genetics & Development, and Mijo Simunovic, PhD, Columbia Stem Cell Initiative, have received awards from the Schaefer Research Scholars Program, made possible through a bequest from Dr. Ludwig Schaefer. Read more.
How to Lower High Blood Pressure, According to a Columbia Cardiologist
High blood pressure, also known as hypertension, can go undetected for a long period of time, as most people with this condition have no symptoms. Columbia cardiologist Marc Eisenberg, MD, shares why the condition is known as "the silent killer" and what you can do to monitor and lower your blood pressure. Read more.
Classroom Exercise at Mailman Becomes a Congressional Bill
As part of a Mailman course titled "Law & Policy: Mass Incarceration in the United States," taught by Hernandez D. Stroud, JD, Health Policy and Management, students offered input on a policy proposal that is now the basis of the Smart Sentencing Adjustments Act introduced this month in the U.S. Congress by New Jersey Sen. Cory Booker and California Rep. Tony Cárdenas. Read more.
What an Abnormal Pap Test Means, According to a Columbia Ob/Gyn
Regular Pap smear testing reduces cancer rates by 80% by identifying abnormal cells before they become cancer. Columbia Ob/Gyn Reyna Payero, MD, discusses how often you should get a Pap test and what it can mean if your Pap test results are abnormal. Read more.
EVENTS
Diversity, Equity, and Inclusion in Clinical Trials
May 18, 4 p.m., Milstein Building, 177 Fort Washington Ave., Heart Center Auditorium
Register here.
Community Health Workers Town Hall on COVID-19
May 18, 5 p.m., online
Register here.
Social Justice Praxis in Nursing and Healthcare by Dr. John Gilmore
May 19, 1 p.m., School of Nursing, 560 W. 168 St., Conference Room 114/115
Register here.
Manhattanville Community Day: Spring 2023
May 20, 12 p.m., The Forum at Columbia University, 601 W. 125 St.
Register here.
Velocity Ride 2023 Registration Opens
May 23, 10:30 a.m., Haven Plaza, Haven Avenue between Fort Washington Avenue and 169 Street
Learn more.
AAPI Fest on Haven Plaza
May 24, 11 a.m., Haven Plaza, Haven Avenue between Fort Washington Avenue and 169 Street
Register here.
The Biology of Aging Seminar Series Presents Dr. Steven N. Austad
May 24, 12 p.m., Irving Cancer Research Center, 1130 St. Nicholas Ave., 1st Floor Auditorium
Register here.
Mid-career Faculty Professional Development Series: Leading with Values
May 24, 4 p.m., Presbyterian Building, 622 W. 168 St., Floor 10, Room 405 A&B
Register here.
Jewish American Heritage Month on Haven Plaza
May 30, 11 a.m., Haven Plaza, Haven Avenue between Fort Washington Avenue and 169 Street
Register here.
Endocrine Surgery Summit
June 1, 9 a.m., online
Register here.
GRANTS
MAILMAN SCHOOL OF PUBLIC HEALTH
Allison Aiello, PhD, Epidemiology: $768,921 over three years for a subaward from the National Institute on Aging for "Add Health as a Resource for the Science of the Exposome and Risk for AD/ADRD."
VAGELOS COLLEGE OF PHYSICIANS AND SURGEONS
Sankar Ghosh, PhD, Microbiology & Immunology: $449,437 over two years from the National Institute of Allergy and Infectious Diseases for "Exploring the role of a novel autoimmune disease-associated lncRNA in Treg biology."
Stephanie Collins Reed, PhD, Psychiatry: $385,633 over five years for a subaward from the National Institute on Drug Abuse for "Repeated Administration of Cannabis Varying in THC and CBD: Effects on Abuse Liability, Experimental Pain and Plasma Endocannabinoids."
Danish Saleheen, PhD, Medicine, and Ira Tabas, MD, Pathology & Cell Biology: $2,663,333 over four years from the National Institute of Diabetes and Digestive and Kidney Diseases for "Discovery of novel therapeutic targets for NASH through deep phenotyping of human knockouts and mechanistic studies."
Yousin Suh, PhD, Obstetrics & Gynecology: $550,000 over one year from Norn Group for "Multi-omic biomarkers and mechanistic insights from a clinical evaluation of rapamycin in women."
Harris Wang, PhD, Systems Biology: $816,728 over four years for a subaward from the Department of Energy for "Bioprospecting and genetic tool development."
David Welch, PhD, Center for Radiological Research: $2,632,000 over four years from the Centers for Disease Control and Prevention for "Testing health hazards from implementation of far-UVC irradiation as an intervention technology to reduce airborne disease transmission."
HONORS
COLLEGE OF DENTAL MEDICINE
The College of Dental Medicine Epsilon Epsilon chapter of Omicron Kappa Upsilon inducted 11 CDM students and three faculty members. The student inductees were Anamaria Carrasco, Jessica Castillo, Renee Eisenberg, Navreet Kaur, Simon Luu, Maura Lynch, Charlotte Martin, Margot Metz, Yvonne O'Neal, Nolan Wendling, and Zeming Zheng. Faculty inductees were Mona Boside, DDS; Alison Newgard, DDS; and honorary inductee Carol Kunzel, PhD.
COLUMBIA UNIVERSITY IRVING MEDICAL CENTER
Elizabeth Corwin, PhD, Stephen Ferrara, DNP, and Vivian Taylor, EdD, School of Nursing, and Julia Iyasere, MD, Medicine, VP&S, were selected as Notable 2023 Leaders in Health Care by Crain's New York Business.
Stephen Novak was awarded the 2023 "Best Monograph" prize by the Librarians, Archivists, and Museum Professionals in the History of the Health Sciences for a book, "The Babies Hospital of New York: A History," co-written with Michael Weiner, MD, Pediatrics.
VAGELOS COLLEGE OF PHYSICIANS & SURGEONS
Madelyn S. Gould, PhD, Psychiatry, received a Lifetime Achievement Research Award from the American Foundation for Suicide Prevention at the foundation's Lifesavers Gala on May 4.
Dawn L. Hershman, MD, Medicine, has been selected as a co-chair-elect of the SWOG Cancer Research Network.
SOCIAL MEDIA SNAPSHOT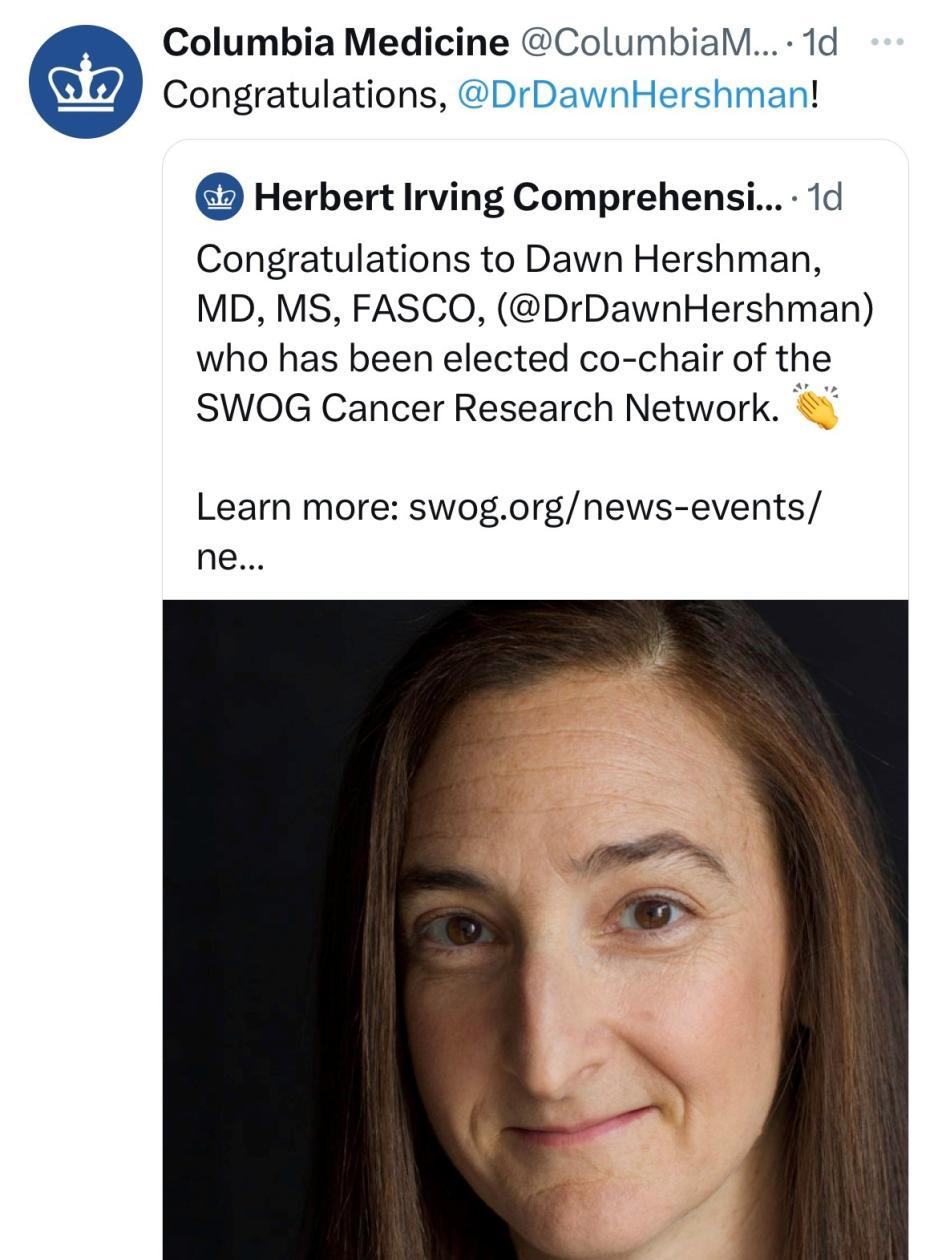 IN THE NEWS HIGHLIGHTS
The New York Times
A Birth Control Pill May Soon Be Available Over the Counter. Here's What to Know.
May 10, 2023 - Opill has fewer side effects and a lower risk profile than other birth control options, particularly combination pills, Dr. Carolyn Westhoff, a professor of reproductive health at Columbia University, said at the meeting.
Spectrum News/NY1 (video)
National Nurses Week: Psychiatric Nurses Play Increasingly Important Role in Addressing City's Mental Health Crisis
May 8, 2023 - Editor's Note: Latisha Hanson, interviewed here, is an assistant professor at the School of Nursing. Michelle Charles, interviewed here, will graduate this month from the School of Nursing.
Crain's New York Business (Requires a subscription)
Columbia Researchers Got $500K State Grant to Detect Rare Viruses
May 8, 2023 - However Covid-19 emerged, at the beginning it was a novel, unknown virus in search of hosts. This week, a team led by chemical engineer Jingyue Ju at Columbia University Irving Medical Center and School of Engineering received a $500,000 grant from the state to advance their work in developing a diagnostic method that would allow for rapid and direct detection of low-abundance viruses.