CUIMC Update - March 22, 2023
CUIMC Update is a weekly e-newsletter featuring medical center news and the accomplishments of our faculty, staff, and trainees. Please send your news, honors, and awards to cuimc_update@cumc.columbia.edu. Grants are provided by the Sponsored Projects Administration office.
NEWS
VP&S Students Celebrate Match Day 2023
Last Friday, 135 medical students at VP&S received monumental news: the results of their residency match. "We are thrilled for the Class of 2023 and their residency match," said Lisa Mellman, MD, senior associate dean for student affairs at VP&S. "Students matched incredibly well into the specialties of their choice and will be wonderful ambassadors of VP&S, both here in New York City and across the country." Read more and watch a video.
Columbia Sports Medicine Doctor Helps Athletes Find Purpose After Career-Ending Injuries
Thomas Bottiglieri, DO, chief of sports medicine physicians at Columbia University, was told at age 19 that he needed to retire from playing college football after a series of injuries left him with lasting neurological signs of brain injury. Bottiglieri has dedicated his career to helping athletes like his younger self receive the guidance and support they need after a life-changing diagnosis. Read more.
Faces of CUIMC Facilities: Women Leaders in Male-Dominated Fields
Facilities Management has launched Faces of Facilities, a profile series dedicated to telling the stories of the individuals who work to keep the campus safe, provide essential services, and maintain the spaces that allow CUIMC students, faculty, staff, and researchers to do their work. In honor of Women's History Month, meet three women in facilities management who are leaders in male-dominated fields. Read more.
Cannabis Edibles and Kids: What Parents Need to Know
Although products containing THC, the primary psychoactive part of a cannabis plant, are intended for adults age 21 and over, accidental ingestion of edible cannabis products in children has increased nationally following legalization and liberalization of cannabis laws. Sarah Ann Anderson, MD, PhD, a pediatrician at VP&S, offers guidance on what to do if you suspect a child may have ingested anything containing THC. Read more.
Columbia Gastroenterologist Shares What You Should Know About Colon Health
March is Colorectal Cancer Awareness Month. Anna Krigel, MD, a gastroenterologist at VP&S, discusses how you can tell if your colon is in good shape and offers tips for improving colon health. Read more.
EVENTS
2023 Celebration of Teaching and Learning Symposium
March 23, online
Register here.
Upstream approaches to help seniors age at home: Silicon Valley View
March 23, 11:30 a.m., online
Register here.
The AOA Lecture presented by Eve Higginbotham, SM, MD, ML
March 23, 4:30 p.m., Black Building, 650 W. 168 St., Alumni Auditorium and Schaefer Awards Gallery
Register here.
CUIMC Women in Science Lecture Series | Recipes for Resilience: Promoting Gender Equity and Career Development
March 28, 4 p.m., 50 Haven Ave.
Register here.
Supporting NYC's Aging Population: A Public Health Approach
March 29, 10 a.m., Allan Rosenfield Building, 722 W. 168 St., 8th Floor Auditorium
Register here.
OSR Reach for Research Excellence Seminar: Dr. Corina Lelutiu-Weinberger
March 29, 12 p.m., School of Nursing, 560 W. 168 St., Conference Room 114/115
Register here.
Employee Appreciation Networking Event
March 30, 4 p.m., School of Nursing, 560 W. 168 St., 7th Floor Rooftop
Register here.
Cancer and its Discontents: Speaking about the Unspeakable with Azra Raza, MD
March 30, 5 p.m., Vagelos Education Center, 104 Haven Ave., Room 201
Register here.
Effects of Dietary Sugars on Metabolic, Gut and Brain Developmental Outcomes: The Good, the Bad, and the Ugly
March 31, 12:30 p.m., Allan Rosenfield Building, 722 West 168th St., Hess Commons
Register here.
Multicultural Issues in Palliative Care Workshop
April 4, 10 a.m., online
Register here.
GRANTS
MAILMAN SCHOOL OF PUBLIC HEALTH
Melissa DuPont-Reyes, PhD, Sociomedical Sciences: $450,978 over two years from the Robert Wood Johnson Foundation for "Studying prevalent mental health stigma in Spanish media to encourage help-seeking among growing young and diverse Latinx populations."
Mansoor Farahani, ScD, ICAP: $4,640,809 over five years from the Centers for Disease Control and Prevention for "Strengthening Health Information System in South Sudan."
Susan Michaels-Strasser, PhD, Epidemiology: $495,000 over one year from Resolve To Save Lives for "Improving COVID-19 vaccine uptake among health care workers in Sierra Leone."
Jeffrey Shaman, PhD, Environmental Health Sciences: $2,205,550 over one year from the Centers for Disease Control and Prevention for "Advancing and Operationalizing Infectious Disease Modeling, Analytics and Forecasting."
VAGELOS COLLEGE OF PHYSICIANS AND SURGEONS
Elana Bernstein, MD, Medicine: $3,513,869 over five years from the National Heart, Lung, and Blood Institute for "Vasculopathy and Systemic Sclerosis-Associated Interstitial Lung Disease."
Christopher Makinson, PhD, Neurology: $1,437,896 over three years from the National Institute of Mental Health for "Unlocking the postnatal human brain using activity augmented organoids."
Teresa Palomero, PhD, Pathology & Cell Biology: $567,000 over three years from the Army Medical Research and Materiel Command for "Identifying epigenetic vulnerabilities in Peripheral T-cell Lymphomas."
Sebastian Riquelme Colet, PhD, Pediatrics: $2,048,394 over five years from the National Institute of General Medical Sciences for "Impact of nucleotide metabolism on bacterial clearance."
Xueling Wu, MD, PhD, Medicine: $2,661,540 over three years from the National Institute of Allergy and Infectious Diseases for "Characterization of HIV-1 IgA bNAbs and ADCP function."
Rafael Yuste, PhD, Biology, and David Hellerstein, MD, Psychiatry: $341,712 over two years from the National Institute of Neurological Disorders and Stroke for "Neural Mechanisms of Behavioral Coordination in Hydra."
HONORS
VAGELOS COLLEGE OF PHYSICIANS AND SURGEONS
Melissa Stockwell, MD, Pediatrics, was featured in the National Heart, Lung, and Blood Institute Celebrates Women Scientists series.
SOCIAL MEDIA SNAPSHOT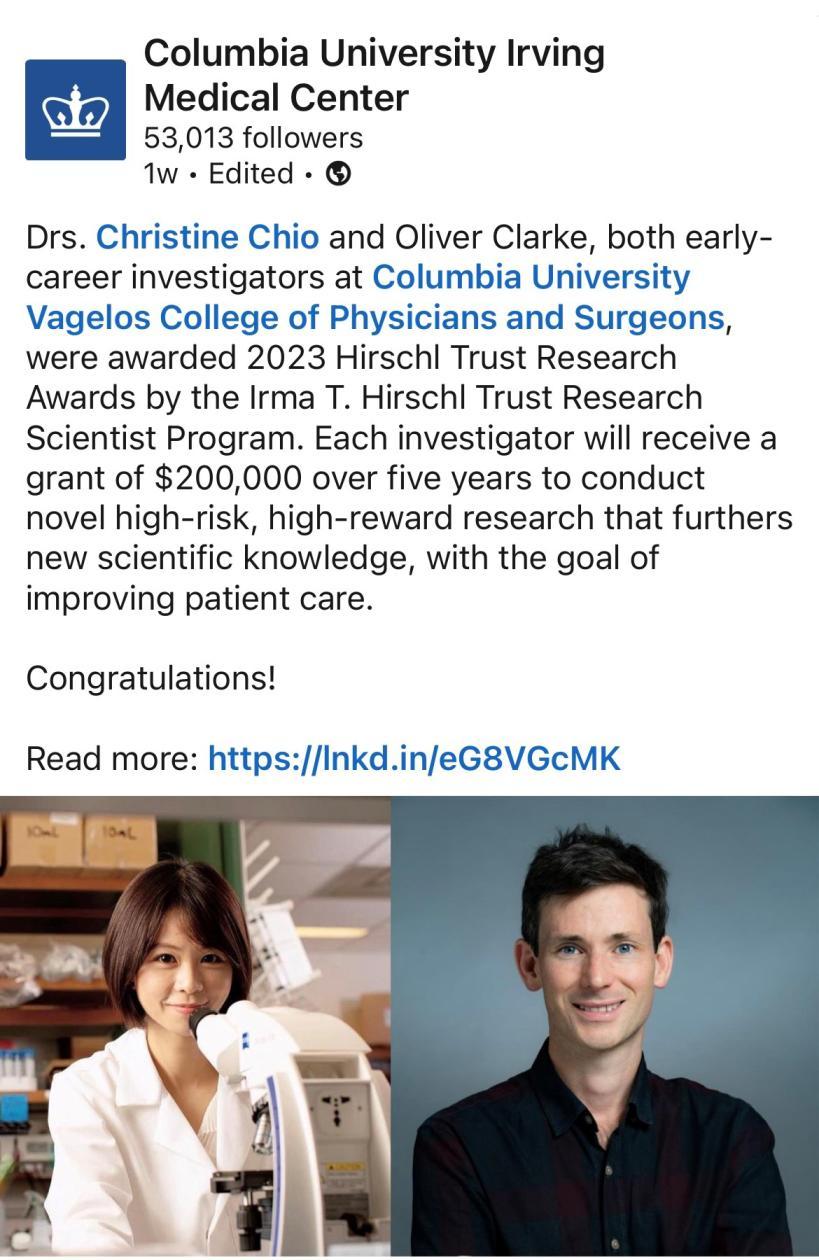 IN THE NEWS HIGHLIGHTS
The New York Times
Are Allergies Making Me Tired?
Mar 14, 2023 - Congestion can also create a lot of pressure in the upper airways that can make you tired, said Dr. Joyce Yu, a pediatric allergist and immunologist at Columbia University Irving Medical Center. "It sends a signal to your brain and says, 'Hey, I'm exhausted,'" she said.
Consumer Reports
Foods to Eat for Better Sleep
Mar 14, 2023 - "We're finding more evidence that improving your diet can lead to better sleep," says Marie-Pierre St-Onge, PhD, director of the Center of Excellence for Sleep and Circadian Research at Columbia University Irving Medical Center in New York City.
"Legume consumption was associated with better sleep overall," says Brooke Aggarwal, EdD, an assistant professor of medical sciences in the Division of Cardiology at Columbia University Irving Medical Center and one of the study authors.
NBC News Online
Sudden, Unexplained Deaths Rose Unexpectedly for Black Infants, Research Finds
Mar 13, 2023 - According to an editorial published alongside the study, Black people are more than twice as likely as whites to live in poverty. A co-author of the editorial, Dr. Rebecca Carlin, a pediatrician affiliated with Columbia University in New York, said, "If you don't have a safe place for your baby to sleep, how are you going to have them sleep safely?"