CUIMC Update - July 26, 2023
CUIMC Update is a weekly e-newsletter featuring medical center news and the accomplishments of our faculty, staff, and trainees. Please send your news, honors, and awards to cuimc_update@cumc.columbia.edu. Grants are provided by the Sponsored Projects Administration office.
NEWS
The Impact of Extreme Heat, Smoke, and Flooding on Our Health
Cecilia Sorensen, MD, an emergency medicine physician and associate professor of environmental health sciences at the Mailman School of Public Health, works with colleagues to study and address the health impacts and risks of climate change-related emergencies. She offers information about groups considered to be most vulnerable, the health risks caused by extreme weather, and ways communities can protect themselves. Read more.
Columbia Ob/Gyn Answers Your Questions About New Over-the-Counter Birth Control
Earlier this month, the FDA approved the first non-prescription daily oral contraceptive medication called Opill. Availability, expected in 2024, will give millions more people access to safe, effective oral contraception. Columbia Ob/Gyn Ryalynn Morgan Carter, MD, shares what you should know about Opill. Read more.
Employee Spotlight: Columbia Aquatic Manager Turns Childhood Love of Fish into a Career
Josh Barber, the senior manager of aquatic and reptilian life at CUIMC's Institute of Comparative Medicine, overcame early challenges, including time in a homeless shelter, and turned his childhood passion for fish into a career at Columbia. "If I can play a small part using these fish to help enhance the lives of people and maybe to help cure a disease in some indirect way, that's what I want to do," he says. Read more.
Columbia Study Aims to Identify the Key to Maintaining Weight Loss
A study led by Rudolph Leibel, MD, professor of medicine and pediatrics; Dympna Gallagher, EdD, professor of nutritional medicine; Michael Rosenbaum, MD, professor emeritus of medicine and pediatrics; and Laurel Mayer, MD, professor of psychiatry, hopes to better understand the key to maintaining weight loss by extensively studying more than 100 people with obesity who successfully lose weight through diet and exercise. Ultimately, the researchers hope to use these results to optimize individualized planning for long-term weight reduction. Read more.
How Living in Cities Can Damage Your Hearing, According to a Columbia Audiologist
The sound of city life can be so loud that it damages the hair cells in the inner ear, leading to hearing loss, tinnitus (ringing in the ears), and increased sensitivity to sound. Hearing loss is the third most common health problem in the United States among older adults, and children are also at risk. Jessica Galatioto, AUD, director of audiology at CUIMC, shares tips for preserving your hearing in a noisy city environment. Read more.
EVENTS
Neuro-Oncology Wellness Webinar: Cognitive Rehab
July 27, 1 p.m., online
Register here.
ColumbiaDoctors Outreach With Nurse Practitioner Group and Primary Care (Blood Pressure Screening from 8 to 10 a.m.)
Aug. 1, 8 a.m. to 4 p.m., Haven Plaza, Haven Avenue between Fort Washington Avenue and 169 Street
Learn more.
Request for Nominations: Mentor of the Year Award
Aug. 3, online
Learn more.
ColumbiaDoctors Outreach With Dentistry and Children's Health
Aug. 8, 8 a.m. to 4 p.m., Haven Plaza, Haven Avenue between Fort Washington Avenue and 169 Street
Learn more.
Our Health at 1.5 Degrees and Beyond
Aug. 11, 11:15 a.m., Black Building, 650 W. 168 St., Room 16-419
Register here.
GRANTS
MAILMAN SCHOOL OF PUBLIC HEALTH
Heather Krasna, PhD, Health Policy & Management: $450,000 over five years for a subaward from the Health Resources and Services Administration for "Consortium for Public Health Workforce Research (C-WORPH)."
SCHOOL OF NURSING
Veronica Barcelona, PhD: $2,183,044 over five years from the National Institute of Child Health and Human Development for "Epigenomic Pathways from Racism to Preterm Birth."
VAGELOS COLLEGE OF PHYSICIANS AND SURGEONS
Luke Benvenuto, MD, Medicine: $369,600 over two years from the Cystic Fibrosis Foundation for "Improving Lung Transplant for Cystic Fibrosis Patients."
Katherine Elkington, PhD, Psychiatry: $314,177 over five years for a subaward from the Centers for Disease Control and Prevention for "Capital Connect."
Robin Goland, MD, Naomi Berrie Diabetes Center: $600,000 over one year from the Leona M. and Harry B. Helmsley Charitable Trust for "Support for T1D Transition Programs."
Li Qiang, PhD, Pathology & Cell Biology: $1,936,740 over four years from the National Institute of Diabetes and Digestive and Kidney Diseases for "IgG and Adipose Pathological Remodeling."
Alice Saperstein, PhD, Psychiatry: $578,250 over two years from the National Institute of Mental Health for "Motivation Skills Training to Enhance Functional Outcomes for People with Schizophrenia."
Badri Vardarajan, PhD, Sergievsky Center: $1,372,830 over five years for a subaward from the National Institute on Aging for "Additional Sequencing for the Alzheimer's Disease Sequencing Project (ADSP) the Follow-Up Study (FUS), The Diverse Population Initiative."
HONORS
MAILMAN SCHOOL OF PUBLIC HEALTH
Miriam Laugesen, PhD, Health Policy and Management, was selected for the Robert Wood Johnson Foundation Health Policy Fellows Program at the National Academy of Medicine.
SCHOOL OF NURSING
Maura Abbott, PhD, and Kasey Jackman, PhD, have been inducted into the American Academy of Nursing's 2023 Class of Fellows.
VAGELOS COLLEGE OF PHYSICIANS & SURGEONS
Cristiane Duarte, PhD, Psychiatry, has been appointed to the William T. Grant Foundation's Scholars Selection Committee.
Frances T. McCarthy, RNC, Pediatrics, is one of the 2023 recipients of the Hastings Center Cunniff-Dixon Nursing Awards.
Harris H. Wang, PhD, Systems Biology and Pathology & Cell Biology, was named a finalist for the Blavatnik National Awards for Young Scientists.
SOCIAL MEDIA SNAPSHOT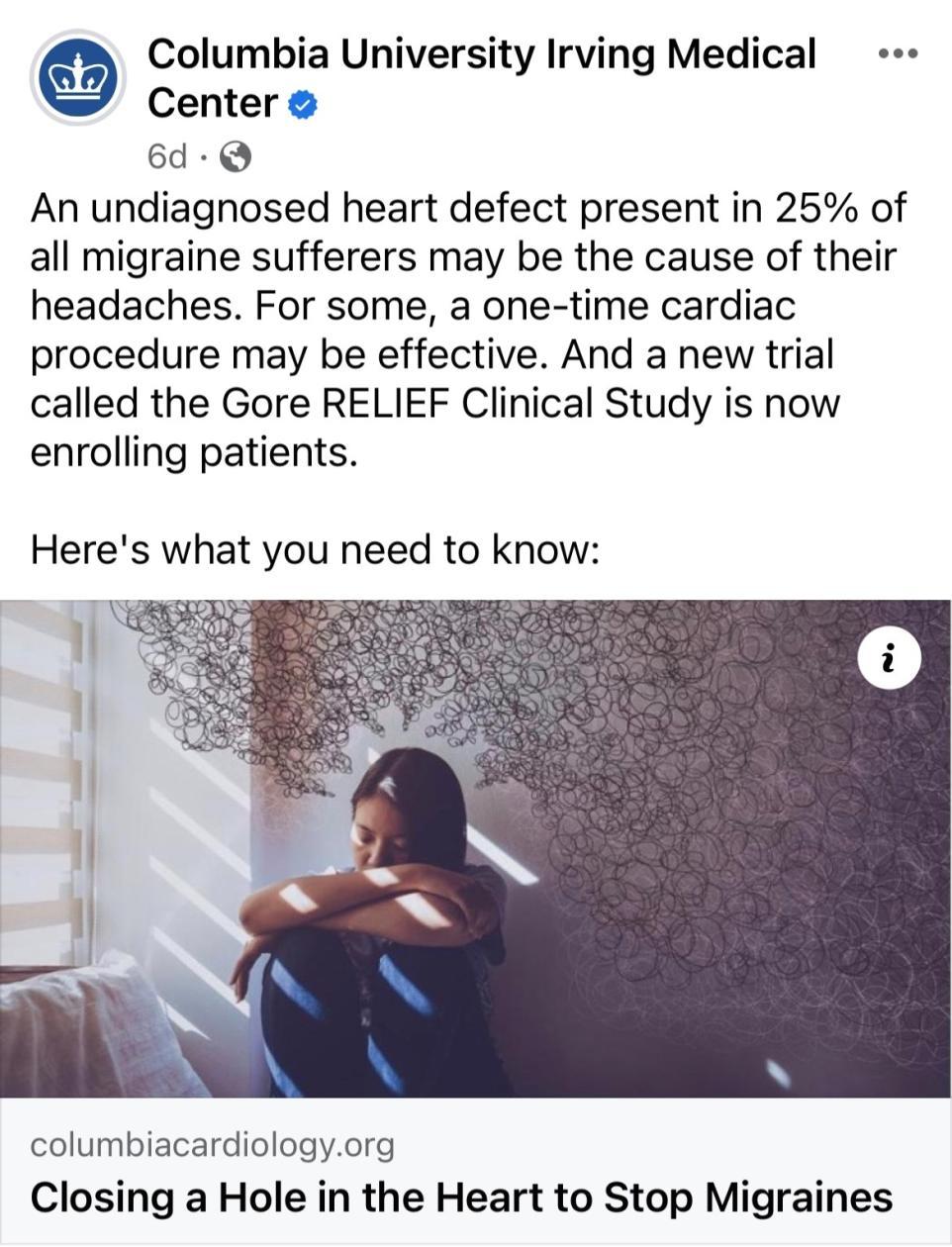 IN THE NEWS HIGHLIGHTS
The Washington Post
Hearing Aids May Cut Risk of Cognitive Decline by Nearly Half
Jul 19, 2023 - There have many studies over the past decade to try to determine why people with hearing loss tend to have worse cognition, said Justin S. Golub, an associate professor of otolaryngology at Columbia University Irving Medical Center. One theory is that it requires a lot of effort for people with hearing loss to understand what others are saying — and that necessary brainpower leaves fewer cognitive resources to process the meaning of what was heard, he said.
HuffPost
The 1 Thing That Child Therapists Say Harms Kids' Happiness the Most
Jul 18, 2023 - Jennifer Cruz, a child psychologist at NewYork-Presbyterian/Columbia University Irving Medical Center, explained to HuffPost: "Shielding children from stress and tough emotions may keep them from developing resilience and make future challenges tougher."
The Economist
In Vitro Fertilisation Is Struggling to Keep Up With Demand
Jul 17, 2023 - Since the 1990s it has been possible to remove cells from an embryo developing in a dish and inspect their DNA for a dangerous gene that one or both of the parents is known to carry. "It is, in some ways, the ultimate manifestation of preventative medicine," says Zev Williams, of Columbia University Fertility Center: "Helping someone be born without the disease."