CUIMC Update - August 24, 2022
​CUIMC Update is a weekly e-newsletter featuring medical center news and the accomplishments of our faculty, staff, and trainees. Please send your news, honors, and awards to cuimc_update@cumc.columbia.edu. Grants are provided by the Sponsored Projects Administration office.
NEWS
VP&S White Coat Ceremony Welcomes Class of 2026
The 140 members of the VP&S Class of 2026 gathered on Aug.19 for the White Coat Ceremony, an annual event at which Columbia's incoming medical students are cloaked in white coats by faculty members for the first time. Of the members of the entering class, 31% belong to groups underrepresented in medicine, surpassing the record-breaking 28% in last year's incoming class. Read more.
Dígame Bienvenidos Welcomes Students to Washington Heights
In the Dígame Bienvenidos program, incoming medical and dental students immerse themselves in the culture of Washington Heights, the community where they will live, learn, and serve. The four-day orientation program introduces new students to the history, culture, and contemporary issues of the community. Read more.
New Autism Genes Identified by VP&S Researchers 
A new study led by Wendy Chung MD, PhD, the Kennedy Family Professor of Pediatrics and chief of clinical genetics in the Department of Pediatrics, uncovered 60 genes linked to autism spectrum disorder and may provide important clues to the causes of autism across the full spectrum of the disorder. Read more. 
Environmental Health Sciences Launches MS Track in Data Science
The Department of Environmental Health Sciences at the Mailman School of Public Health has launched a new MS track, Environmental Health Data Science, believed to be the first program of its kind offered in the United States. Applications for Fall 2023 are now being accepted. Read more.
What's the Deal with Vitamin D?
John Bilezikian, MD, the Dorothy L. and Daniel H. Silberberg Professor of Medicine at VP&S and vice chair of the Department of Medicine for international education and research, answered common questions about vitamin D to explain what it can and cannot do for your health. Read more.  
EVENTS

IHN Seminar Series
Aug. 31, 12 p.m., online
Read more.
MDE Virtual Information Session
Sept. 7, 13 p.m., online
Register here.
The Biology of Aging Special Seminar Series Presents Dr. Amita Sehgal
Sept. 14, 12 p.m., online
Register here.
New Frontiers in Cancer Research and Care: The Next 50 Years
Sept. 15, 1:30 p.m., Vagelos Education Center
Read more.
Back to School Webinar: Spotlight on Sports Medicine for Kids 
Sept. 20, 6 p.m., online
Read more.
For more events, visit the CUIMC Events listing.
GRANTS
VAGELOS COLLEGE OF PHYSICIANS AND SURGEONS
Cathy Lee Mendelsohn, PhD; Ali Gharavi, MD; and Jonathan Barasch, MD, PhD, Medicine: $5,999,999 over five years from the National Institute of Diabetes and Digestive and Kidney Diseases for "Investigating the Genetic, Cellular, and Metabolic Events Important for Urothelial Homeostasis and Response to Injury." 
Hans-Willem Snoeck, MD, PhD, Medicine: $2,716,656 over three years from the National Heart, Lung, and Blood Institute for "Mitochondrial Regulation of Hematopoietic Stem Cells." 
Harris Wang, PhD, and Samuel Sternberg, PhD, Systems Biology: $2,665,170 over four years from the National Institute of Biomedical Imaging and Bioengineering for "A high-performance and versatile technology for precision microbiome engineering." 
Jason Wright, MD, and Elena Elkin, PhD, Obstetrics & Gynecology: $4,456,249 over five years from the National Cancer Institute for "Comparative Modeling for the Prevention and Control of Uterine Cancer."
MAILMAN SCHOOL OF PUBLIC HEALTH
Joan Casey, PhD, Environmental Health Sciences: $262,774 over five years from the National Institute of Child Health and Human Development for a subaward of "Racial Disparities in Preterm Births and Fetal Loss."  
Susan Michaels-Strasser, PhD, ICAP: $7,851,222 over one year from the Global Fund to Fight AIDS, Tuberculosis and Malaria for a subaward of "Integrating Services for Maximum Impact." 
Veronicah Mugisha, DPH, ICAP: $1,000,000 over five years from the Centers for Disease Control and Prevention and the President's Emergency Plan for AIDS Relief for "Enhancing Sustainable and Integrated Health, Strategic Information and Laboratory Systems for Quality Comprehensive HIV Services through Technical Assistance to the Republic of Rwanda under PEPFAR." 
Harriet Nuwagaba-Biribonwoha, MD, PhD, ICAP: $3,789,300 over four years from the Gates Foundation for a subaward of "A Phase 3, Randomized, Active-Controlled, Double-blind Clinical Study to Evaluate the Efficacy and Safety of Oral Islatravir Once-Monthly as Preexposure Prophylaxis in Cisgender Women at High Risk for HIV-1 Infection."  
Yen Pottinger, PhD, ICAP: $834,179 over five years from the Centers for Disease Control and Prevention and the President's Emergency Plan for AIDS Relief for "National Center for Emerging and Zoonotic Infectious Diseases Global Healthcare Detection and Response (NCEZID)." 
Lisa Rosen-Metsch, PhD, Sociomedical Sciences: $342,861 over one year from the National Institute on Drug Abuse for "CTN-0121: Integrated Care and Treatment for Severe Infectious Diseases and Substance Use Disorders among Hospitalized Patients." 
HONORS
COLUMBIA UNIVERSITY IRVING MEDICAL CENTER
More than 20 CUIMC faculty members have been awarded 2022-23 Office of the Provost's Teaching and Learning Grants, supporting their efforts to develop innovative and technology-rich pedagogies and learning strategies. Read about this year's recipients here.
SOCIAL MEDIA SNAPSHOT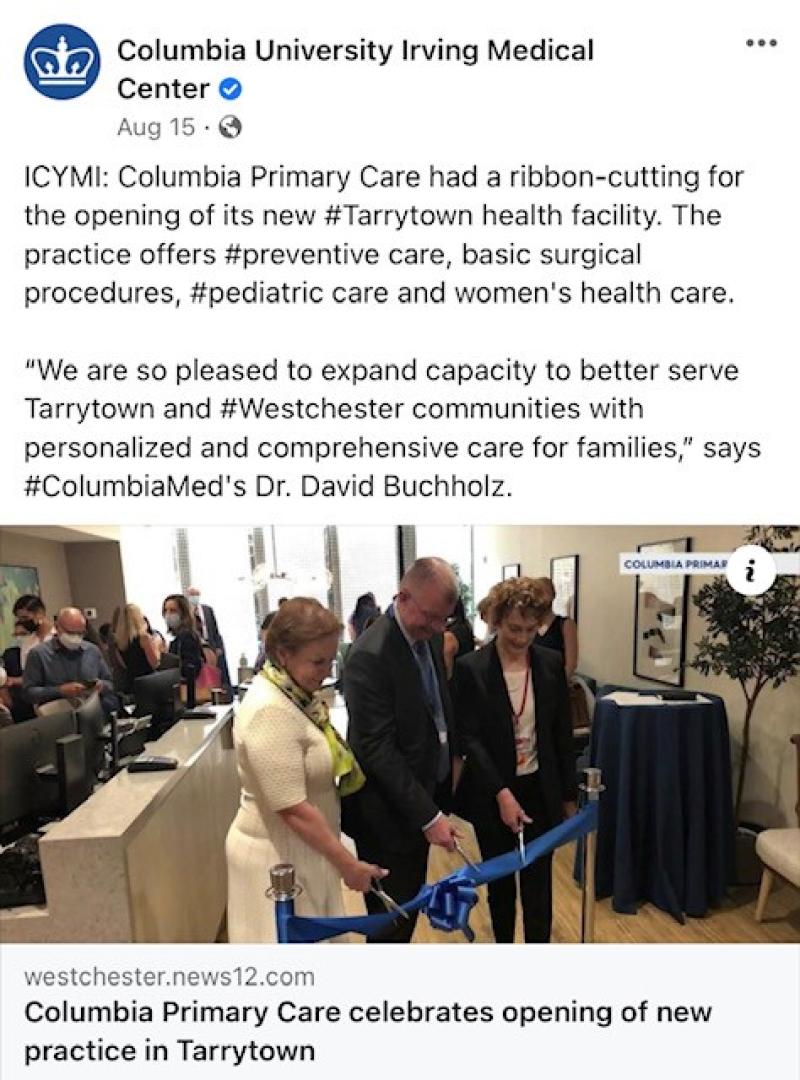 IN THE NEWS HIGHLIGHTS
TIME
Polio Is Back. Here's How to Keep Yourself Safe
Aug 16, 2022 - "The fact that we're finding it in wastewater tells you it's more common than people appreciate," says Ian Lipkin, professor of epidemiology at Columbia University's Mailman School of Public Health. "We're looking at the tip of the iceberg." 
Adds virologist Vincent Racaniello of the Columbia University Vagelos College of Physicians and Surgeons: "I suspect it's already in many, many places in the U.S. In fact, I think that if we look in every major city in the U.S., we will find vaccine-derived polio in the sewage for sure." 
The New York Times
New Method Improves Speed and Cost of Birth Defect Testing
Aug 17, 2022 - The technique, developed by Dr. Zev Williams, director of the Columbia University Fertility Center, and his colleagues, uses cells and tissues obtained from existing prenatal screening procedures of embryos and fetuses, or tissue obtained after miscarriages. 
The Wall Street Journal
How the Covid Pandemic Will Follow Today's Kids Into Adulthood
Aug 8, 2022 - Among adolescent girls, visits for eating disorders doubled and visits for tic disorders tripled in 2020 from the year before, the CDC said. Extrapolating from that, roughly 5% of girls in that age group suffered from eating disorders like anorexia nervosa and bulimia, said Evelyn Attia, the medical director at the Center for Eating Disorders at Columbia University. The likely culprit: isolation and extended time on social media and Zoom.