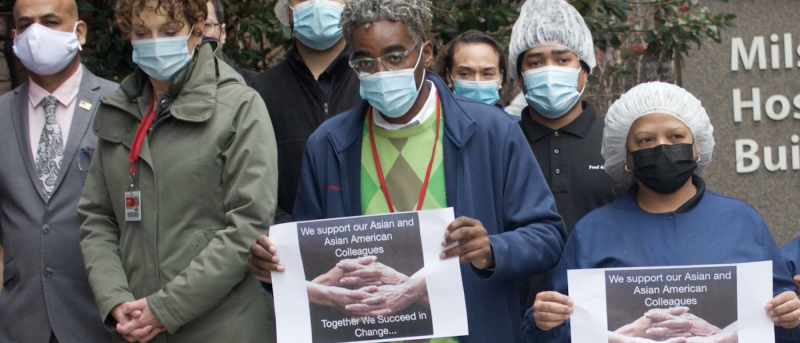 CUIMC Unites to Protest Anti-Asian Hate
On April 1, faculty, staff, and students at Columbia University Irving Medical Center, together with colleagues at NYP and Weill Cornell, observed a moment of silence to remember the victims of anti-Asian hate crimes and to take a stand against racism, hate, and violence.
"Beyond this observance, we want to reassure you of our continuing commitment to fighting against all racial bias and helping to move CUIMC, our community, and our nation toward fairness and justice. It is only by working together that we can bring about lasting change," said Anil K. Rustgi, MD, interim executive vice president and dean of the Faculties of Health Sciences and Medicine, who joined the deans of the Mailman School of Public Health, School of Nursing, and College of Dental Medicine to call for the moment of silence.
Since the outbreak of the COVID-19 pandemic in March 2020, the United States has seen a significant rise in harassment and violence against Asian American and Pacific Islander (AAPI) communities. Nearly 3,800 hate incidents against the AAPI community have been reported, according to the organization Stop AAPI Hate. On March 16, a man killed eight individuals near Atlanta; six of the victims were women of Asian descent. 
"The incident reflects an under-recognized history of anti-Asian violence and discrimination in this country that dates back more than 150 years," write Jennifer Lee, PhD, the Julian Clarence Levi Professor of Social Sciences at Columbia, and graduate student Tiffany Huang, in their "Reckoning with Asian America" editorial published April 2 in Science. "This needs to change. For the country to 'care' about the outcry by Asian Americans, the public needs to understand how America got to this point."
CUIMC employees also came together with members of the Washington Heights community for a March 30 "Vigil for Uptown Solidarity" in Mitchel Square Park.
Future events
The CUIMC Asian American Pacific Islander Employee Resource Group on Wednesday, April 7, will host a conversation about AAPI hate and how to address it.
On Tuesday, April 13, from 10 a.m. to noon, employees of CUIMC, Weill Cornell, and NYP can join a conversation about anti-Asian rhetoric, bias, and violence hosted by Dr. Rustgi; Augustine M.K. Choi, MD, the Stephen and Suzanne Weiss Dean of Weill Cornell Medicine; Steven J. Corwin, MD, president and CEO of NYP; and Laura Forese, MD, executive vice president and COO of NYP. Details will be announced before the event.
Topics