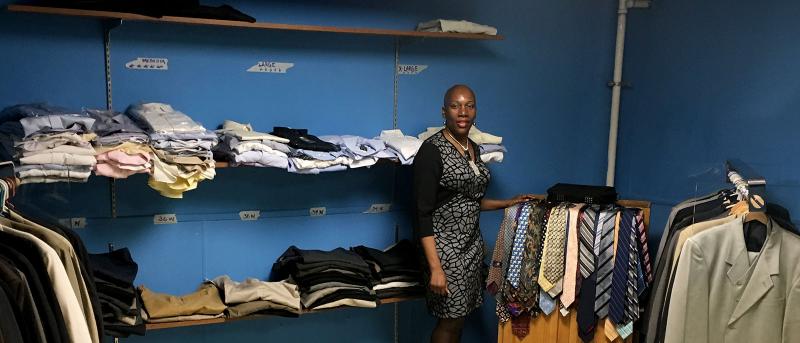 CUIMC Suit Drive Supports Men's Shelter Residents
For someone looking to land a job, a business suit can make all the difference. But the stakes are even higher if that someone is facing homelessness, as is the case with the residents of the Fort Washington Men's Shelter. 
Operated by Project Renewal, the 200-bed shelter on 168th Street offers a variety of services, such as meals, laundry, case management, and mental health counseling to help its residents obtain employment and permanent housing. But as they pursue those goals the residents often find themselves in need of professional clothing to make an important first impression that can ultimately help transform their lives.  
Etta Graham, the shelter's director, reached out to CUIMC. 
"Etta shared that a lot of men were challenged when they went for their housing or job interviews because they lacked the appropriate attire," said Sandra Harris, associate vice president for government and community affairs at CUIMC. 
To help give the men a leg up, CUIMC and Project Renewal launched the Suit Up campaign in 2006 to solicit donations of formal men's wear from the Columbia community. The most recent drive, which ended June 3, yielded 64 suits, 100 shirts, 80 pairs of pants, a dozen pairs of shoes, and many ties and blazers. Two neighborhood businesses, Elite Cleaners and New Heights Express Cleaners, volunteered to press the shirts at no cost.  
The partnership is one of several long-standing collaborations between CUIMC and the shelter. Others include a winter coat drive, a fall food drive, and three health fairs throughout the year. The shelter also houses a university program that teaches shelter residents skills that help them transition to independent living. 
Topics