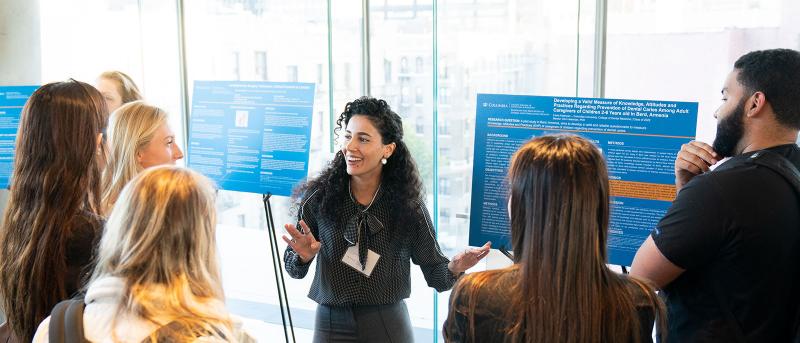 CUIMC Students Present Global and Population Health Research
Harold Varmus Returns to Columbia to Address Global and Population Health Students
Nobel Laureate Harold Varmus, MD'66, the Lewis Thomas University Professor at Weill Cornell Medicine, returned to Columbia University Irving Medical Center (CUIMC) on Sept. 17 to speak with students who spent the summer conducting research through the Program for Education in Global and Population Health (Global Pop).
Varmus recalled spending a few months during medical school in an apprenticeship at the Clara Swain missionary hospital in Bareilly, India, where he observed the medical staff treating patients with leprosy, advanced tuberculosis, and other diseases infrequently observed in New York City. Though his interests eventually shifted to research, specifically to cancer viruses and cancer genes, "that experience in India as a student was instrumental in some important decisions I made later in life," he says. "For example, during my time as director of the National Institutes of Health, my interest in building research programs in Africa that would have an impact on tropical diseases, such as malaria, was driven in part by what I had seen as a student in Bareilly." 
That international experience was also part of his inspiration for making a gift to establish the Varmus Global Scholars Fund through the Global Pop program. The new fund provides stipends to a few students in the Vagelos College of Physicians and Surgeons (VP&S) who seek to conduct novel global health research projects at international sites for eight weeks to one year. 
This past summer, 56 students from across CUIMC conducted global and population health projects: Half of them carried out research projects, and the other half participated in cross-cultural fluency and community health-related projects. The program offers educational opportunities in research, language immersion, clinical rotations, and program development and evaluation in the United States and abroad. Among the topics presented at the September event were lung cancer in Ethiopia, sexual health in the Dominican Republic, and oral hygiene in Washington Heights.
"The approach of our program is deeply rooted in the idea that equity is an important value tied to global health," says Neil Schluger, MD, professor of medicine, environmental health sciences, and epidemiology at CUMC, who directs the Global Pop program with Lawrence Stanberry, MD, PhD, professor of pediatrics and associate dean for international programs. 
The program aims to expose students to global and population health topics early, when they are in the first year of their medical, dental, public health, nursing and nutrition degree programs. Students prepare for their summer projects in the preceding year by taking the fall course "Introduction to Global and Population Health" before applying to the Global Pop program. Each student accepted into the program is paired with a Columbia faculty mentor. Those going abroad receive a scholarship to cover the cost of travel, housing, and food related to their project. In the spring, participating students take a research methods course to plan their work. 
"We aim to build research skills before students go out in the field," says Kim Hekimian, PhD, assistant professor of nutrition (in pediatrics and the Institute of Human Nutrition) at CUMC, who teaches "Research Methods." "Students first have to define their research question and anything they do after is connected to their question. They learn to create a plan and anticipate where errors can occur in their data collection or data analysis."
Most students conduct research abroad at established sites where Columbia faculty members have ongoing projects. Some design their own projects, seeking an opportunity in a location outside of that network. Others work in New York City on research relevant to immigrant communities and global health. 
"The best part of my project was working directly with the community in the Dominican Republic," says MD student Emily McNeill. "They were so welcoming of my research and I learned so much from their collaboration." 
Interested in global and population health research? Visit the Global Pop website.