CUIMC Students Conduct Global Health Research Despite Pandemic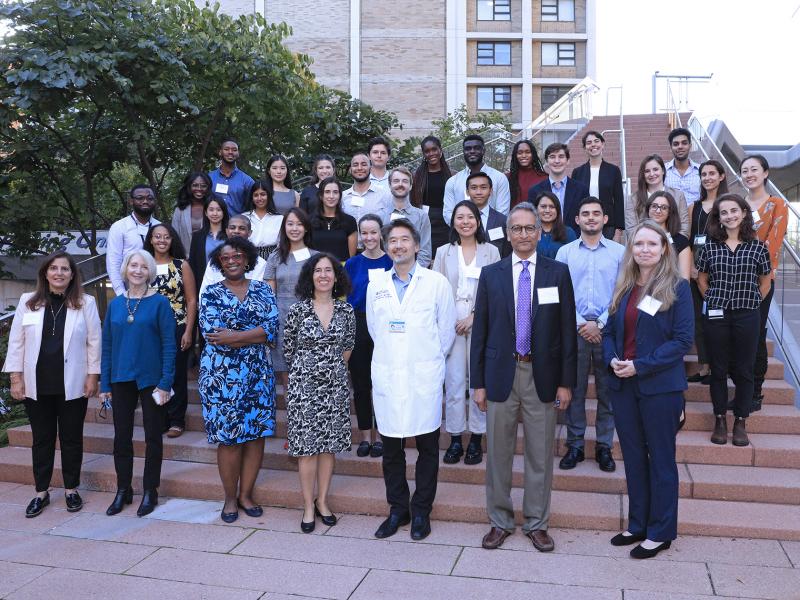 Despite travel restrictions and the ongoing pandemic, students at CUIMC have maintained a strong interest in global health. This past summer, 29 students from across Columbia's medical center conducted global health research, though mostly remotely due to the pandemic and ongoing travel restrictions. They presented their work at an in-person symposium on Oct. 7  hosted by Monica Lypson, MD, MHPE, vice dean for education, and the Program for Education in Global and Population Health (Global Pop) at the Vagelos College of Physicians and Surgeons (VP&S).
"COVID really showed us that we are a global community and we need to focus on global issues, and not until the whole world is safe will we actually be safe," said Lypson in her remarks to students. "And I think you doing your scholarship and focusing on the areas that are near in regards to disparities [domestic], and far, in regards to equity [global], is really critical to the path forward for us as a profession."
Infectious diseases, health systems and governance, and bioethics were among the many topics presented at the poster session. All students collaborated with faculty mentors to develop their work.
Seven of the students presenting research this year are Varmus Global Scholars supported by a fund established by Nobel Laureate Harold Varmus, MD '66, the Lewis Thomas University Professor at Weill Cornell Medicine, and his wife, Constance Casey, who also participated in the poster session.
Jackson Roberts, a member of the VP&S Class of 2024 and a Varmus Scholar, conducted research to evaluate tools to monitor bone status in South African children living with HIV. Dual X-ray absorptiometry is considered the top standard for bone monitoring, but it is expensive and requires significant technical expertise to operate. Quantitative ultrasonography is more widely available and that could benefit patients with HIV living in resource-constrained settings, and Roberts' analysis suggests the technology may be a viable alternative.
"Working remotely provided a great deal of flexibility for carrying out the statistical analyses associated with this project," says Roberts. "On the other hand, I think context is incredibly important for global health work. Parsing data from a patient population with whom I have not previously interacted could at times feel depersonalizing, so I did my best to self-educate on aspects of my project that were not explicitly related to the analyses I conducted."
Despite the inability to travel, Roberts' research experience and the mentoring he received during the project are helping him formulate his career goals. His faculty mentor was Michael T. Yin, MD, MS, associate professor of medicine and director of the Global and Population Health Track of Scholarly Projects, of the Global and Population Health focus of the MD/MS in Biomedical Sciences, and of Global Pop at VP&S.  
"I am interested in potentially pursuing a career in global infectious disease, so I found the work being done by Dr. Yin's group to be the perfect marriage of my possible professional interests and the experience I hoped to gain in clinical research," Roberts says.
In addition to the poster session, Global Pop hosts a photography contest. Photos by this year's winners were showcased at the event:
Abigail Onderwyzer Gold, VP&S Class of 2024, 1st Place, "Algal Bloom in a Massachusetts Lake"
Erick Garza, VP&S Class of 2024, 2nd Place, "Feeding the Community"
Lauren Tucker, VP&S Class of 2024, 3rd Place, "New York at Night" 
Photo contest winner Tucker worked in person at Harlem Hospital on her project with Tanya Murtha, MD, assistant professor of pediatrics, and fellow VP&S student Natalia Forbath to analyze the experiences of international residents in sharing difficult or serious news. "The summer Global Pop experience was a perfect balance between group sessions, guest speakers, and hands-on research experience," she says. "I immensely enjoyed working with my wonderful mentor and research partners and being able to apply the skills and knowledge from my first year of medical school."
For more information, visit the Global Pop symposium website and view student posters and abstracts.