CUIMC Rallies on Capitol Hill for Research Funding
Members of the Columbia University Irving Medical Center community joined hundreds of advocates from across the nation in Washington, D.C., on Sept. 14 to advocate for medical research funding.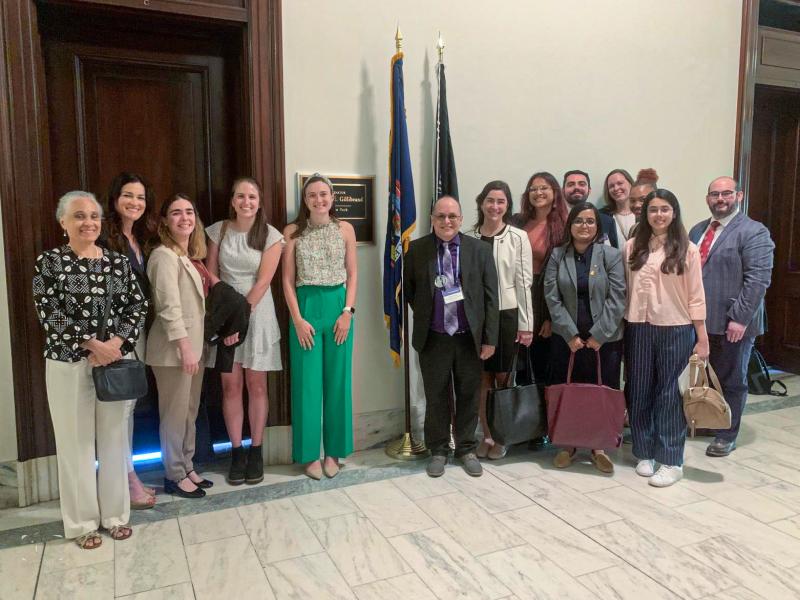 This year's Rally for Medical Research began with a training for newer attendees to equip them with the tools and confidence to champion this important cause. The CUIMC contingent, which included Ross Frommer, vice president and associate dean of the Office of Government and Community Affairs; Jermaine Jones, PhD, associate professor of clinical neurobiology in the Department of Psychiatry; and Jeannette Grullon, a student in the Mailman School of Public Health, joined colleagues from across New York state to advocate for an increase in NIH funding. Armed with personal stories about the impact of medical research on their careers and personal lives, the CUIMC representatives met with members and staff of the New York congressional delegation to stress the importance of NIH funding.
"Participating in the Rally for Medical research was a great learning opportunity in civic engagement," Grullon said. "It's easy to get disillusioned with our democracy if we don't adopt a problem-solving attitude and actively seek opportunities to further our interests. My main takeaway from the trip was that with some level of organization, a common simplified message, and a couple of hundred people strategically scheduled to speak with their local representatives, individuals can achieve amazing things in Washington, D.C."
The CUIMC delegation attended a congressional reception where supporters, including U.S. Sen. Richard Durbin (D-IL) and Tara Schwetz, PhD, acting principal deputy director of the NIH, spoke about the importance of maintaining annual sustaining and consistent increases in the NIH budget.
The potential threat to NIH funding this year is especially daunting, as the U.S. House of Representatives' proposed FY2024 funding level for the NIH is $44.6 billion, a $2.6 billion (6%) cut from FY2023. While the proposed U.S. Senate funding proposal of $47.7 billion is a slight increase of $265 million (0.6%), it is still well below the $51 billion level advocates have been pushing for. The 2024 federal fiscal year begins on Oct. 1. 
The annual Rally for Medical Research began in 2013 in response to threatened cuts to the NIH budget. The inaugural rally was such a success that organizers decided to make it an annual event. After COVID-19 prompted a hiatus, the rally returned in person last year. CUIMC is a gold sponsor of the rally, helping to support and sustain the efforts of medical research advocates.