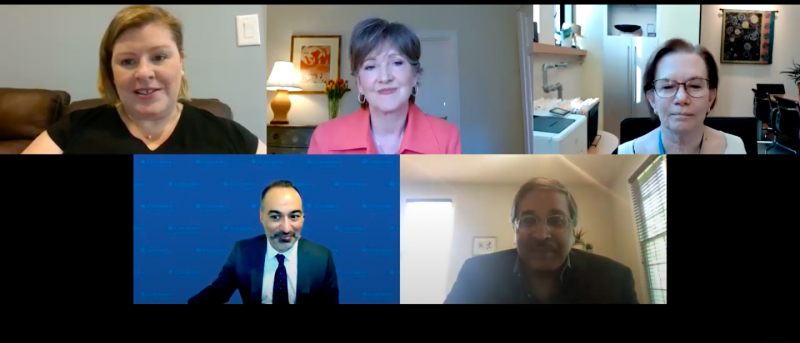 "CUIMC Nurses: A Voice to Lead" Event Kicks Off National Nurses Week
National Nurses Week began on May 6. In celebration, CUIMC and the School of Nursing hosted a virtual forum, "CUIMC Nurses: A Voice to Lead." The May 7 event featured remarks from leadership team members at CUIMC and a video tribute to CUIMC nurses.
"It's an honor to be a part of this event and to recognize during Nurses Week that, indeed, probably the most critical health profession is the nursing profession," said Anil Rustgi, MD, interim executive vice president and dean of the Faculties of Health Sciences and Medicine at Columbia University. "While we have this week to acknowledge our nurses, it's really every day that we want to acknowledge all that they do."
"The experiences of the past year, facing twin pandemics in COVID and racism, changed us as a school, as a community, as professionals, and as individuals," said Lorraine Frazier, PhD, dean of the School of Nursing and the Mary O'Neil Mundinger Professor of Nursing.
"Nursing has taken center stage," Frazier said. "We've been acknowledged for our courage, for putting our lives on the line to help others who were stricken with COVID, and for our compassion in the face of tragedy."
Frazier commended the ongoing work of the nursing community at CUIMC and noted her pride in the group's commitment to patients.
"Our nurses are remarkable. They are ready, prepared, and committed, and they will continue to be committed in the future," she said. "That's what nursing is, and I could not be more proud of what our nurses bring to the lives of their patients every single day."
Donna Lynne, DrPH, senior vice president and chief operating officer of CUIMC and CEO of ColumbiaDoctors, expressed her own gratitude for the nurses employed at CUIMC and partner NewYork-Presbyterian. Lynne cited the School of Nursing's No. 5 rank in U.S. News and World Report's annual ranking of graduate schools and No. 4 rank in NIH funding as further evidence of excellence among Columbia nurses and noted that for the 19th year in a row, nurses rank as the most trusted professionals in the country.
"We owe an immense gratitude to nurses," Lynne said. "Thank you for everything you've done to support us in research, education, and, importantly, from a clinical perspective. Hats off to you."
Stephen Ferrara, DNP, associate professor of nursing and associate dean of clinical affairs in the School of Nursing, offered his appreciation and introduced a video tribute to Columbia nurses, including written messages of thanks and admiration from physician colleagues.
"Nurses have always been the backbone of patient care," wrote Craig R. Smith Jr., MD, chair of the VP&S Department of Surgery and surgeon-in-chief at NewYork-Presbyterian/Columbia University Irving Medical Center. "That has never been more true than during the COVID surge in 2020 and through the second surge that's slowly winding down. This may be Nurses Week, but 2020 was the Year of the Nurse. We can't do it without you!"
Maura Abbott, PhD, assistant professor of nursing, moderated the event. National Nurses Week begins each year on May 6 and concludes on May 12, the birthday of Florence Nightingale.