Neighborhood Corner Co-Named Coogan's Way
Community members, elected officials, and CUIMC and NYP employees gathered May 25 to celebrate the co-naming of the corner of 169th Street and Broadway as Coogan's Way. The co-naming honors the beloved Washington Heights bar and restaurant, Coogan's, which closed permanently in March 2020 during the COVID-19 pandemic.  
The event was sponsored by New York City Council Member Carmen De La Rosa, who represents District 10.  
Coogan's was iconic, De La Rosa said, because "the doors were always open for all of us, no matter your walk of life, no matter your experience, no matter your skin color. When you were inside Coogan's you knew you were safe. And so, we owe a debt of gratitude to the visionary leaders who started Coogan's: Peter [Walsh], Dave [Hunt], and Tess [O'Connor-McDade] and their family members." 
A proclamation from the office of Mayor Eric Adams declaring May 25, 2022, as Coogan's Way Day was presented to the owners of Coogan's, recognizing the restaurant's impact in the Washington Heights community as a place where people gathered for meals, meetings, and celebrations.  
Coogan's opened in 1985 during a period of violence and drug crisis in Washington Heights and became a gathering place for all people in the community. Located adjacent to the CUIMC and NYP campuses, Coogan's offered a place of rest and entertainment for doctors, nurses, police officers, firefighters, students, and members of the diverse surrounding community.  
"You just cannot tell the history of Washington Heights over the past almost four decades without telling the story of Coogan's," said Mark Levine, Manhattan borough president. "We are a neighborhood today that is incredibly united, in part because of Coogan's."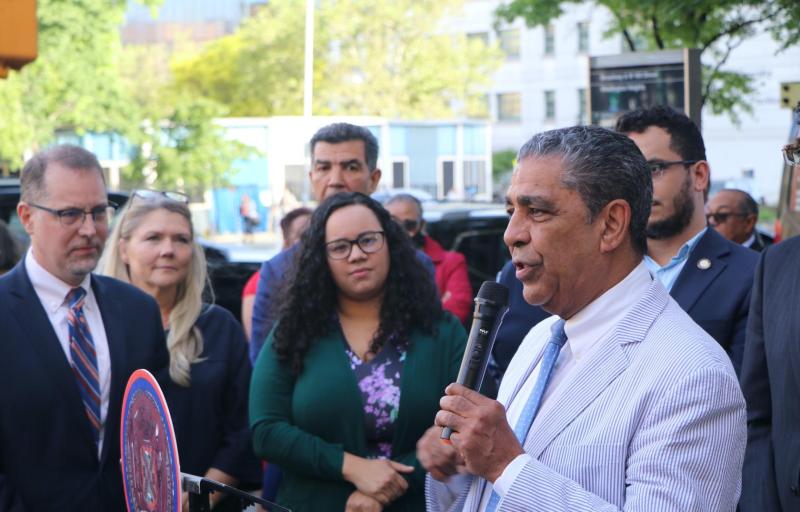 The movement to co-name the street corner began last year when a petition created by Martin Collins, executive director of UP Theater Company, gained traction online with more than 1,200 signatures. The proposal to co-name the street corner went before the City Council, which approved it on Dec. 14, 2021.  
"What brings us together makes us stronger than what keeps us apart. That's how Coogan's lived. Coogan's recognition today is about the people who walked through its doors and cared about fighting the good fight for change and sometimes preservation," Walsh said. "We accept this honor for all of us here and not here. Tess, David, and I were just custodians of a meeting house for the wonderful people who lived, worked, and played in Washington Heights." 
Following the ceremony, a reception at the Armory included a screening of a 2021 documentary about the bar's, "Coogan's Way." The documentary will air on PBS Channel 13 on Monday, May 30, at 10 p.m. and Thursday, June 2, at 5 a.m.