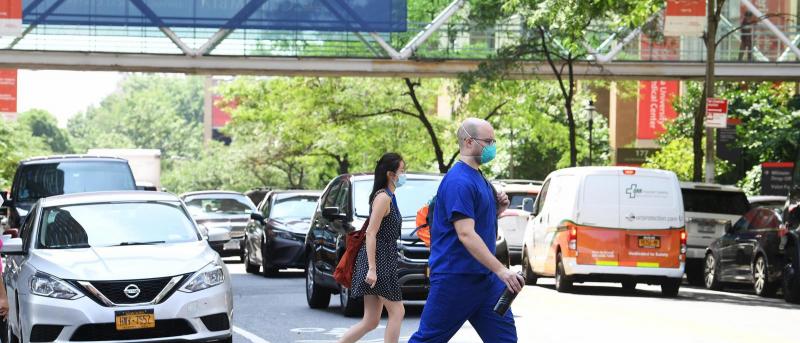 CUIMC Enhances Facilities and Operations to Keep Campus Community Safe
Safety is CUIMC's No. 1 priority as more faculty, staff, and students return to campus. That's reflected in revised procedures like daily symptom self-checking, as well as operational changes designed to keep our community healthy, safe, and productive.
For starters, new signage will greet you at every CUIMC space. These signs offer instructions for stairways and elevators; directions for controlling the flow of people through buildings to avoid crowding; and reminders of basic requirements like wearing a face covering, handwashing, and maintaining distance.
"The message we are sending is that the minute you walk in here, you are responsible, as we all are," says Yvonne Wojcicki, executive director of Campus Life Safety and Regulatory Compliance. 
Wojcicki returned to work and became deeply involved in CUIMC's COVID-19 response after losing her mother to the disease in April. "Being here and doing this work has made it easier to get through," she says.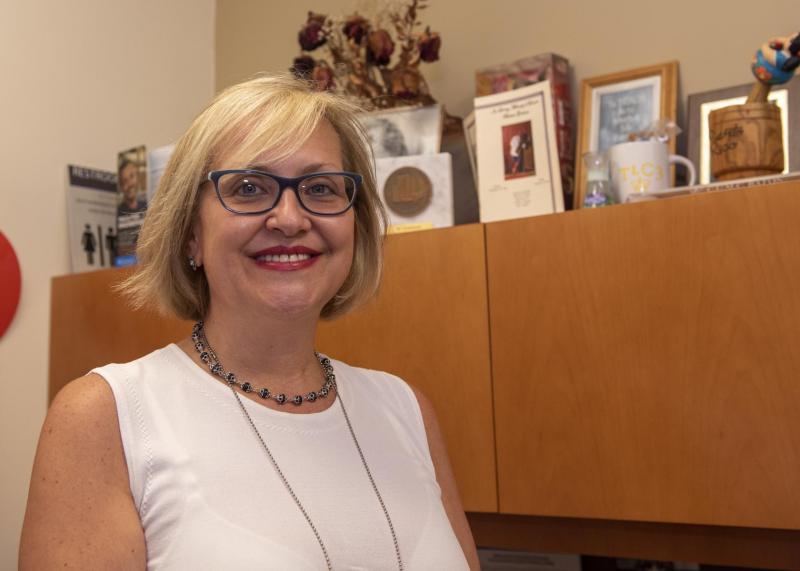 In addition to posting signage across campus, CUIMC is ramping up the installation of no-touch restroom fixtures and has installed additional hand-sanitizing stations across campus. Facilities also conducted a comprehensive review of campus heating, ventilation, and cooling (HVAC), with an eye on enhancing maintenance, filtration, and ventilation to improve air quality.
Custodial work has been overhauled, too, with staff disinfecting high-touch campus spaces twice daily, steam cleaning restrooms, and monitoring campus spaces more frequently.
"Our custodial and facilities staff have been on the front lines, helping keep the campus safe for everyone," says Mario Rapetti, director of the Office of Housing Services. "I've admired their dedication and drive to jump right in, adjust their routines, and be available to community members."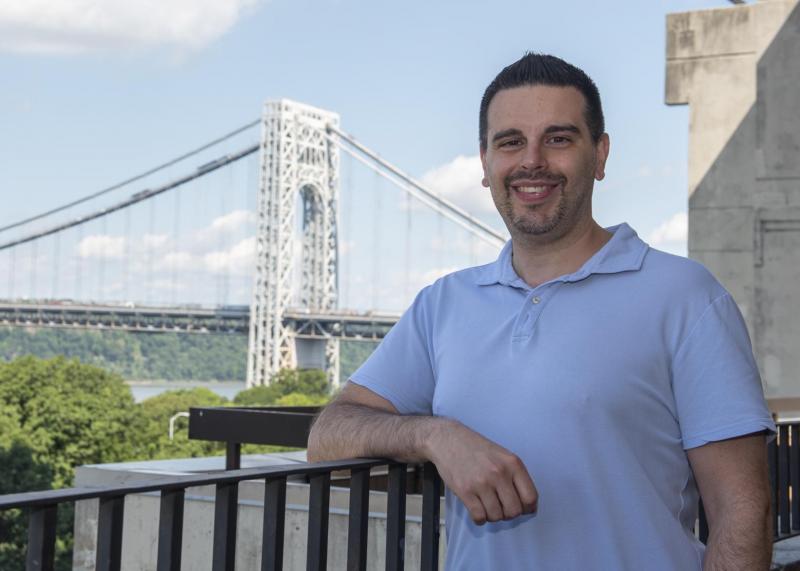 Angela Ramos, a five-year veteran of CUIMC's custodial staff, says it's been anything but business as usual on campus. "Everything changed," she says. "Our lives and our work changed."
"We're working very hard to disinfect every space, especially high-touch surfaces. We also have so many more disinfectant dispensers across campus, and we're working hard to keep them filled," she says. As a result, Ramos says that campus feels more secure.
But Ramos, Rapetti, and Wojcicki all stress that facilities and custodial staff need everyone to do their part.  
Ramos asks that those returning to campus respect the hard work it's taken to make their return possible. "You have to take care of yourself. We can disinfect these spaces, we can give you masks and hand sanitizer, but you have to do your part, too."
Here's how you can help:
Wear a face covering on campus.
If you're able, take the stairs and reserve elevators for those who need them.
Keep your own space clean by wiping down high-touch sources (e.g., your keyboard, desk, or chair) with the supplies provided.
Most importantly, familiarize yourself with the guidance and information available on the Return to Campus: Employees and Students website, particularly the requirements for campus testing and daily attestations.
Ramos acknowledges that some may still feel hesitant to return to work, but she wants her CUIMC coworkers to know that she and her teammates are working diligently to create a safe, welcoming environment for their return. "This is our way of life now, and we will deal with this together," she says.
Wojcicki is similarly hopeful, crediting the university's changes in transportation options and Human Resources policies that have helped employees with the new challenges posed by the pandemic.
"As a community, I think these things bring you together, and I feel that when I walk in. I'm connecting with people who I may never interact with in our day-to-day work, because there's something that we share through all of this. I hope we all know that we're going to do this together, and we'll be stronger as a result."

Want to know more? For the latest information on returning to campus, visit Return to Campus: Employees and Students. To learn more about facilities updates, campus procedures, and available resources, visit Facilities Management and Campus Services.