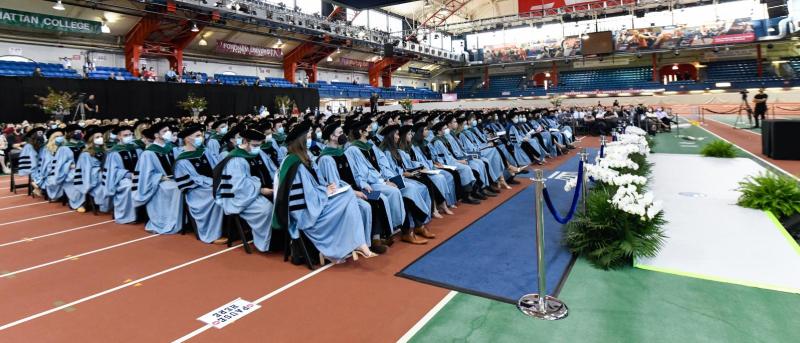 CUIMC Employee Makes Big Difference at Commencement with Small Act of Kindness
Each year, Columbia commencement provides an opportunity for CUIMC staff to connect with students and their families as volunteers for the graduation ceremonies on campus. When Patty Conde, a senior HR employee, signed up to help with the Mailman graduation ceremony on May 17, she was expecting to serve a small role behind the scenes helping graduates and their families. But the day turned into a special moment for her and a family visiting New York City, who just happened to be walking by the Armory.
The family was exploring campus when they happened upon a line of graduates preparing for commencement.
When the family's son, who has an intellectual disability, saw the graduates lining up, he began crying and acting out because he loves graduations but has never participated in one.
Conde noticed the young man in distress and offered to help. After learning about the son's wish to be a graduate, Conde offered to accompany him on a "graduation walk." The pair began walking together along the sidewalk while Conde hummed a graduation marching song. When they reached the end of their graduation march, Conde gave him her Columbia University lanyard, turning his sadness into excitement.
Following their trip to campus and encounter with Conde, the family sent a letter to the University to recognize and thank Conde for her efforts to make their son feel like a graduate and member of the CUIMC community. The family was especially thankful for Conde's gentleness and kindness and said that they went home with full hearts after their special day.
"The family's note left me speechless and is such a gift," she says. "I'm proud to be a member of the Columbia community and I know that events like commencement help us all feel so connected to it. I was so happy to extend that feeling to this family."
Conde brings the same sensitivity and helpful spirit to her duties as a senior HR business partner. In her position, she works collaboratively with the HR staff, senior management, and department administrators to make sure that the needs, emotions, and aspirations of the staff are a priority. What Conde enjoys most about her work in HR is that she and her team of coworkers have the ability to reach employees in all aspects of their career. "I value the opportunity to make our employees' working lives better, even in a small way," she says.
Though the letter from the family put Conde in the spotlight, she describes herself as more comfortable behind the scenes, focused on serving the faculty and staff at CUIMC. "To me this approach is foundational to who I am and how I lead within my work," she says. "The best results are the ones that don't necessarily spotlight HR. They are the successes that employees have through your coaching and supporting their progress and development."