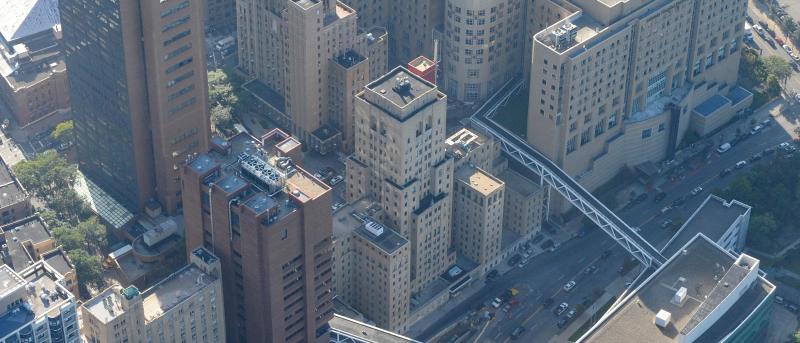 CUIMC Emergency Preparedness Is Ready for the Next Crisis
In late December 2022, clinical, research, and administrative spaces on Columbia University Irving Medical Center's campus were affected by catastrophic flooding caused by extreme weather that sent outside temperatures plummeting from the mid-50s to less than 10 degrees in a single day. The flooding from broken pipes resulted in damaged equipment, power outages, and temporary closures and relocations of some clinical spaces.
Herbert Irving Pavilion, where more than 300 clinicians see patients, recently celebrated a full reopening, but the emergency management operations team at Columbia is not relaxing. Since January, the team has been implementing new measures to ensure that our campus is equipped to manage future extreme weather events, including those that may occur during weekends and holidays when staffing is lower.
"We really studied what happened last December, and we have a comprehensive plan to address future water intrusion events," says Yvonne Wojcicki, executive director of campus life safety and regulatory compliance at CUIMC. "We're introducing enhancements in technology and remote equipment monitoring, and we're working with NewYork-Presbyterian to ensure that off-hours teams can access systems and mechanical equipment when needed. We've also introduced closets stocked with flood supplies in all Columbia-occupied buildings, which give teams fast access to the resources they need after a water intrusion event."
The opportunity to reimagine CUIMC's emergency response after the December flooding events also led to the implementation of numerous other initiatives. A team including representatives from Facilities Management, Public Safety, Environmental Health and Safety, and Human Resources has been working on multiple projects designed to increase awareness and bolster existing systems of emergency preparedness.
"This is a good time to come together and look at how we communicate these issues with the larger community," says Rich Medina, director of public safety operations at CUIMC.
The team is distributing cards, intended to be worn on a lanyard, with emergency contact numbers and steps to take in case of a fire. Cards can be picked up at the CUIMC ID center in the VP&S Building, Room 1-405C, and the Public Safety operations center in the William Black Building, Suite 109, and are also being distributed to departments and at tabling events. Orientation presentations for new students, employees, and faculty have been revamped to better communicate safety and emergency preparedness information. And in the coming months, CUIMC plans to hire a manager of emergency management operations who will coordinate and oversee these efforts.
To better serve both the university and the Washington Heights community, Facilities Management has added new public defibrillators in the lobbies of the William Black Building and the VP&S Building. Public Safety supervisors are trained in CPR and in administering Narcan, a drug that treats narcotic overdose.
"Emergency preparedness is a collective shared responsibility," says Medina. "Whether it's about closing your door when you leave a room with your belongings unattended, closing the windows when you leave the office at night, or contacting Public Safety when you see something amiss, everyone has a role and these little actions can have a big impact. Public Safety is here 24/7 to do our part, and we want the community to be cognizant of everything they can do to help keep our community safe and sound."
September is National Preparedness Month, an observance to raise awareness about the need to prepare for disasters and emergencies that could happen at any time. Facilities Management offers tips in the video below to help the CUIMC community create a personal emergency preparedness plan.