CUIMC Crowns Trivia Champion
VP&S transplant surgeon Joshua Weiner, MD, can now add "2021 CUIMC Trivia Champion" to his list of awards and honors.
Weiner, assistant professor of surgery at VP&S, came out top in CUIMC Employee Appreciation's August trivia challenge, which culminated in a hotly contested Zoom tournament Aug. 25 among 11 finalists. Interim EVP and Dean Anil Rustgi, MD, crowned the winner and co-hosted the finale with the competition's organizer, Jill Wieck, director of digital strategy and marketing in CUIMC Communications.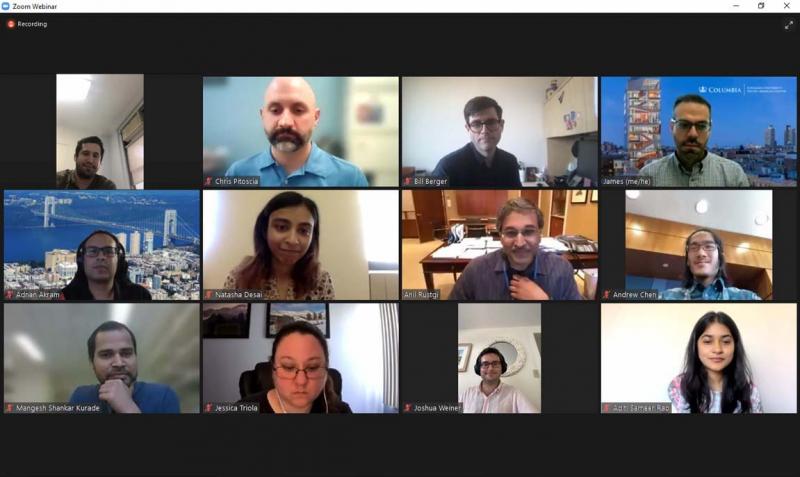 Throughout August, CUIMC faculty and staff flexed their trivia muscles, answering questions that ranged from how many feet are in a mile to which New York City borough has the nation's oldest public golf course to how many libraries Columbia University has.
The top scorers in three weeks of trivia challenges were invited to compete in the tournament of champions broadcast live on Zoom. Weiner came out on top after answering 15 of the 20 questions correctly. Scoring also took into account speed in answering, and double points were awarded for Columbia-oriented trivia questions. James Lapin, department administrator for the VP&S Department of Microbiology & Immunology, placed second, and Daniel Burack, an infectious disease fellow in the VP&S Department of Medicine, placed third.
The question that stumped most of the players required them to place four Stevie Wonder hit songs in order of their release. Only one player was able to answer it correctly. (The answer: "For Once in My Life," "Don't You Worry Bout a Thing," "Isn't She Lovely," and "I Just Called to Say I Love You.")
The easiest question—with all 11 players getting it correct in an average response time of about 5 seconds—required players to identify a New York City museum while pieces of a photo of the museum were revealed. (The answer: the Guggenheim)
The finalists were among 465 CUIMC faculty and staff who completed one or more of the weekly trivia challenges. The other finalists who competed in the final round were Adnan Akram, CUIMC Communications; William J. Berger, Sponsored Projects Administration; Andrew X. Chen, VP&S Psychiatry; Natasha Desai, VP&S Neurology; Mangesh Shankar Kurade, VP&S Surgery; Christopher M. Pitoscia, Environmental Health and Safety; Aditi Sameer Rao, VP&S Medicine; and Jessica Triola, Nursing Scholarship & Research.