CUIMC Community Teams Up for Velocity
Physicians, nurses, students, and staff at CUIMC are joining together for Velocity, Columbia's Ride to End Cancer.
Velocity is the first cycling event organized by CUIMC, and cyclists have the option of riding 10, 25, 45, or 62.5 miles. All funds raised by Velocity riders, volunteers, and sponsors benefit the Herbert Irving Comprehensive Cancer Center at CUIMC.
Hundreds of cyclists are expected to participate in Velocity. We checked in with a few from CUIMC to get their insights into training and fundraising.
Alexander Small, MD, postdoctoral residency fellow, Department of Urology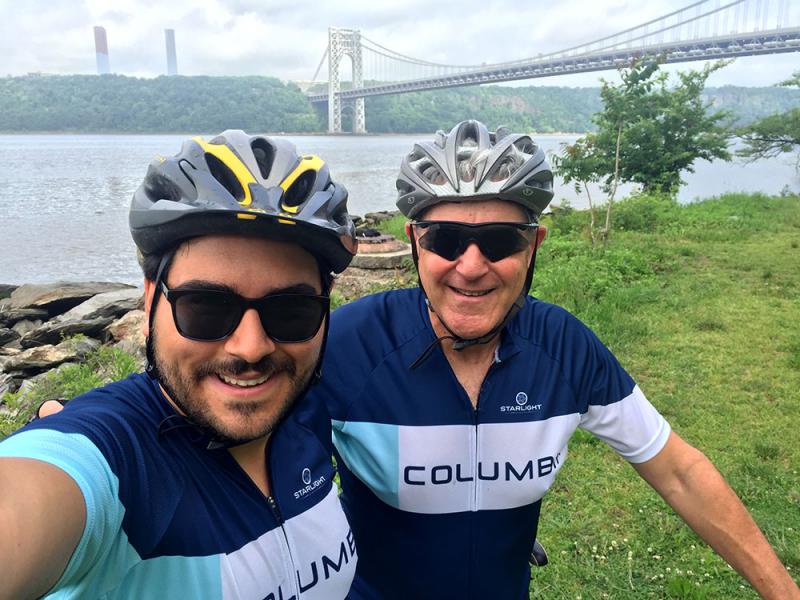 Dr. Small joined Velocity as soon as the event was announced in April. "I'm a big cyclist and a urology resident so it made sense to join the team," he says.
The Department of Urology has organized four teams, each targeting a different distance and raising awareness for a specific urological cancer (prostate, bladder, kidney, and testicular).
Dr. Small and his father, P&S alumnus Peter Small, MD'81, joined the prostate cancer team, which is tackling the 62-mile route. "Cancer has really touched members of our family and our friends in the last few years," says the senior Dr. Small. "It's hit close to home lately, and this event is a good way to fight back."
"Our mission is to raise awareness for urological cancers and cancer treatment and research at Columbia," the younger Dr. Small says. "Prostate cancer is the most common cancer in American men, but it's less well-known that the rate is even higher among African-American men.
"I used to do a lot of fundraising rides with my dad when I was growing up in Connecticut. When you have a huge group of riders out there, everyone on the street turns around and looks. It gets people's attention."
The prostate cancer team includes other physicians, medical students, and nurses from the Department of Urology, including Velocity's current top fundraiser. (His tip: use a "Bernie Sanders" style of fundraising and ask a lot of people for small amounts each).
Dr. Alex Small is already training for the ride and has started to increase the mileage of his weekend bike ride. "I commute to work every day, and I've been riding in Palisades Interstate Park on the weekend. The ride's not until October, so there's still plenty of time."
Ilene Anesini, AVP, Finance and Operations, Office of Development
Ilene Anesini originally signed up for Velocity's 10-mile route, but she has had so much success with fundraising, she is "upgrading" to 25 miles.
"I think people feel good giving to an opportunity like this," she says. "Columbia stands for excellence, and people want to donate to the work of CUIMC. Donors realize they're investing in the future of cancer care.
"I really believe in the work our cancer center is doing, and I've seen the wonderful care CUIMC is providing two of my friends who are currently battling the disease."
Like most families, Ms. Anesini's has been touched by cancer, and it gives her extra motivation to tackle the 25-mile route. "My cousin died earlier this year at age 53 from cancer. There's a lot more that needs to be done, and I know it's very expensive, time-consuming, and complicated work."
Ms. Anesini has recruited her cousin's 19-year-old son to join her at the finish line, and she is looking forward to riding with all those committed to raising money for cancer research and clinical care.
"The Velocity ride is a great way to build community at CUIMC," she says. "Many departments have already put teams together and are organizing training rides, and what's better than exercising for a common cause?"
Velocity is the second time Ms. Anesini has done crowd fundraising, and Velocity provides coaches and fundraising resources that make it easy, she says.
Her top tip? "I think it's important to donate first to your ride when you sign up," she says. "It shows people you're committed to your cause. Then post the news on social media. Once I shared my Velocity campaign on Facebook, my friends donated, and then my cousin's family members tapped their friends. It all happened pretty quickly. I maintain the momentum by posting photos and updates of my training rides."
Inna Kleyman, MD, assistant professor of neurology
Inna Kleyman is one of the six founding members of Brain Power, the Department of Neurology's Velocity team.
"Our team is still growing. Our chairman, Dr. Richard Mayeux, is riding and rallying us together," Dr. Kleyman says.
Brain Power is made up of neurologists from several specialties including neuro-oncology and neurocritical care.
"Primarily our neuro-oncologists see patients with cancer, but because chemotherapy and cancer have neurological side effects, all neurologists in our department help take care of cancer patients in some way," says Dr. Kleyman.
"It's also personally important for me to participate because my grandfather died from a brain tumor and I want to help in the effort to find better treatments for neurological cancers."
Dr. Kleyman is an active cyclist and rides frequently up to Bear Mountain and other routes just outside New York City. She's signed up for the 62.5-mile route with the rest of her team.
"I've never done a charity ride, so I'm looking forward to doing this," she says. "I didn't realize until we organized our team that we have several cyclists in our department, and I'm excited to share this experience with them."
Fundraising coaches from Velocity have already reached out to help Dr. Kleyman raise money for the HICCC. "I plan on reaching out to my old friends from medical school and residency for support, as well as people within our own department," she says.
On the day of the ride, Dr. Kleyman is looking forward to riding with all Velocity cyclists when the four routes converge into one. "It'll be amazing to see one massive crowd at the end," she says. "I just hope our team looks good in spandex."