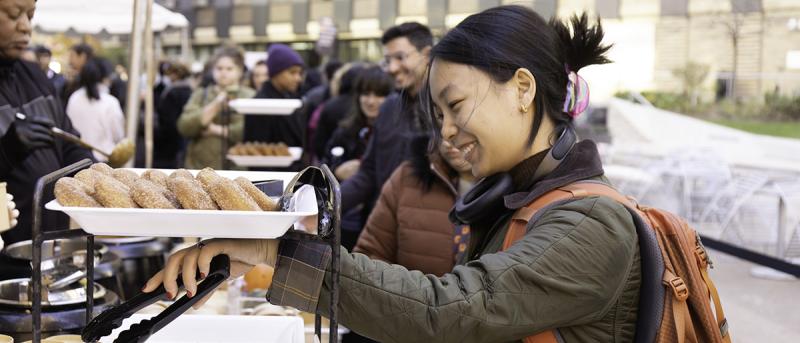 CUIMC Celebrates Fall with Community Festival
Faculty, staff, and students at Columbia University Irving Medical Center as well as community members in Washington Heights enjoyed live jazz, food, and giveaways at the CUIMC Annual Fall Festival on Nov. 14 in Haven Plaza. More than 2,500 winter squash were given out to attendees, along with around 2,600 servings of soup and 200 apple cider donuts. The festival was part of a series of employee appreciation events organized by the CUIMC Events Office.
The food offerings at the event were provided by vendors at the Fort Washington Greenmarket, which closes for the season on Nov. 21. Central Valley Farm and Nolasco Farms provided the squash, and Prospect Hill Orchards Farm Markets provided the apple cider donuts.
Festival attendees also donated to the Helping Hands Annual Food Drive organized by the CUIMC Office of Government and Community Affairs. Attendees donated more than 300 food items to the Fresh Youth Initiatives' Helping Hands Food Bank, which will distribute the collected goods to families in need during the holidays.
The food drive continues through Nov. 21. The most needed items include grains (brown rice, oatmeal, and pasta), beans (dry or canned), cooking oil (olive or canola), salt and pepper, and canned goods (especially cranberry sauce, unsweetened fruits, tomatoes, soup, vegetables, and tuna). Only non-perishable items will be accepted. Collection bins are located throughout campus in the following locations:
Allan Rosenfield lobby (MSPH, 722 W. 168th St.)
Hammer Health Sciences Center lower level lobby (701 W. 168th St.)
Black Building lobby (650 W. 168th St.)
School of Nursing lobby (560 W. 168th St.)
For more information about the food drive, contact the CUIMC Office of Government & Community Affairs at 212-305-8060 or gca@cumc.columbia.edu.