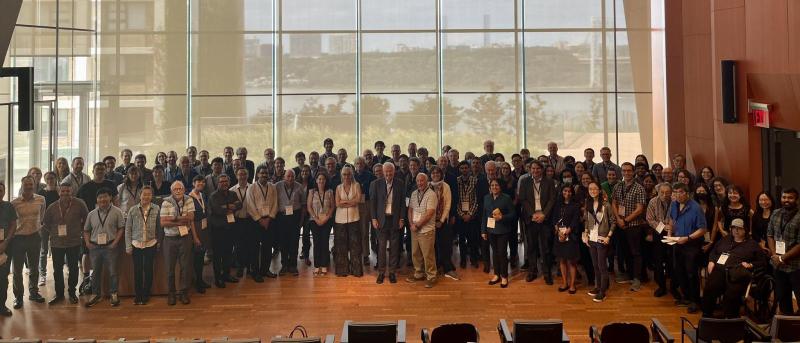 Cryo-Electron Microscopy Community Celebrates Joachim Frank's 80+ Birthday  
Scientists from around the world gathered at the Vagelos Education Center on Sept. 4 to celebrate the 80th, 81st, and 82nd birthdays of Columbia Nobel Laureate Joachim Frank, PhD, and his contributions to structural biology. Frank is professor of biochemistry & molecular biophysics at Columbia University Vagelos College of Physicians and Surgeons and professor of biological sciences.   
The celebration included a day-long symposium featuring world experts in the field of cryo-electron microscopy, a field that has blossomed with Frank's Nobel-winning contributions. The symposium, originally scheduled in 2020 but postponed due to the pandemic, welcomed over 200 participants to celebrate Frank's achievements and provide updates on the field.  
Frank shared the Nobel Prize in Chemistry in 2017 for his work developing cryo-electron microscopy, a technique that reveals the shapes of biological molecules down to their most intricate details. Frank's methods for turning two-dimensional pictures of frozen molecules taken with the electron microscope into sharp three-dimensional images has helped to accelerate knowledge of the structure of complex molecules, which in turn helps us understand how different molecules cause disease and how to design targeted drugs.    
In addition to winning the Nobel Prize, Frank was awarded the Benjamin Franklin Medal for Life Science in 2014 and the Wiley Prize in 2017, both for his contributions to the field of cryo-electron microscopy.  
The symposium concluded with remarks from Frank reflecting on the celebration and his career. "I did not foresee that on my 82nd birthday I would be surrounded and accolated by many of my former students and long-term collaborators—prominent scientists from all over the world," he said.  
References
More information
For a complete list of speakers, visit the symposium website. 
Read more about Frank's Nobel Prize win and his research: