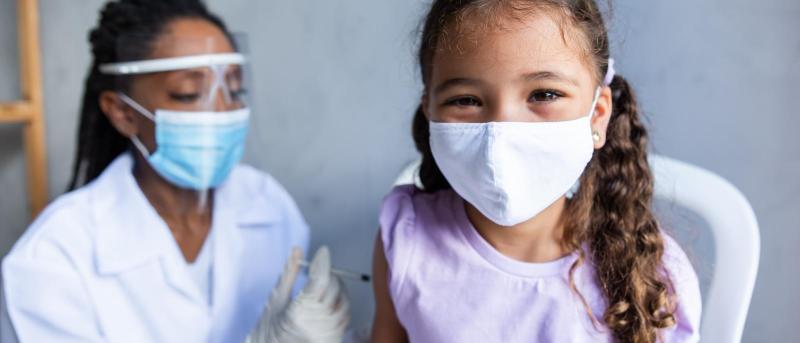 COVID-19 Vaccines for Kids Under 5
Following trials in thousands of children, and approval by the FDA and CDC, two COVID vaccines are now available for kids under age 5. 
Pfizer's three-dose and Moderna's two-dose COVID vaccines have shown they are safe and effective. "This is what medical professionals expected, but parents still have questions," says Columbia pediatrician and vaccine expert Melissa Stockwell, MD, MPH. 
Reports about vaccines for kids have been conflicting and confusing. Get the facts. 
Is the COVID vaccine safe for my child? 
Yes. The COVID vaccines are safe for children ages 6 months to 5 years. In trials, the most common reactions (AKA side effects) were similar to children's reactions to other pediatric vaccines. 
COVID vaccines do not give you COVID. Not even a little bit. But they do protect people of all ages from severe disease.  
Do the COVID vaccines for kids under 5 work? 
Yes. The available vaccines work if all doses are received. It's important kids get all three Pfizer doses or two Moderna doses.  
COVID vaccines, like all vaccines, are designed to prevent severe illness and hospitalization.  
Does my child need a COVID vaccine? 
Yes. The first and foremost reason to vaccinate is for your child's own health. "Hundreds of children under age 4 have died from COVID. Even one death of a child is one death too many," says Stockwell. 
COVID can cause severe illness in children. Vaccinated children have less risk of severe illness caused by COVID. No matter how severe, infections mean children must stay home from day care and school, putting extra pressure on working parents. 
After a COVID infection, young children are at risk for MIS-C, a severe inflammatory condition that affects many parts of the body, including the heart. 
Kids need COVID vaccines to protect themselves and the people around them—especially people they live with. 
COVID and kids: Facts 
Millions of kids under age 5 in the United States have contracted COVID. 

Thousands have been hospitalized because of severe infections.  
More than half of kids hospitalized had no underlying conditions. 

Hundreds of children under age 4 in the United States have died from COVID.  
According to a recent CDC study that took place at Columbia University and the University of Utah, 52% of infected children under age 5 were asymptomatic. Without symptoms to warn anyone, children can transmit COVID to their family and friends without anyone knowing. Crowded indoor spaces like homes are high-risk settings where the virus can easily spread, especially when not everyone is vaccinated.  
Where do I get the COVID vaccine for kids? 
Call your child's doctor. Many pediatricians will be vaccinating patients. 
If your child is age 3 and over, check your local pharmacy. Or, schedule an appointment on one of these sites: 
If you have questions, call your child's doctor. If you do not have a doctor, go to ColumbiaDoctors Children's Health to find a doctor and schedule an appointment.  
References
Melissa Stockwell, MD, MPH, is chief of the Division of Child and Adolescent Health and associate professor of pediatrics at Columbia University Vagelos College of Physicians and Surgeons and associate professor of population and family health at Columbia University's Mailman School of Public Health. Her research, which concentrates on underserved children and adolescents, focuses on translational interventions to improve vaccinations with an emphasis on health technology and health literacy.
She is the medical director of the NewYork-Presbyterian Immunization Registry (EzVac) and co-director of the Columbia University Primary Care Clinician Research Fellowship in Community Health.